Director Duncan Jones (Director of 2009's Moon) does it again with this well crafted and brilliantly written Sci-fi action thriller. Source Code could just be this years Inception, with it's many tosses and turns, but does it really make the cut to put Duncan Jones on the list of current best directors.
The story follows Captain Colter Stevens (Jake Gyllenhaal) who suddenly finds himself on a random train with a different man's identity. He is confronted with a girl named Christina (Michelle Monaghan) who seems to know him, when suddenly the train explodes.
Soon Stevens wakes to find himself in a bunker and is explained by Captain Collen Goodwin (Vera Farmiga) that he is actually inside a program called the Source Code, and that he is actually half dead and was volunteered for this program. He is actually in a parallel reality while Goodwin is in the real world, and his task is to continue going on that train for 8 minutes to find who the bomber was before the train explodes once again. He also has little time, because in the precent time the actual bomber is setting up for a second attack. But soon Stevens begins to develop actual feelings for Christina, even though she is really dead and no matter how many times he saves her in the Source Code, she will still remains dead in the real world, or does she?
These very questions are what help create the suspence behind the Source Code. The film starts out with you just as lost and confused as Stevens, but once Goodwin appears she finally explains what's actually going on. Jake Gyllenhaal's character come off as very relatable, even though he is a military pilot, and his character evolves as a person and as the way he handles the situation throughout the film. Some people might say that this is an 'action thriller' but in reality it's really more of a mystery, and has more talk than action (Which some might find to be too slow, but personally I don't mind).
The story and script are literally amazing, leaving you at the edge of your seat, and even fitting in some laughs along the way. I love Duncan's choice as to making the movie not feel repetitive, and making each time Stevens tries to find the bomber different and more exciting and interesting. There are many times when you find yourself guessing who the bomber is, but trust me that you'll always be wrong. There's even a point in this complex and emotional plot that you wonder how this can all end, yet it does, and it will go down on a list of memorable endings along with Inception (Not nearly as spine-tinggling though).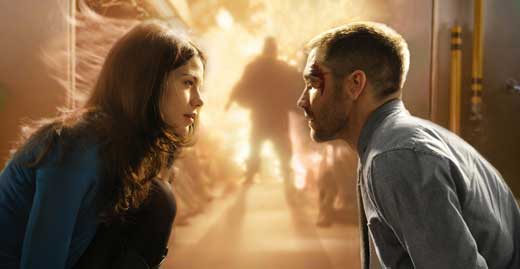 Jake Gyllenhaal just proves how great of an actor he really is, portraying his confused and clueless character perfectly and realistically and makes emotional scenes really connect with the audience. It's easy to see why he was a contender to replace Tobey Maguire as Spider-Man before the series was rebooted, and could have pulled it off with ease.
The rest of the cast is great, Michelle Monghan is once again great, playing her confused character who finds herself wrapped up in all this.The movie was like Unstoppable meets Inception with a bit of Avatar mixed in (Mostly how Stevens is being put in a body with mobility even though he has no legs and is really unconscious, similar to Jake in Avatar), and honestly that's something that would've seemed impossible to mix well a few months ago, but Duncan Jones managed to pull it off.
Source Code is really a MUST see this April, and year, and is really a jaw dropping great film with a phenomenal story, and superb acting. Be looking for this one in next years Academy Awards, and yes; Duncan Jones is one of the greatest working directors and I can't wait to see what he has in store next.
And here is the Source Code trailer:
What did you think of Source Code? Are you going to see it?