2018
MAY 25:
SOLO: A STAR WARS STORY
Directors:
Ron Howard
Plot:
Through a series of daring escapades, young Han Solo meets his future co-pilot Chewbacca and encounters the notorious gambler Lando Calrissian.
Cast:
Alden Ehrenreich, Donald Glover, Emilia Clarke, Woody Harrelson, Paul Bettany, Thandie Newton, Phoebe Waller-Bridge, Joonas Suotamo
Trailer:
HOW TO TALK TO GIRLS AT PARTIES
Director: John Cameron Mitchell
Plot: Young Enn and his best friends stumble upon a bizarre gathering of teenagers who are from another planet, visiting Earth to complete a mysterious rite of passage. That doesn't stop Enn from falling madly in love with Zan, a beautiful and rebellious alien who becomes fascinated with him. Together, they embark on a delirious adventure through the kinetic, punk rock world of 1970s London, inadvertently setting off a series of events that leads to the ultimate showdown between punks and aliens.
Cast: Elle Fanning, Alex Sharp, Nicole Kidman, Ruth Wilson, Matt Lucas
Trailer:
JUNE 1:
UPGRADE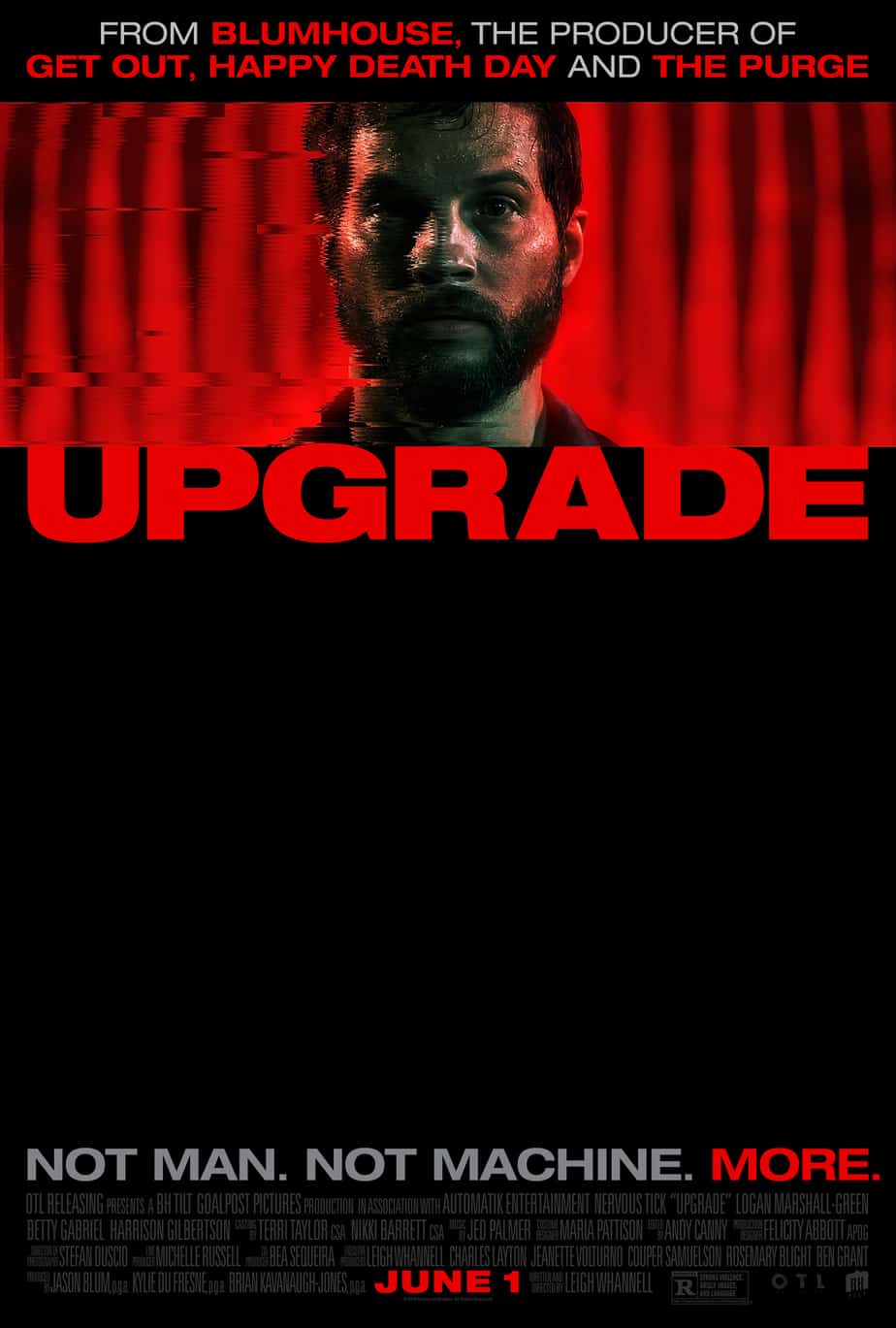 Director: Leigh Whannell
Plot: A brutal mugging leaves Grey Trace paralyzed in the hospital and his beloved wife dead. A billionaire inventor soon offers Trace a cure -- an artificial intelligence implant called STEM that will enhance his body. Now able to walk, Grey finds that he also has superhuman strength and agility -- skills he uses to seek revenge against the thugs who destroyed his life.
Cast: Logan Marshall-Green, Betty Gabriel, Harrison Gilbertson, Benedict Hardie
Trailer:
AMERICAN ANIMALS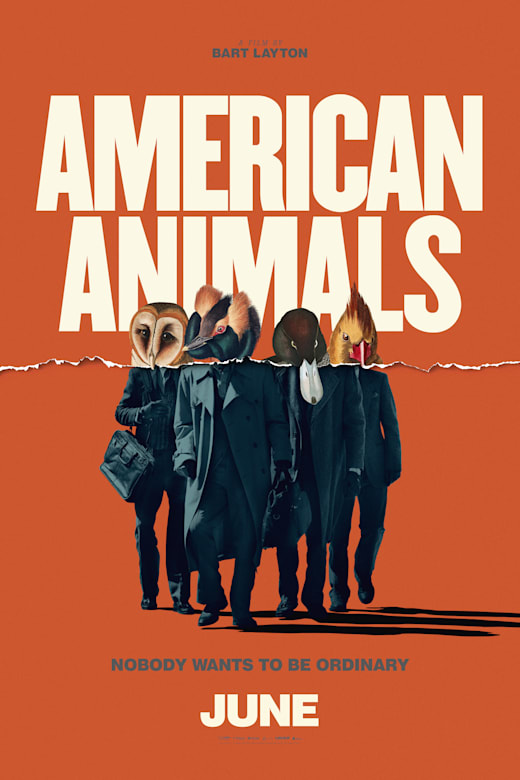 Director: Bart Layton
Plot: Childhood friends Spencer and Warren rebel against their suburban upbringing. The two, alongside two other fellow students, plot to steal priceless Audubon prints and rare books from Transylvania University's special collections library.
Cast: Evan Peters, Barry Keoghan, Blake Jenner, Jared Abrahamson, Udo Kier, Ann Dowd
Trailer:
ACTION POINT
Director: Tim Kirkby
Plot: D.C. (Johnny Knoxville) is the crackpot owner of Action Point, a low-rent, out-of-control amusement park where the rides are designed with minimum safety for maximum fun. Just as D.C.'s estranged teenage daughter Boogie comes to visit, a corporate mega-park opens nearby and jeopardizes the future of Action Point. To save his beloved theme park and his relationship with his daughter, D.C. and his loony crew of misfits risk everything to pull out all the stops – and stunts – making for another wild ride.
Cast: Johnny Knoxville, Chris Pontius, Dan Bakkedahl, Matt Schulze, Eleanor Worthington Cox, Johnny Pemberton, Brigette Lundy-Paine, Joshua Hoover, Conner McVicker, Eric Manaka
Trailer:
JUNE 8:
OCEAN'S 8
Director: Gary Ross
Plot: Debbie Ocean attempts to pull off the heist of the century at New York City's star-studded annual Met Gala. Her first step is to assemble the perfect crew: Amita, Tammy, Lou, Constance, Eight Ball, and Rose.
Cast:
Sandra Bullock, Cate Blanchett, Anne Hathaway, Rihanna, Helena Bonham Carter, Mindy Kaling, Awkwafina, Sarah Paulson, Damien Lewis, Dakota Fanning, Matt Damon, James Corden, Richard Armitage
Trailer:
HOTEL ARTEMIS
Director: Drew Pearce
Plot: A nurse runs an underground hospital for Los Angeles' most sinister criminals and finds that one of her patients is actually there to assassinate another.
Cast: Jodie Foster, Sterling K. Brown, Sofia Boutella, Jeff Goldblum, Dave Bautista, Brian Tyree Henry, Jenny Slate, Zachary Quinto, Charlie Day
Trailer:
HEREDITARY
Director: Ari Aster
Plot: When the matriarch of the Graham family dies, her daughter, Annie (Collette), suspects a presence was left behind, which has a bizarre focus on her teenage daughter, Charlie (Shapiro). With the household under threat by a supernatural force, Annie must explore the darkness to escape their inherited fate.
Cast: Toni Collette, Alex Wolff, Milly Shapiro, Ann Dowd, Gabriel Byrne
Trailer:
JUNE 15: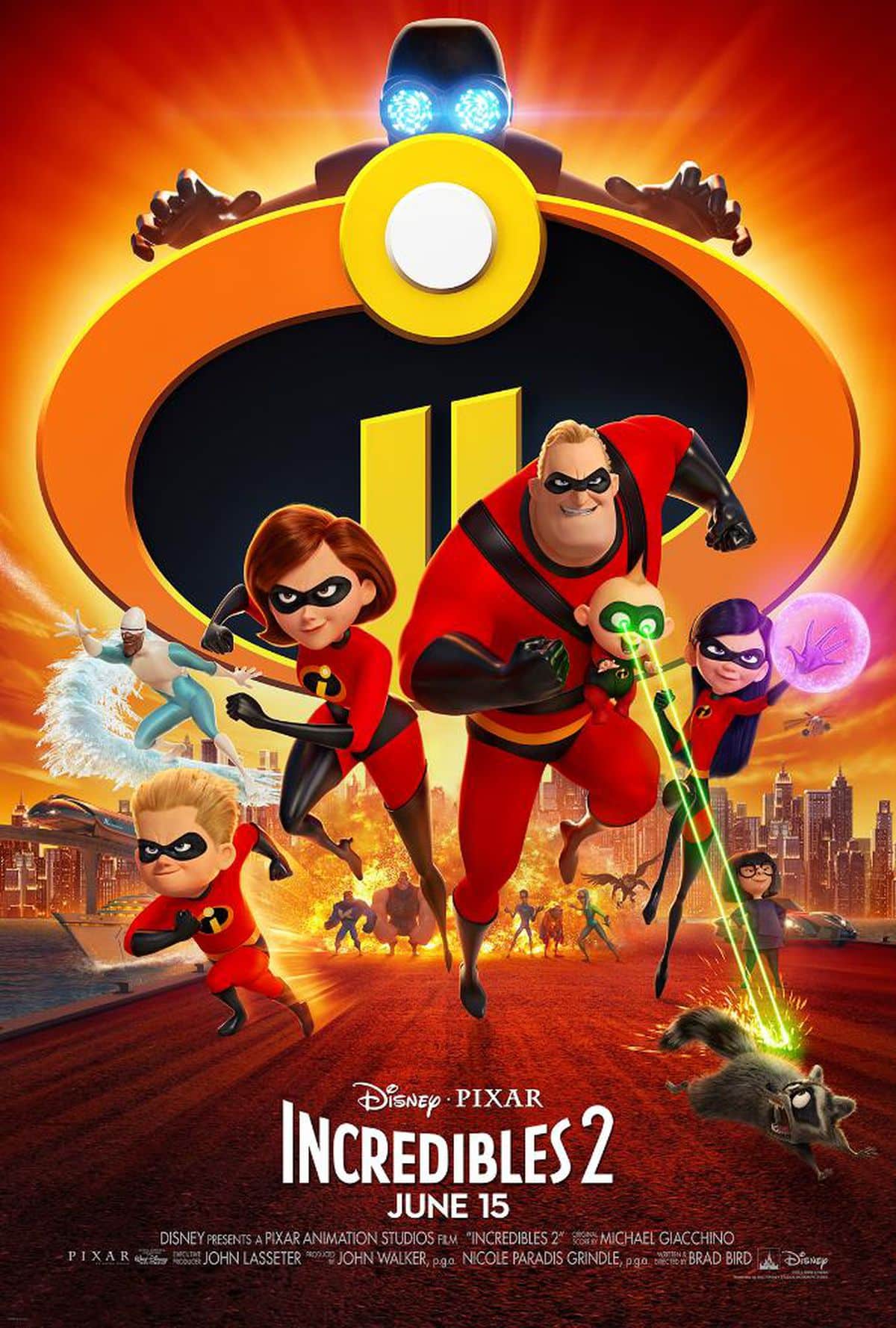 Director: Brad Bird
Plot: The family struggles to maintain normal lives while they remain unaware of Jack-Jack's powers. However, they, along with Frozone (Samuel L. Jackson) will have to battle a new villain with a sinister plot. The sequel will start immediately after the end of the first film, according to Pixar's chief creative officer John Lasseter, where the Parrs are just about to face The Underminer (John Ratzenberger).
Cast: Holly Hunter, Craig T. Nelson, Sarah Vowell, Huck Milner, Samuel L. Jackson, Bob Odenkirk, Catherine Keener, Jenny Slate, John Ratzenberger
Trailer:
TAG
Director: Jeff Tomsic
Plot: One month every year, five highly competitive friends hit the ground running in a no-holds-barred game of tag they've been playing since the first grade—risking their necks, their jobs and their relationships to take each other down with the battle cry "You're It!" This year, the game coincides with the wedding of their only undefeated player, which should finally make him an easy target. But he knows they're coming…and he's ready.
Cast: Ed Helms, Jeremy Renner, Hannibal Buress, Jake Johnson, Annabelle Wallis, Jon Hamm, Isla Fisher, Rashida Jones, Leslie Bibb
Trailer:
SUPERFLY
Plot: Superfly - the film that helped define a genre in its characters, look, sound, and feel - is reimagined with Director X, director of legendary music videos (Drake, Rihanna), introducing it to a new generation.
Cast: Trevor Jackson, Jason Mitchell, Michael K. Williams, Esai Morales
JUNE 22:
JURASSIC WORLD: FALLEN KINGDOM
Director: Juan Antonio Bayona
Plot: A volcanic eruption threatens the remaining dinosaurs on the island of Isla Nublar, where the creatures have freely roamed for several years after the demise of an animal theme park known as Jurassic World. Claire Dearing, the former park manager, has now founded the Dinosaur Protection Group, an organization dedicated to protecting the dinosaurs. To help with her cause, Claire has recruited Owen Grady, a former dinosaur trainer who worked at the park, to prevent the extinction of the dinosaurs once again.
Cast:
Chris Pratt, Bryce Dallas Howard, Jeff Goldblum, B. D. Wong, Toby Jones, Rafe Spall, Justice Smith, Daniella Pineda, Ted Levine, Geraldine Chaplin, James Cromwell
Trailer:
UNDER THE SILVER LAKE
Director: David Robert Mitchell
Plot: Sam, an affable but aimless young man, becomes an unwitting detective who quickly finds himself in over his head as he investigates the mysterious disappearance of his beautiful neighbor, with whom he has fallen in love. As he combs through Los Angeles searching for any kind of clues he can find, he stumbles upon a larger, more sinister conspiracy than he ever imagined, involving billionaires, celebrities, urban myths, and even pop culture as we know it.
Cast: Andrew Garfield, Riley Keough, Topher Grace, Zosia Mamet, Jimmi Simpson, Luke Baines, Patrick Fischler
Trailer:
JUNE 29:
UNCLE DREW
Director: Charles Stone
Plot: Dax convinces former basketball playground legend Uncle Drew to join a street ball tournament at the Rucker Park in Harlem. Uncle Drew agreed but as one of the conditions, he will have to form his own team. The two set out on a road trip to pick up Drew's old basketball squad.
Cast: Kyrie Irving, LilRel Howery, Shaquille O'Neal, Reggie Miller, Nate Robinson, Chris Webber, Erica Ash, Lisa Leslie, Nick Kroll
Trailer:
SICARIO 2: SOLDADO
Director: Stefano Sollima
Plot: After discovering that Mexican drug cartels are smuggling jihadi terrorists across the U.S. border, the CIA sends Matt Graver (Josh Brolin) and former undercover operative Alejandro Gillick (Benicio del Toro) to eliminate the problem. They kidnap Isabela Reyes (Isabela Moner), the daughter of a drug lord, in a false flag operation designed to incite war between rival cartels. The mission goes awry when it is discovered by the Mexican government, prompting Graver to order Reyes' execution; when Gillick refuses, he turns rogue to protect her as Graver assembles a new team to hunt them both.
Cast:
Benicio del Toro, Josh Brolin, Catherine Keener, Jeffrey Donovan, Manuel Garcia-Rulfo, Isabela Moner
Trailer:
JULY 4:
THE FIRST PURGE
Director: Gerard McMurray
Plot: To push the crime rate below one percent for the rest of the year, the New Founding Fathers of America (NFFA) test a sociological theory that vents aggression for one night in one isolated community. But when the violence of the oppressors meets the rage of the marginalized, the contagion will explode from the trial-city borders and spread across the nation.
Cast: Y'lan Noel, Lex Scott Davis, Joivan Wade, Luna Lauren Velez, Marisa Tomei
Trailer:
JULY 6:
ANT-MAN AND THE WASP
Director: Peyton Reed
Plot: As Scott Lang balances being both a Super Hero and a father, Hope van Dyne and Dr. Hank Pym present an urgent new mission that finds the Ant-Man fighting alongside The Wasp to uncover secrets from their past.
Cast: Paul Rudd, Michelle Pfeiffer, Laurence Fishburne, Michael Peña, Evangeline Lily, Michael Douglas, Tip "T.I." Harris, David Dastmalchia, Randall Park, Hannah John-Kamen, Walton Goggins
Trailer:
SORRY TO BOTHER YOU
Director: Boots Riley
Plot: In an alternate present-day version of Oakland, telemarketer Cassius Green discovers a magical key to professional success - which propels him into a macabre universe.
Cast: Lakeith Stanfield, Armie Hammer, Tessa Thompson, Steven Yeun, Jermaine Fowler, Omari Hardwick, Terry Crews, Patton Oswalt, David Cross, Danny Glover
Trailer:
JULY 13:
SKYSCRAPER
Director: Rawson Marshall Thurber
Plot: Former FBI Hostage Rescue Team leader and US war veteran Will Ford, who now develops security for skyscrapers, has to rescue his family trapped inside one in China.
Cast:
Dwayne Johnson, Neve Campbell, Chin Han, Roland Møller, Pablo Schreiber, Byron Mann, Hannah Quinlivan, Noah Taylor
Trailer
:
HOTEL TRANSYLVANIA 3: SUMMER VACATION
Director: Genndy Tartakovsky
Plot: Taking place 6 years after the events of the previous film, the story centers on Dracula, Mavis, Johnny and the rest of their family, both human and monster, and friends as they take a vacation on a luxury Monster Cruise Ship, where Dracula suddenly becomes attracted to the ship's mysterious captain, Erika, who is secretly the great grandaughter of Abraham Van Helsing, the notorious monster slayer and Dracula's ancient archenemy. Now it is time for Mavis to be the leader of the "Drac Pack" and rally up everyone so they can stop Erika and save Dracula, before it's too late.
Cast: Adam Sandler, Andy Samberg, Selena Gomez, David Spade, Steve Buscemi, Molly Shannon, Keegan-Michael Key, Kevin James, Fran Drescher, Asher Blinkoff, Kathryn Hahn, Jim Gaffigan, Mel Brooks
Trailer:
EIGHTH GRADE
Director: Bo Burnham
Plot: Kayla is a 13-year-old who must endure the tidal wave of contemporary suburban adolescence as she makes her way through her last week of middle school -- and the end of one disastrous year of eighth grade.
Cast: Elsie Fisher, Josh Hamilton, Emily Robinson, Missy Yager
Trailer:
DON'T WORRY, HE WON'T GET FAR ON FOOT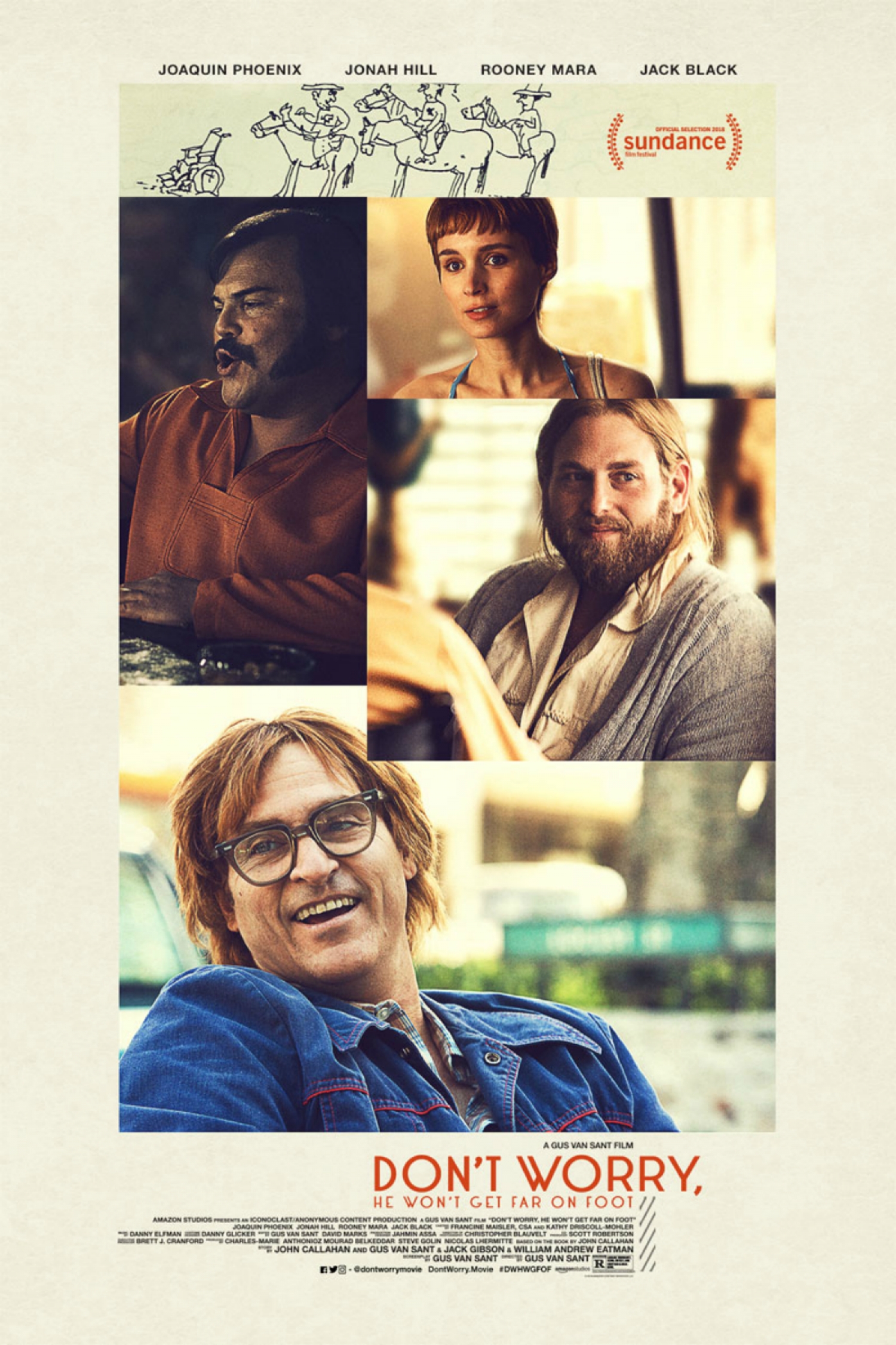 Director: Gus Van Sant
Plot: After nearly dying in a car accident, the last thing Oregon slacker John Callahan intends to do is give up alcohol. Encouraged by his girlfriend and a charismatic sponsor, Callahan reluctantly enters a treatment program and discovers that he has a knack for drawing. The budding artist soon finds himself with a new lease on life when his edgy and irreverent newspaper cartoons gain a national and devoted following.
Cast: Joaquin Phoenix, Rooney Mara, Jonah Hill, Jack Black
Trailer:
JULY 20:
THE EQUALIZER 2
Director: Antoine Fuqua
Plot: Robert McCall learns that one of his longtime friends, Susan, has been murdered. McCall decides to return to his old ways and seek out and find and punish the perpetrators.
Cast: Denzel Washington, Ashton Sanders, Pedro Pascal, Melissa Leo, Bill Pullman
Trailer:
MAMMA MIA: HERE WE GO AGAIN!
Director:
Ol Parker
Cast:
Meryl Streep, Lily James, Amanda Seyfried, Dominic Cooper, Colin Firth, Pierce Brosnan, Jeremy Irvine, Christine Baranski, Stellan Skarsgård
Trailer:
JULY 27:
MISSION: IMPOSSIBLE - FALLOUT
Director:
Christopher McQuarrie
Plot:
When an IMF mission ends badly, the world is faced with dire consequences. As Ethan Hunt takes it upon himself to fulfil his original briefing, the CIA begin to question his loyalty and his motives. The IMF team find themselves in a race against time, hunted by assassins while trying to prevent a global catastrophe.
Cast:
Tom Cruise, Henry Cavill, Rebecca Ferguson, Ving Rhames, Simon Pegg, Alec Baldwin, Sean Harris, Vanessa Kirby, Sian Brooke
Trailer:
TEEN TITANS GO! TO THE MOVIES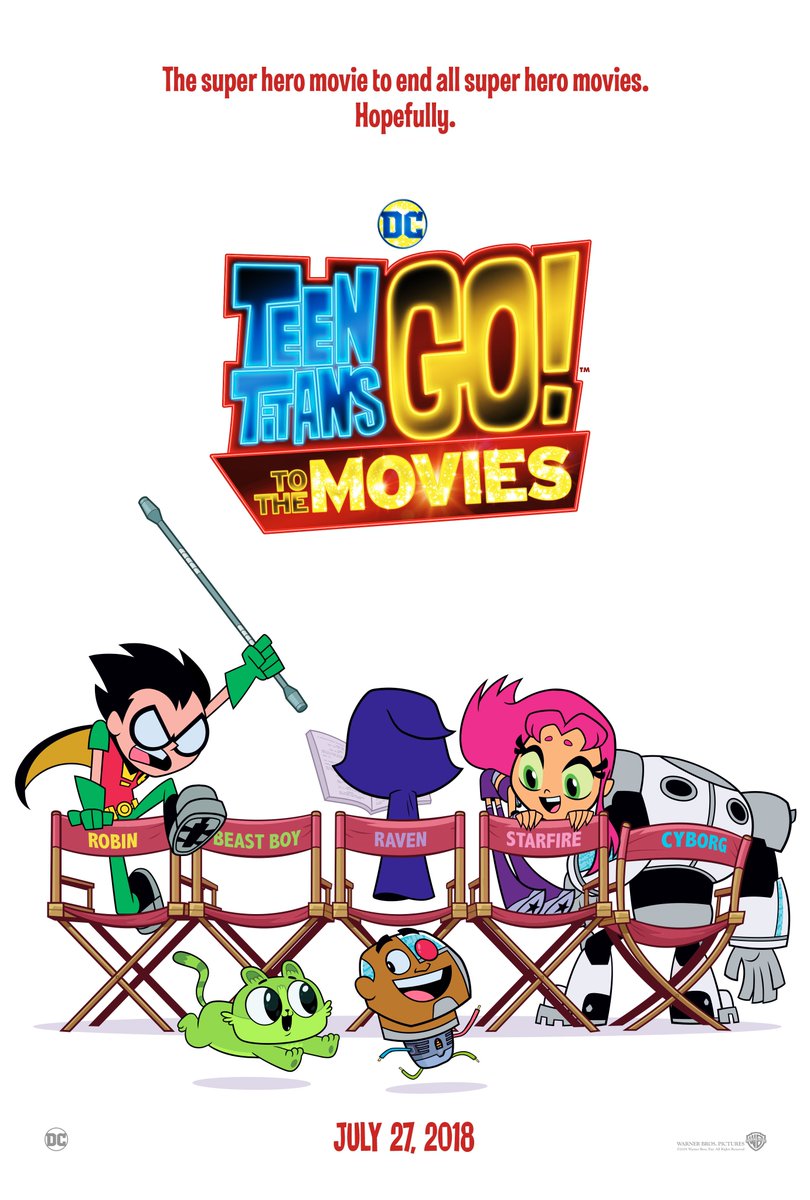 Director:
Peter Rida Michail
Plot:
Existing in the same continuity as their silly and comical yet still active show, the Teen Titans find out that all the other DC superheroes seem to have films produced, so they seek out the perfect director for their debut on the big screen, but their old enemy Slade has other ideas in mind for them.
Cast:
Scott Menville, Khary Payton, Tara Strong, Greg Cipes, Hynden Walch, Will Arnett, Kristin Bell
Trailer:
HOT SUMMER NIGHTS
Director: Elijah Bynum
Plot: Set in Cape Cod over one scorching summer, Hot Summer Nights follows Daniel (Timothée Chalamet), a shy out-of-towner who gets in over his head flipping weed with the neighborhood rebel (Alex Roe) while pursuing his new business partner's enigmatic sister (Maika Monroe). With a hurricane looming in the wings, tensions rise against a backdrop of drive-ins, arcades, and crashed parties as the stakes (and temperatures) grow ever higher.
Cast: Timothée Chalamet, Maika Monroe, Alex Roe, Maia Mitchell
Trailer:
BLINDSPOTTING
Director: Carlos López Estrada
Plot: Oakland residents Collin and his best friend Miles have been friends since childhood, but Collin, who's black, is tired of getting into trouble while Miles, who's white and a troublemaker, always gets a pass.
Cast: Janina Gavankar, Ethan Embry, Daveed Diggs, Rafael Casal, Wayne Knight
Trailer:
AUGUST 3:
CHRISTOPHER ROBIN
Director: Marc Forster
Plot: Christopher Robin, the little boy from the Winnie-the-Pooh stories, is now all grown up, and has lost all sense of imagination. Pooh and his friends from the Hundred Acre Wood re-enter Christopher's life to help him find it again.
Cast:
Ewan McGregor, Hayley Atwell, Bronte Carmichael, Mark Gatiss, Jim Cummings, Chris O'Dowd, Brad Garrett, Toby Jones, Nick Mohammed, Peter Capaldi, Sophie Okonedo
Trailer:
THE SPY WHO DUMPED ME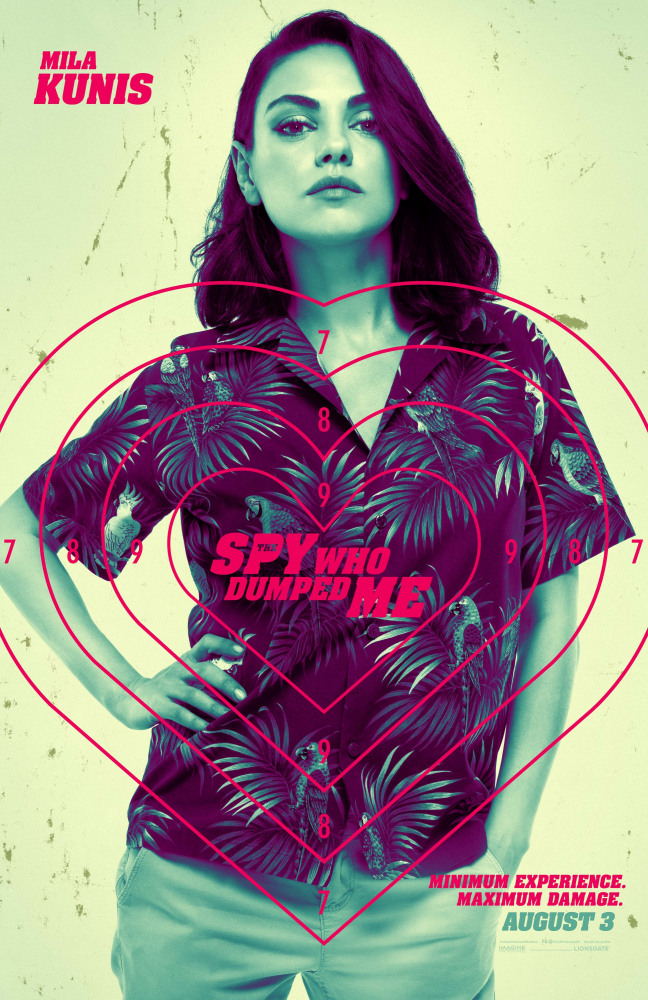 Director: Susanna Fogel
Plot: Audrey and her best friend Morgan find themselves embroiled in a major international conspiracy when Audrey's ex-boyfriend unexpectedly re-enters her life with a team of assassins on his trail and reveals that he is actually a CIA agent.
Cast: Mila Kunis, Kate McKinnon, Sam Heughan, Hasan Minhaj, Ivanna Sakhno, Justin Theroux, Gillian Anderson, Fred Melamed, Kev Adams, Olafur Darri Olafsson
Trailer:
THE DARKEST MINDS
Director: Jennifer Yuh Nelson
Plot: After a plague kills nearly all of America's children, the ones left are given special abilities. 16-year old Ruby is one of the most powerful, and runs away from her government internment camp with other teenagers. The group comes to realize they can form a rebellion and exact revenge upon those in power who have tortured their generation.
Cast: Amandla Stenberg, Harris Dickinson, Mandy Moore, Patrick Gibson, Skylan Brooks, Miya Cech, Gwendoline Christie, Golden Brooks
Trailer:
SEARCHING
Director: Aneesh Chaganty
Plot: Told entirely from a computer screen, David Kim discovers that his daughter, Margot, is missing. As he searches through her web history and interviews people who were supposedly close with her, he begins to learn that his daughter was not as perfect as she seemed.
Cast: John Cho, Debra Messing, Joseph Lee, Michelle La, Sara Sohn
Trailer:
MILE 22
Director: Peter Berg
Plot: An elite American intelligence officer tries to secretly move a police officer with sensitive information out of a foreign country.
Cast: Mark Wahlberg, John Malkovich, Lauren Cohan, Iko Uwais, Ronda Rousey
Trailer:
BILLIONAIRE BOYS CLUB
Director: James Cox
Plot: Led by their fellow preppie friend Joe Hunt, a group of wealthy boys in 1980s Los Angeles come up with a plan to get-rich-quick with a Ponzi scheme. The plan ends badly for all involved when Hunt and Pittman end up murdering investor and con-man, Ron Levin.
Cast: Ansel Elgort, Taron Egerton, Kevin Spacey, Jeremy Irvine, Cary Elwes, Emma Roberts, Billie Lourd, Suki Waterhouse, Judd Nelson


AUGUST 10:
THE MEG
Director:
Jon Turteltaub
Plot:
After escaping an attack by what he claims was a 70-foot shark, Jonas Taylor must confront his fears to save those trapped in a sunken submersible.
Cast
: Jason Statham, Jessica McNamee, Li Bingbing, Ruby Rose, Rainn Wilson, Cliff Curtis, Robert Taylor
Trailer:
A PRAYER BEFORE DAWN
Director: Jean-Stéphane Sauvaire
Plot: Young British boxer Billy Moore enters Muay Thai tournaments while incarcerated in two of Thailand's most notorious prisons.
Cast: Joe Cole, Vithaya Pansringar, Panya Yimmumphai, Somluck Kamsing
Trailer:
BLACKKKLANSMAN
Director: Spike Lee
Plot: An African American detective in Colorado Springs, Colorado infiltrates the local chapter of the Ku Klux Klan and eventually becomes the head of the chapter.
Cast:
John David Washington, Adam Driver, Laura Harrier, Topher Grace, Jasper Pääkkönen, Corey Hawkins, Paul Walter Hauser, Harry Belafonte
Trailer:
AUGUST 17:
CRAZY RICH ASIANS
Director: Jon M. Chu
Plot: Based on the novel by Kevin Kwan, Crazy Rich Asians centers on American-born Chinese economics professor Rachel Chu, who accompanies her boyfriend to Singapore for his best friend's wedding only to get thrust into the lives of Asia's rich and famous. She discovers that her boyfriend comes from a ridiculously wealthy family with a dark past and that every woman wants him.
Cast: Constance Wu, Henry Golding, Gemma Chan, Lisa Lu, Awkwafina, Ken Jeong, Michelle Yeoh
Trailer:
THE HAPPYTIME MURDERS
Director: Brian Henson
Plot: In a world where puppets co-exist with humans as second class citizens, puppet private eye and disgraced ex-cop, Phil Phillips (Bill Barretta), is hot on the trail of the serial killer who murdered his brother and is now targeting the cast members of the famous 80s television series The Happytime Gang. As the killings continue, Phil's former flame, Jenny (Elizabeth Banks), is next on the list. It's up to Phil and his ex-partner, Detective Edwards (Melissa McCarthy), to find the culprit, but as bad blood and old resentments resurface the clues start pointing to the only viable suspect, Phil himself. Now he's on the run with only his wits and hard headed determination, as he and his partner attempt to solve The Happytime Murders.
Cast:
Melissa McCarthy, Bill Barretta, Maya Rudolph, Joel McHale, Elizabeth Banks
Trailer:
THREE SECONDS
Director: Andrea Di Stefano
Cast: Joel Kinnaman, Rosamund Pike, Clive Owen, Common, Ana de Armas
WHITE BOY RICK
Director: Yann Demange
Cast: Richie Merritt, Jennifer Jason Leigh, Bruce Dern, Bel Powley, Piper Laurie, Matthew McConaughey


AUGUST 31:
KIN
Directors: Jonathan Baker and Josh Baker
Plot: A released ex-con and his younger brother, who are forced to go on the run from a vengeful criminal and a pair of otherworldly soldiers, have to defend themselves by using a mysterious weapon of an unknown origin.
Cast: James Franco, Myles Truitt, Jack Reynor, Zoë Kravitz, Dennis Quaid
Trailer:

SEPTEMBER 7:
CITY OF LIES
Director: Brad Furman
Plot: The film tells the story of american hero and former LAPD detective, Russell Poole (Johnny Depp), who in 1997 is working the murder cases of rappers Tupac Shakur and The Notorious B.I.G. A reporter (based on journalist Randall Sullivan's collaboration with Russell Poole), "Jack" Jackson, teams up with Poole after nearly two decades to find out the truth.
Cast: Johnny Depp, Forest Whitaker, Rockmond Dunbar, Neil Brown Jr.
Trailer:
SEPTEMBER 14:
THE PREDATOR
Director: Shane Black
Plot: A young boy accidentally triggers the Predators to return to Earth. The universe's most lethal hunters have genetically upgraded themselves with DNA from other species. Only a crew of former soldiers and a disgruntled science teacher can stop the hunters before anybody becomes their prey.
Cast:
Boyd Holbrook, Olivia Munn, Trevante Rhodes, Keegan-Michael Key, Thomas Jane, Sterling K. Brown, Jacob Tremblay
Trailer:
SEPTEMBER 21:
THE HOUSE WITH A CLOCK IN ITS WALLS
Director: Eli Roth
Plot: Lewis Barnavelt is a young orphan who helps his uncle Jonathan and a witch named Mrs. Zimmerman to find a magic clock that contains the power to bring about the end of the world.
Cast:
Jack Black, Cate Blanchett, Kyle MacLachlan, Owen Vaccaro, Colleen Camp
Trailer:
SEPTEMBER 28:
SMALLFOOT
Director: Karey Kirkpatrick
Plot: A Yeti named Migo (voiced by Channing Tatum) is convinced that the elusive creatures known as "Smallfoots" (known as Humans) really do exist.
Cast: Channing Tatum, James Corden, Zendaya, Common, LeBron James, Gina Rodriguez, Danny DeVito, Yara Shahidi, Ely Henry, Jimmy Tatro
Trailer:
NIGHT SCHOOL
Director: Malcolm D. Lee
Plot: A group of troublemakers who are forced to attend night school in hopes that they'll pass the GED exam to finish high school.
Cast: Kevin Hart, Harry Ratchford, Joey Wells, Matt Kefllard, Nicholas Stoller (screenplay); Kevin Hart, Tiffany Haddish, Taran Killam, Rob Riggle, Ben Schwartz, Yvonne Orji
Trailer:
OCTOBER 5:
VENOM
Director: Ruben Fleischer
Plot: One of Marvel's most enigmatic, complex and badass characters comes to the big screen, starring Academy Award® nominated actor Tom Hardy as the lethal protector Venom.
Cast: Tom Hardy, Riz Ahmed, Michelle Williams, Jenny Slate, Reid Scott, Scott Haze, Woody Harrelson
Trailer:
A STAR IS BORN
Director: Bradley Cooper
Cast:
Bradley Cooper, Stefani Germanotta, Sam Elliott, Andrew Dice Clay, Dave Chappelle
BAD TIMES AT THE EL ROYALE
Director: Drew Goddard
Plot: Seven strangers, each with a secret to bury, meet at Lake Tahoe's El Royale, a rundown hotel with a dark past. Over the course of one fateful night, everyone will have a last shot at redemption... before everything goes to hell.
Cast: Chris Hemsworth, Jeff Bridges, Cailee Spaeny, Cynthia Erivo, Dakota Johnson, Jon Hamm, Nick Offerman, Russell Crowe


OCTOBER 12:
FIRST MAN
Director: Damien Chazelle
Cast: Ryan Gosling, Jon Bernthal, Claire Foy, Kyle Chandler, Jason Clarke, Corey Stoll, Brian d'Arcy James, Pablo Schreiber
GOOSEBUMPS: HAUNTED HALLOWEEN
Director: Ari Sandel
Cast: Jack Black, Madison Iseman, Ben O'Brien, Caleel Harris, Jeremy Ray Taylor, Wendi McLendon-Covey, Chris Parnell, Ken Jeong


OCTOBER 19:
MOWGLI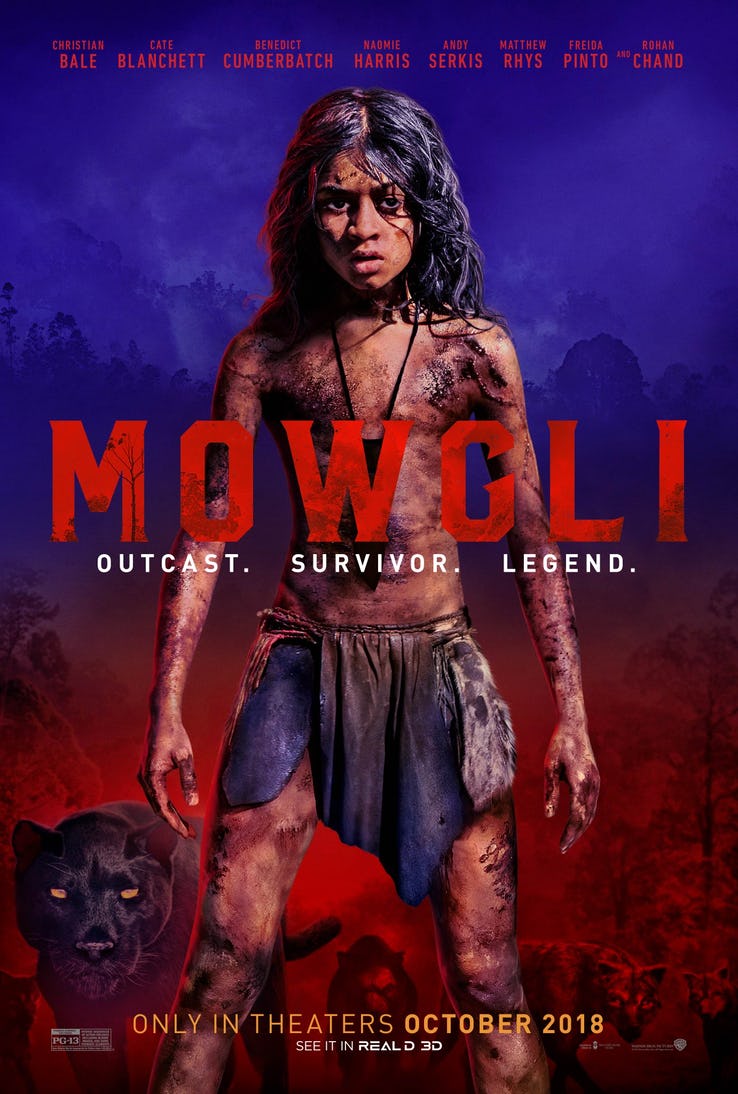 Director: Andy Serkis
Plot: Human child Mowgli is raised by a wolf pack in the jungles of India. As he learns the often harsh rules of the jungle, under the tutelage of a bear named Baloo and a panther named Bagheera, Mowgli becomes accepted by the animals of the jungle as one of their own, but the fearsome tiger Shere Khan doesn't take a liking to him. But there may be greater dangers lurking in the jungle, as Mowgli comes face to face with his human origins.
Cast:
Rohan Chand, Andy Serkis, Benedict Cumberbatch, Christian Bale, Cate Blanchett, Naomie Harris, Tom Hollander, Eddie Marsan, Peter Mullan
Trailer:
HALLOWEEN
Director: David Gordon Green
Cast: Jamie Lee Curtis, Judy Greer, Andi Matichak, Nick Castle
OCTOBER 26:
OVERLORD
Director: Julius Avery
Plot: In 1944, two American paratroopers are shot down over Normandy in the midst of the D-Day invasion and they discover that the Nazis are using supernatural forces against them.
Cast: Wyatt Russell, Jovan Adepo, Jacob Anderson, Bokeem Woodbine, Pilou Asbæk
NOVEMBER 2:
BOHEMIAN RHAPSODY
Director: Dexter Fletcher
Plot: Bohemian Rhapsody is a foot-stomping celebration of Queen, their music and their extraordinary lead singer Freddie Mercury, who defied stereotypes and shattered convention to become one of the most beloved entertainers on the planet. The film traces the meteoric rise of the band through their iconic songs and revolutionary sound, their near-implosion as Mercury's lifestyle spirals out of control, and their triumphant reunion on the eve of Live Aid, where Mercury, facing a life-threatening illness, leads the band in one of the greatest performances in the history of rock music. In the process, cementing the legacy of a band that were always more like a family, and who continue to inspire outsiders, dreamers and music lovers to this day.
Cast:
Rami Malek, Mike Meyers, Lucy Boyton, Joseph Mazzello, Ben Hardy, Gwilym Lee, Allen Leech
Trailer:
THE NUTCRACKER AND THE FOUR REALMS
Director: Lasse Hallström
Plot: The Nutcracker and the Four Realms is an upcoming live-action adaptation of E.T.A. Hoffmann's The Nutcracker and the Mouse King about a young girl who finds a Nutcracker doll among the family's gifts and is charged by her parents to take special care of it.
Cast: Mackenzie Foy, Keira Knightley, Morgan Freeman, Helen Mirren, Eugenio Derbez, Miranda Hart, Ellie Bamber, Misty Copeland
Trailer:
MARY QUEEN OF SCOTS
Director: Josie Rourke
Cast: Saoirse Ronan, Margot Robbie, Jack Lowden, Martin Compston, David Tennant, Joe Alwyn, Brendan Coyle, Guy Pearce
NOVEMBER 9:

DR SEUSS' THE GRINCH
Director: Peter Candeland
Plot: The Grinch (Benedict Cumberbatch) hatches a scheme with his trusted canine Max to ruin Christmas when the residents of Whoville plan their annual holiday celebration. Meanwhile, Cindy-Lou Who plots to capture Santa Claus to thank him for helping her single mother every Christmas, something which will interfere with the Grinch's plans.
Cast:
Benedict Cumberbatch, Kaitlyn Maher
Trailer:
NOVEMBER 16:
FANTASTIC BEASTS: THE CRIMES OF GRINDELWALD
Director: David Yates
Plot: Magizoologist Newt Scamander joins forces with wizard Albus Dumbledore to battle the devious Gellert Grindelwald in 1920s Paris.
Cast: Eddie Redmayne, Katherine Waterston, Alison Sudol, Dan Fogler, Johnny Depp, Jude Law, Ezra Miller, Zoe Kravitz, Callum Turner, Claudia Kim, William Nadylam, Ingvar Sigurdsson, Olafur Darri Olafsson, Kevin Guthrie, Brontis Jodorowsky, Wolf Roth, Victoria Yeates, Derek Riddell, Poppy Corby-Tuech, Cornell S John, Jessica Williams, Fiona Glascott
Trailer:
WIDOWS
Director: Steve McQueen
Plot: Four armed robbers are killed in a failed heist attempt, only to have their widows step up to finish the job.
Cast: Viola Davis, Cynthia Erivo, André Holland, Elizabeth Debicki, Michelle Rodriguez, Daniel Kaluuya, Liam Neeson, Colin Farrell, Robert Duvall, Carrie Coon
NOVEMBER 21:
RALPH BREAKS THE INTERNET: WRECK-IT RALPH 2
Directors: Rich Moore, Phil Johnston
Plot: Taking place six years after the events of the first film, the story will center on Ralph's adventures in the Internet data space when a WiFi router gets plugged into the arcade.
Cast:
John C. Reilly, Sarah Silverman, Jack McBrayer, Jane Lynch, Taraji P. Henson, Ed O'Neill, Alan Tudyk, James Corden, Ana Ortiz
Trailer:

ROBIN HOOD
Director:
Otto Bathurst
Plot:
A war-hardened Crusader and his Moorish commander mount an audacious revolt against the corrupt English crown in a thrilling action-adventure packed with gritty battlefield exploits, mind-blowing fight choreography, and a timeless romance.
Cast:
Taron Egerton, Jamie Foxx, Eve Hewson, Jamie Dornan, Ben Mendelsohn
Trailer:
CREED II
Director: Steven Caple Jr.
Cast: Michael B. Jordan, Sylvester Stallone, Tessa Thompson, Dolph Lundgren, Florian Munteanu
THE WOMEN OF MARWEN
Director: Robert Zemeckis
Cast: Steve Carell, Leslie Mann, Diane Kruger, Falk Hentschel, Janelle Monáe, Eiza Gonzalez, Gwendoline Christie
DECEMBER 14:
SPIDER-MAN: INTO THE SPIDER-VERSE
Director: Bob Persichetti and Peter Ramsey
Plot: Phil Lord and Chris Miller, the creative minds behind "The Lego Movie" and "21 Jump Street," bring their unique talents to a fresh vision of a different Spider-Man Universe, with a groundbreaking visual style that's the first of its kind. "Spider-Man: Into The Spider-Verse" introduces Brooklyn teen Miles Morales, and the limitless possibilities of the Spider-Verse, where more than one can wear the mask.
Cast: Shameik Moore, Liev Schreiber, Mahershala Ali, Brian Tyree Henry, Jake Johnson
Trailer:
MORTAL ENGINES
Director: Christian Rivers
Plot: Mobile cities battle each other over the world's few remaining resources.
Cast: Robert Sheehan, Hera Hilmar, Jihae, Leila George, Ronan Raftery, Hugo Weaving, Stephen Lang
Trailer:
DECEMBER 21:

AQUAMAN
Director: James Wan
Cast: Jason Momoa, Amber Heard, Patrick Wilson, Nicole Kidman, Yahya Abdul-Mateen II, Willem Dafoe, Temuera Morrison, Dolph Lundgren
BUMBLEBEE
Director: Travis Knight
Plot: In the year 1986, Bumblebee takes refuge in a small California beach town junkyard. A teenage girl learns that it is no ordinary Volkswagen Beetle.
Cast:
Hailee Steinfeld, John Cena, Jorge Lendeborg Jr., Rachel Crow, Pamela Adlon
HOLMES AND WATSON
Director: Etan Cohen
Plot: A comedic take on the famed literary characters Sherlock Holmes and Dr. John Watson as they use their brilliant minds to solve a mystery.
Cast: Will Ferrell, John C. Reilly, Lauren Lapkus, Rob Brydon, Kelly Macdonald, Rebecca Hall, Ralph Fiennes, Hugh Laurie, Bella Ramsey, Scarlet Grace


ALITA: BATTLE ANGEL
Director: Robert Rodriguez
Plot: Visionary filmmakers James Cameron (AVATAR) and Robert Rodriguez (SIN CITY) create a groundbreaking new heroine in ALITA: BATTLE ANGEL, an action-packed story of hope, love and empowerment. Set several centuries in the future, the abandoned Alita (Rosa Salazar) is found in the scrapyard of Iron City by Ido (Christoph Waltz), a compassionate cyber-doctor who takes the unconscious cyborg Alita to his clinic. When Alita awakens she has no memory of who she is, nor does she have any recognition of the world she finds herself in. Everything is new to Alita, every experience a first.
Cast:
Rosa Salazar, Keean Johnson, Ed Skrein, Mahershala Ali, Christoph Waltz, Jackie Earle Haley, Eiza González
Trailer:
DECEMBER 25:
MARY POPPINS RETURNS
Director: Rob Marshall
Plot: Set in 1930s London, Jane and Michael Banks are now grown-up, with Michael still living in the house on Cherry Tree Lane. He lives there with his three children, Annabel, John, and George, and the housekeeper named Ellen. After Michael suffers a personal loss, Mary Poppins comes back to the Banks family with street lamplighter Jack, and eccentric cousin Topsy.
Cast: Emily Blunt, Lin-Manuel Miranda, Meryl Streep, Colin Firth, Ben Wishaw, Emily Mortimer
Trailer:

JANUARY 11:
HELLBOY
Director: Neil Marshall
Plot: Hellboy squares off against a medieval sorceress who seeks to destroy humankind.
Cast: David Harbour, Ian McShane, Milla Jovovich, Sasha Lane, Penelope Mitchell, Daniel Dae Kim, Sophie Okonedo, Alistair Petrie, Brian Gleeson
AD ASTRA
Director: James Gray
Plot: Twenty years after his father left on a one-way mission to Neptune in order to find signs of extra-terrestrial intelligence, McBride travels through the solar system to find him and understand why his mission failed.
Cast: Brad Pitt, Tommy Lee Jones, Ruth Negga, Donald Sutherland, Jamie Kennedy
JANUARY 18:
GLASS
Director: M. Night Shyamalan
Cast: Bruce Willis, Samuel L. Jackson, James McAvoy, Anya Taylor-Joy, Spencer Treat Clark, Charlayne Woodard
SPIES IN DISGUISE
Directors: Nick Bruno and Troy Quane
Cast: Will Smith, Tom Holland
FEBRUARY 8:
THE LEGO MOVIE 2: THE SECOND PART
Director: Rob Schrab
Cast: Chris Pratt, Elizabeth Banks, Morgan Freeman, Will Ferrell, Will Arnett
FLARSKY
Director: Jonathan Levine
Plot: Fred Flarsky, an unemployed journalist, battered by his own misfortune and self-destructive ways, courts his childhood crush and babysitter - who is now one of the most powerful and unattainable women on earth.
Cast: Seth Rogen, Charlize Theron, O'Shea Jackson Jr., June Diane Raphael, Ravi Patel, Andy Serkis, Alexander Skarsgård, Randall Park, Bob Odenkirk
FEBRUARY 15:
X-MEN: DARK PHOENIX
Director: Simon Kinberg
Cast: James McAvoy, Michael Fassbender, Jennifer Lawrence, Nicholas Hoult, Alexandra Shipp, Sophie Turner, Tye Sheridan, Kodi Smit-McPhee, Jessica Chastain, Evan Peters, Lamar Johnson
FEBRUARY 22:
THE TURNING
Director: Floria Sigismondi
Plot: A young woman hired to nanny two orphans is convinced that the old country mansion they live in is haunted.
Cast: Mackenzie Davis, Finn Wolfhard, Brooklynn Prince
MARCH 1:
HOW TO TRAIN YOUR DRAGON: THE HIDDEN WORLD
Director: Dean DeBlois
Cast:
Jay Baruchel, Craig Ferguson, America Ferrera, Jonah Hill, Christopher Mintz-Plasse, T. J. Miller, Kristen Wiig, Cate Blanchett, Djimon Hounsou
CHAOS WALKING
Director: Doug Liman
Cast:
Tom Holland, Daisy Ridley, Mads Mikkelsen, Demián Bichir, Kurt Sutter, Nick Jonas, David Oyelowo, Cynthia Erivo, Óscar Jaenada
THE KID WHO WOULD BE KING
Director: Joe Cornish
Plot: Alex finds his everyday problems dwarfed by his discovery of the mythical sword Excalibur. Now, with the most powerful sword in history in the hands of the most powerless schoolboy in Britain, Alex and his friends must thwart a medieval villain named Morgana, who is hell-bent on destroying the world.
Cast: Patrick Stewart, Louis Serkis, Tom Taylor, Rebecca Ferguson
MARCH 8:
CAPTAIN MARVEL
Director: Anna Boden and Ryan Fleck
Cast: Brie Larson, Samuel L. Jackson, Jude Law, Ben Mendelsohn, Lee Pace, Lashana Lynch, Gemma Chan, Algenis Perez Soto, Rune Tempte, McKenna Grace, Djimon Hounsou, Clark Gregg
MARCH 15:
US
Director: Jordan Peele
Cast: Winston Duke, Lupita Nyong'o, Elisabeth Moss


WONDER PARK
Director: Dylan Brown
Cast: Matthew Broderick, Jennifer Garner, Jeffrey Tambor, Kenan Thompson, Ken Jeong, Mila Kunis, John Oliver
MARCH 22:
GODZILLA: KING OF THE MONSTERS
Director: Michael Dougherty
Cast: Millie Bobby Brown, Kyle Chandler, Vera Farmiga, O'Shea Jackson Jr., Thomas Middleditch, Randell Havens
MARCH 29:
DUMBO
Director: Tim Burton
Cast: Colin Farrell, Eva Green, Michael Keaton, Danny DeVito, Alan Arkin
CAPTIVE STATE
Director: Rupert Wyatt
Plot: Nearly a decade after occupation by an extraterrestrial force, the lives of a Chicago neighborhood on both sides of the conflict are explored.
Cast:
John Goodman, Ashton Sanders, Jonathan Majors, Vera Farmiga
APRIL 5:
SHAZAM!
Director:
David F. Sandberg
Cast:
Zachary Levi, Asher Angel, Mark Strong, Grace Fulton, James Dylan Grazer, Adam Brody, Ian Chen, Ross Butler, Meagan Good, D.J. Cotrona, Jovan Armand, Faithe Herman, Cooper Andrews, Marta Milans
APRIL 12:
THE VOYAGE OF DOCTOR DOLITTLE
Director:
Stephen Gaghan
Cast:
Robert Downey Jr, Jim Broadbent, Antonio Banderas, Michael Sheen, Selena Gomez, Emma Thompson, Ralph Fiennes, Tom Holland
MAY 3:
AVENGERS 4
Directors: Joe and Anthony Russo
Cast: Robert Downey, Jr., Chris Evans, Chris Hemsworth, Mark Ruffalo, Scarlett Johansson, Josh Brolin, Brie Larson, Jeremy Renner, Bradley Cooper, Paul Rudd, Evangeline Lily, Don Cheadle, Chris Pratt, Benedict Cumberbatch, Tom Hiddleston, Samuel L. Jackson, Vin Diesel, Dave Bautista, Zoe Saldana, Pom Klementieff, Karen Gillan, Tom Holland, Sebastian Stan, Paul Bettany, Anthony Mackie, Letitia Wright, Hiroyuki Sanada
MAY 10:
DETECTIVE PIKACHU
Director: Rob Letterman
Cast: Ryan Reynolds, Justice Smith, Kathryn Newton, Bill Nighy, Chris Geere
MAY 17:
JOHN WICK: CHAPTER 3
Director: Chad Stahelski
Cast: Keanu Reeves, Halle Berry, Anjelica Huston, Laurence Fishburne, Lance Reddick, Ian McShane, Hiroyuki Sanada, Asia Kate Dillon, Mark Dacascos, Jason Mantzoukas, Yayan Ruhian, Cecep Arif Rahman


MAY 24:
ALADDIN
Director: Guy Ritchie
Cast: Mena Massoud, Naomi Scott, Will Smith, Marwan Kenzari, Navid Negahban, Nasim Pedrad, Billy Magnussen, Numan Acar
JUNE 7:
CHARLIE'S ANGELS
Director: Elizabeth Banks
JUNE 14:
MEN IN BLACK SPIN-OFF
Director: F. Gary Gray
Cast: Chris Hemsworth, Tessa Thompson, Liam Neeson
SON OF SHAFT
Director: Tim Story
Cast: Richard Roundtree, Samuel L. Jackson, Jessie T. Usher
JUNE 21:
TOY STORY 4
Directors: Josh Cooley
Plot: Follows the love story and relationship between Woody and Bo Peep. Woody and Buzz set out to find Bo Peep.
Cast: Tom Hanks, Tim Allen, Kristen Schaal, Patricia Arquette, Laurie Metcalf
JUNE 28:
Director:
Michelle MacLaren
Cast:
Chris Pratt
JULY 5
SPIDER-MAN: HOMECOMING 2
Director: Jon Watts
Cast: Tom Holland, Jake Gyllenhaal, Zendaya, Michael Keaton, Marisa Tomei
JULY 12:
TOP GUN: MAVERICK
Director: Joseph Kosinski
Cast: Tom Cruise
JULY 19:
Director: Jon Favreau
Cast: James Earl Jones, Donald Glover, Beyoncé, John Kani, Seth Rogen, Billy Eichner, John Oliver, Chiwetel Ejiofor, Keegan-Michael Key, Eric Andre, Florence Kasumba, J.D. McCrary, Shahadi Wright Joseph

AUGUST 2:

THE NEW MUTANTS
Director:
Josh Boone
Plot:
Five young mutants, just discovering their abilities while held in a secret facility against their will, fight to escape their past sins and save themselves.
Cast:
Anya Taylor-Joy, Charlie Heaton, Maise Williams, Henry Zaga, Alice Braga
Trailer:
HOBBS AND SHAW
Director:
David Leitch
Cast:
Dwayne Johnson, Jason Statham
Director:
James Bobin
Cast:
Isabela Moner
AUGUST 9:
ARTEMIS FOWL
Director: Kenneth Branagh
Cast: Ferdie Shaw, Josh Gad, Judi Dench, Lara McDonnell, Nonso Anozie
ONCE UPON A TIME IN HOLLYWOOD
Director: Quentin Tarantino
Cast: Leonardo DiCaprio, Brad Pitt, Margot Robbie, Zoe Bell, Burt Reynolds, Tim Roth, Timothy Olyphant, Kurt Russell, Michael Madsen
SEPTEMBER 6:

IT: CHAPTER TWO
Director: Andy Muschietti
Cast: Jessica Chastain, Bill Skarsgård, James McAvoy, Bill Hader, James Ransone, Andy Bean, Jay Ryan


OCTOBER 4:
GEMINI MAN
Director: Ang Lee
Plot: Follows an aging assassin who finds himself in a battle with his clone, who is 25 years younger and at the peak of his abilities.
Cast: Will Smith, Clive Owen, Mary Elizabeth Winstead, Benedict Wong
NOVEMBER 1:
WONDER WOMAN 2
Director: Patty Jenkins
Cast: Gal Gadot, Kristen Wiig, Pedro Pascal
NOVEMBER 8:
NICOLE
Director: Marc Lawrence
Cast: Anna Kendrick, Billy Eichner, Bill Hader, Shirley MacLaine, Julie Hagerty
BOND 25
Director: Danny Boyle
Cast: Daniel Craig
NOVEMBER 15:
SONIC THE HEDGEHOG
Director: Jeff Fowler
NOVEMBER 22:
Director:
Tim Miller
Cast:
Arnold Schwarzenegger
, Gabriel Luna, Natalia Reyes, Linda Hamilton, Mackenzie Davis, Diego Boneta
NOVEMBER 27:
FROZEN 2
Director: Jennifer Lee
Cast:
Kristen Bell, Idina Menzel
DECEMBER 18:
MASTERS OF THE UNIVERSE
DECEMBER 20:
WICKED
STAR WARS: EPISODE IX
Director: J.J. Abrams
Cast:
Mark Hamill, Adam Driver, Daisy Ridley, John Boyega, Oscar Isaac
JANUARY 17:
BAD BOYS FOR LIFE
Director: Joe Carnahan
Cast:
Will Smith, Martin Lawrence
JUST MERCY
Director: Destin Daniel Cretton
Cast: Michael B. Jordan
FEBRUARY 7:
THE LOUD HOUSE MOVIE
Director: Chris Savino
Cast: Collin Dean, Catherine Taber, Liliana Mumy, Nika Futterman, Cristina Pucelli, Jessica DiCicco, Grey Griffin, Lara Jill Miller, Brian Stepanek, Jill Talley
FEBRUARY 14:
NIMONA
MARCH 27:
MULAN
APRIL 3:
UNTITLED DC EXTENDED UNIVERSE FILM
Director: Niki Caro
Cast: Liu Yifei, Donnie Yen, Jet Li, Gong Li, Xana Tang
APRIL 10:
FAST AND FURIOUS 9
APRIL 17:
TROLLS 2
MAY 8:
BARBIE
Director: Alethea Jones
Cast: Anne Hathaway
MAY 15:
SCOOBY
MAY 22:
GODZILLA VS. KONG
Director: Adam Wingard
JULY 10:
Director: Steven Spielberg
Cast: Harrison Ford
JULY 22:
Director: Paul Tibbitt
Cast: Tom Kenny, Bill Fagerbakke, Clancy Brown, Mr. Lawrence, Carolyn Lawrence, Rodger Bumpass
JULY 24:
UNTITLED DC EXTENDED UNIVERSE FILM
NOVEMBER 20:
FANTASTIC BEAST AND WHERE TO FIND THEM 3
Director: David Yates
Cast: Eddie Redmayne
NOVEMBER 25:
UNTITLED DISNEY ANIMATED FILM
DECEMBER 18:
AVATAR 2
Director: James Cameron
Cast: Zoe Saldana, Sam Worthington, Sigourney Weaver, Stephen Lang, Kate Winslet
DECEMBER 25:
SING 2