2017

AUGUST 18:
THE HITMAN'S BODYGUARD
Director: Patrick Hughes
Plot: A bodyguard (Ryan Reynolds) takes his former enemy, a hit man (Samuel L. Jackson), as a client so they can defeat a dictator (Gary Oldman).
Cast: Ryan Reynolds, Samuel L. Jackson, Gary Oldman, Élodie Yung, Salma Hayek
Trailer:
LOGAN LUCKY
Director: Steven Soderbergh
Plot: Trying to reverse a family curse, siblings Jimmy, (Channing Tatum), Mellie (Riley Keough), and Clyde Logan (Adam Driver) set out to execute an elaborate robbery during the legendary Coca
Cola 600 race at Charlotte Motor Speedway in Concord, North Carolina during Memorial Day weekend.
Cast: Channing Tatum, Adam Driver, Riley Keough, Daniel Craig, Hilary Swank, Seth MacFarlane, Katie Holmes, Katherine Waterston, Sebastian Stan
Trailer:
SEPTEMBER 8:
IT
Director: Andy Muschietti
Plot: It begins with the murder of a child in a small town's local storm drain. The child's brother and his group of friends begin a search for the killer, eventually discovering the murder was committed by an evil entity.
Cast: Bill Skarsgård, Jaeden Lieberher, Finn Wolfhard, Jack Dylan Grazer, Wyatt Oleff, Chosen Jacobs, Jeremy Ray Taylor, Sophia Lillis
Trailer:


SEPTEMBER 15:
AMERICAN ASSASSIN
Director: Michael Cuesta
Plot: Follows the rise of Mitch Rapp (Dylan O'Brien), a CIA black ops recruit under the instruction of Cold War veteran Stan Hurley (Michael Keaton). The pair is then enlisted by CIA Deputy Director Irene Kennedy (Sanaa Lathan) to investigate a wave of apparently random attacks on both military and civilian targets. Together the three discover a pattern in the violence leading them to a joint mission with a lethal Turkish agent (Shiva Negar) to stop a mysterious operative (Taylor Kitsch) intent on starting a World War.
Cast: Dylan O'Brien, Michael Keaton, Sanaa Lathan, Shiva Negar, Taylor Kitsch
SEPTEMBER 22:
THE LEGO NINJAGO MOVIE
Director: Charlie Bean
Plot: Ninjago is the story of six young ninja tasked with defending their island home called Ninjago. By night, they're gifted warriors using their skill and awesome fleet of vehicles to fight villains and monsters. By day, they're ordinary teens struggling against their greatest enemy....high school.
Cast: Jackie Chan, Dave Franco, Michael Peña, Abbi Jacobson, Kumail Nanjiani, Zach Woods, Fred Armisen
SEPTEMBER 29:
AMERICAN MADE
Director: Doug Liman
Plot: American Made tells the story of Barry Seal (Tom Cruise), a TWA pilot who is recruited by the CIA to help counter the emerging communist threat in Central America. Seal's role in this major CIA covert operation led in turn to his involvement with the Medellin cartel, which ultimately embarrassed the Reagan White House after the Iran-Contra scandal became public.
Cast: Tom Cruise, Domhnall Gleeson, Sarah Wright, Jayma Mays, Jesse Plemons, Lola Kirke
Trailer:
OCTOBER 6:
BLADE RUNNER 2049
Director: Denis Villeneuve
Plot: The story takes place several decades after the conclusion of the 1982 original, which centered on a man (Harrison Ford) working as a blade runner tasked with chasing down machines called replicants.
Cast: Ryan Gosling, Harrison Ford, Robin Wright, Dave Bautista, Ana de Armas, Sylvia Hoeks, Lennie James
Trailer:

KINGSMAN: THE GOLDEN CIRCLE
Director: Matthew Vaughn
Plot: Eggsy and Merlin head to the US to join forces with the "Statesman," their American counterpart, after the Kingsman HQ is destroyed by the notorious evil mastermind called "Poppy."
Cast: Taron Egerton, Julianne Moore, Halle Berry, Sophia Cookson, Edward Holcroft, Channing Tatum, Pedro Pascal, Elton John, Jeff Bridges
Trailer:

OCTOBER 20:
LEATHERFACE
Directors:
Julien Maury and Alexandre Bustillo
Cast:
Stephen Dorff, Vanessa Grasse, Sam Strike, Lili Taylor, James Bloor, Jessica Madsen, Sam Coleman, Finn Jones
THE SNOWMAN
Director: Tomas Alfredson
Cast: Michael Fassbender, Rebecca Ferguson, Toby Jones, J. K. Simmons, Jakob Oftebro, Chloë Sevigny
Plot:
When an elite crime squad's lead detective (Fassbender) investigates the disappearance of a victim on the first snow of winter, he fears an elusive serial killer may be active again. With the help of a brilliant recruit (Ferguson), the cop must connect decades-old cold cases to the brutal new one if he hopes to outwit this unthinkable evil before the next snowfall.
OCTOBER 27:
THANK YOU FORE YOUR SERVICE
Director: Jason Hall
Plot: The film follows three American soldiers returning from Iraq as they reintegrate with their families, adjust to civilian life and work to handle their memories of war.
Cast: Miles Teller, Haley Bennett, Beulah Koale, Amy Schumer, Scott Haze


NOVEMBER 3:
THOR: RAGNAROK
Director: Taika Waititi
Plot: After the events of Avengers: Age of Ultron, and four years after the events of Thor: The Dark World, Thor, held captive on the planet Sakaar without his hammer, must win a gladiatorial duel against an old friend—the Hulk—in order to return to Asgard in time to stop the villainous Hela and the impending Ragnarök, the doom of the Asgardian civilization.
Cast: Chris Hemsworth, Tom Hiddleston, Jaimie Alexander, Mark Ruffalo, Cate Blanchett, Tessa Thompson, Karl Urban, Jeff Goldblum, Anthony Hopkins, Benedict Cumberbatch
Trailer:

NOVEMBER 10:
DADDY'S HOME 2
Director: Sean Anders
Plot: Brad and Dusty (Will Ferrell, Mark Wahlberg) must deal with their intrusive fathers (Mel Gibson, John Lithgow) during the holidays.
Cast: Will Ferrell, Mark Wahlberg, Linda Cardellini, John Cena, Mel Gibson, John Lithgow
MURDER ON THE ORIENT EXPRESS
Director: Kenneth Branagh
Plot: A lavish trip through Europe quickly unfolds into a race against time to solve a murder aboard a train. Everyone's a suspect as Detective Hercule Poirot sifts through 13 strangers to find the killer before another person ends up dead.
Cast: Kenneth Branagh, Penélope Cruz, Willem Dafoe, Judi Dench, Johnny Depp, Josh Gad, Derek Jacobi, Leslie Odom Jr., Michelle Pfeiffer, Daisy Ridley
Trailer:
THE STAR
Director: Timothy Reckart
Plot: The film centers on a donkey, Bo, and his animal friends who become the unsung heroes of the first Christmas.
Cast: Steven Yeun, Oprah Winfrey, Tyler Perry, Kelly Clarkson, Aidy Bryant, Keegan-Michael Key, Kristin Chenoweth, Anthony Anderson, Gabriel Iglesias, Ving Rhames, Delilah Rene, Kris Kristofferson, Gina Rodriguez, Zachary Levi, Patricia Heaton, Tracy Morgan, Christopher Plummer
LBJ
Director: Rob Reiner
Plot: The story centers around the political upheaval that Vice President Johnson faced when he was thrust into the presidency at the hands of an assassin's bullet in November 1963. With political battles on both sides of the aisle, Johnson works to heal a nation and secure his presidency by passing Kennedy's historic Civil Rights Act. His early years are also chronicled.
Cast: Woody Harrelson, Richard Jenkins, Bill Pullman, Kim Allen, Michael Stahl-David, Jennifer Jason Leigh, Jeffrey Donovan, Doug McKeon, Michael Mosley
NOVEMBER 17
JUSTICE LEAGUE
Director: Zack Snyder
Plot: Fueled by his restored faith in humanity and inspired by Superman's selfless act, Bruce Wayne enlists the help of his newfound ally, Diana Prince, to face an even greater enemy. Together, Batman and Wonder Woman work quickly to find and recruit a team of metahumans to stand against this newly awakened threat. But despite the formation of this unprecedented league of heroes—Batman, Wonder Woman, Aquaman, Cyborg and The Flash—it may already be too late to save the planet from an assault of catastrophic proportions.
Cast: Henry Cavill, Ben Affleck, Gal Gadot, Jason Momoa, Ezra Miller, Ray Fisher, Amy Adams, Amber Heard, J. K. Simmons, Willem Dafoe, Jeremy Irons
Trailer:

NOVEMBER 22:
COCO
Director: Lee Unkrich
Plot: Despite his family's generation-old ban on music, Miguel (Anthony Gonzalez) dreams of becoming an accomplished musician like his idol Ernesto de la Cruz (Benjamin Bratt). Desperate to prove his talent, Miguel finds himself in the Land of the Dead. Along the way, he meets charming trickster Hector (Gael García Bernal) and together they set off on an extraordinary journey to unlock the real story behind Miguel's family history.
Cast: Anthony Gonzalez, Gael García Bernal, Benjamin Bratt, Renée Victor, Ana Ofelia Murguia
Trailer:
DECEMBER 1:
THE DISASTER ARTIST
Director: James Franco
Plot: The film depicts the meeting and early friendship of the actor Greg Sestero and Tommy Wiseau, the actor, writer and director behind the 2003 cult film The Room, a film often hailed as the Citizen Kane of bad movies, the troubled making of it and their respective careers after the surprising success of the film.
Cast: James Franco, Dave Franco, Seth Rogen, Josh Hutcherson, Zac Efron, Sharon Stone, Melanie Griffith, Alison Brie
DECEMBER 15:
STAR WARS: THE LAST JEDI
Director: Rian Johnson
Plot: Rey took her first steps into a larger world in Star Wars: The Force Awakens and will continue her epic journey with Finn, Poe, and Luke Skywalker in the next chapter of the continuing Star Wars saga, Star Wars: Episode VIII.
Cast:
Mark Hamill, Daisy Ridley, John Boyega, Oscar Isaac, Benecio Del Toro, Lupita Nyong'o, Domhnall Gleeson, Anthony Daniels, Gwendoline Christie, Andy Serkis, Laura Dern, Kelly Marie Tran
Trailer:
DECEMBER 22:
JUMANJI: WELCOME TO THE JUNGLE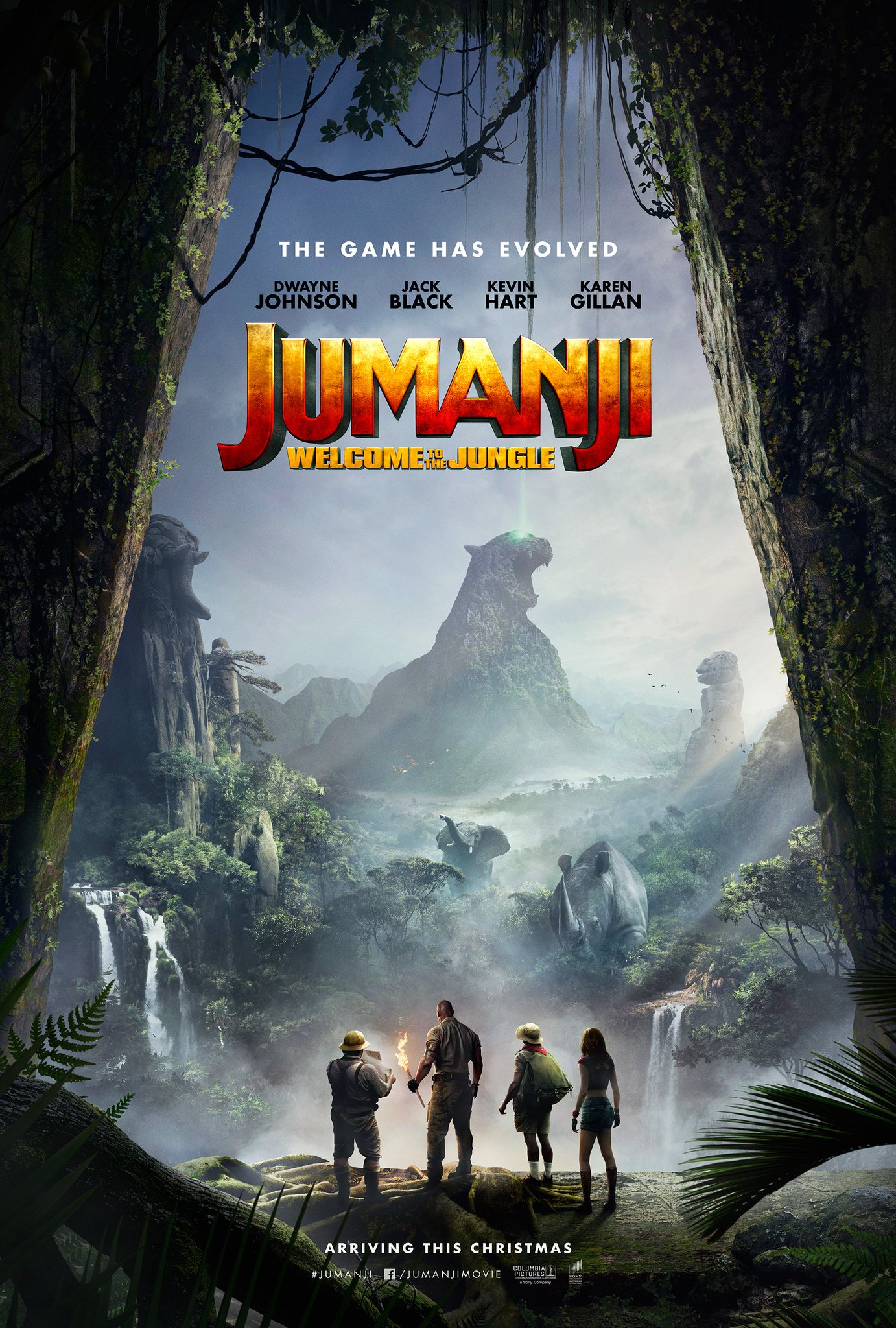 Director: Jake Kasdan
Plot: In a brand new Jumanji adventure, the tables are turned as four teenagers are sucked into Jumanji's world – pitted against rhinos, black mambas and an endless variety of jungle traps and puzzles. To survive, they'll play as characters from the game: meek Spencer becomes a brave explorer (Dwayne Johnson); hulky jock Fridge becomes a tiny genius (Kevin Hart); It-girl Bethany becomes a bookworm professor (Jack Black); and unathletic Martha becomes an amazonian warrior (Karen Gillan). To beat the game and return to the real world with their lives, they'll have to start seeing things in an entirely different way.
Cast: Dwayne Johnson, Kevin Hart, Jack Black, Nick Jonas, Karen Gillan, Madison Iseman, Ser'Darius Blain, Nat Wolff, Rhys Darby
Trailer:


JANUARY 12
INSIDIOUS: CHAPTER 4
Director: Adam Robitel
Cast: Lin Shaye, Leigh Whannell, Angus Sampson
FEBRUARY 2
GOD PARTICLE
Director: Julius Onah
Plot: A shocking discovery forces a team of astronauts aboard a space station to fight for survival while their reality has been altered.
Cast: David Oyelowo, Gugu Mbatha-Raw, John Krasinski, Daniel Brühl, Chris O'Dowd, Ziyi Zhang Aksel Hennie, John Ortiz


FEBRUARY 9
MAZE RUNNER: THE DEATH CURE
Director: Wes Ball
Plot: In the conclusion to the Maze Runner saga, Thomas and the surviving Gladers prepare to face off against WCKD one last time as they fight to find a cure for the deadly disease known as The Flare that has wiped out much of the civilization all over the world. Friendships and loyalties will be tested and the fight against WCKD will also determine who will survive at the end and who will not.
Cast: Dylan O'Brien, Thomas Brodie-Sangster, Ki Hong Lee, Kaya Scodelario, Dexter Darden, Jacob Lofland, Rosa Salazar, Giancarlo Esposito, Aidan Gillen, Patricia Clarkson, Barry Pepper, Will Poulter, Nathalie Emmanuel, Katherine McNamara
FIFTY SHADES FREED
Director: James Foley
Plot: Following the events of Fifty Shades Darker, Christian and Ana are now married. However, Ana's life is threatened when her former boss, Jack Hyde, swears revenge for being fired from SIP. Elena also returns to haunt Christian and makes the couple's lives a lot more troublesome.
Cast: Dakota Johnson, Jamie Dornan, Kim Basinger, Eric Johnson, Max Martini, Brant Daugherty, Fay Masterson, Luke Grimes, Rita Ora, Arielle Kebbel
FEBRUARY 16:
BLACK PANTHER
Director:
Ryan Coogler
Plot:
After the death of his father, the King of Wakanda, returns home to the isolated, technologically advanced African nation to succeed to the throne and take his rightful place as king. But when a powerful old enemy reappears, T'Challa's mettle as king—and Black Panther—is tested when he is drawn into a formidable conflict that puts the fate of Wakanda and the entire world at risk. Faced with treachery and danger, the young king must rally his allies and release the full power of Black Panther to defeat his foes and secure the safety of his people and their way of life.
Cast:
Chadwick Boseman, Lupita Nyong'o, Michael B. Jordan, Danai Gurira, Winston Duke, Angela Bassett, Forest Whitaker, Sterling K. Brown
Trailer:
LARKKINS
Director: Tim Minchin
Plot: An uptight bilby escapes his sheltered life from his family burrow, and ventures out and finds himself launched on a musical adventure across the mystical Australian outback.
Cast: Margot Robbie, Hugh Jackman, Naomi Watts, Rose Byrne, Ben Mendelsohn, Jacki Weaver, Josh Lawson, Damon Herriman, Ewen Leslie
MARCH 2:
RED SPARROW
Director: Francis Lawrence
Plot: A Russian spy falls for a CIA officer and considers becoming a double agent.
Cast: Jennifer Lawrence, Joel Edgerton, Jeremy Irons, Matthias Schoenaerts, Ciarán Hinds, Joely Richardson, Mary-Louise Parker, Charlotte Rampling
MARCH 9:
A WRINKLE IN TIME
Director: Ava DuVernay
Plot: After the disappearance of her scientist father, three peculiar beings send Meg, her brother, and her friend to space in order to find him.
Cast: Storm Reid, Oprah Winfrey, Reese Witherspoon, Mindy Kaling, Chris Pine, Gugu Mbatha-Raw, Levi Miller, Deric McCabe, Michael Peña, Zach Galifianakis
MARCH 16:
TOMB RAIDER
Director: Roar Uthaug
Cast: Alicia Vikandar, Walton Goggins, Daniel Wu


MARCH 23:
PACIFIC RIM: UPRISING
Director:
Steven S. DeKnight
Cast:
John Boyega, Scott Eastwood, Cailee Spaeny, Max Martini, Jing Tian
PETER RABBIT
Director: Will Gluck
Cast: James Corden, Rose Byrne, Daisy Ridley, Elizabeth Debicki, Domhnall Gleeson, Margot Robbie
ROBIN HOOD: ORIGINS
Director:
Otto Bathurst
Cast:
Taron Egerton, Jamie Foxx, Eve Hewson, Jamie Dornan, Ben Mendelsohn
MARCH 30:
READY PLAYER ONE
Director: Steven Spielberg
Plot: In a virtual world called Oasis, a teenager finds himself competing in a treasure hunt against ruthless foes after the game's founder dies and and the fortune that he leaves behind is the grand prize.
Cast: Tye Sheridan, Olivia Cooke, Ben Mendelsohn, Mark Rylance, Simon Pegg, T.J. Miller, Win Morisaki
Trailer:

APRIL 6:
MAGIC CAMP
Director: Mark Waters
Plot: Andy, who, at the urging of his former mentor and Magic Camp owner Roy Preston, returns to the camp of his youth hoping to reignite his career. Instead, he finds inspiration in his ragtag bunch of rookie magicians.
Cast: Adam DeVine, Jeffrey Tambor, Gillian Jacobs, Nathaniel McIntyre, J.J. Totah, Cole Sand
APRIL 13:
NEW MUTANTS
Director: Josh Boone
Cast: Anya Taylor-Joy, Charlie Heaton, Maise Williams, Henry Zaga, Alice Braga
APRIL 20:
RAMPAGE
Director: Brad Peyton
Cast: Dwayne Johnson, Naomie Harris, Jeffrey Dean Morgan
MAY 4
AVENGERS: INFINITY WAR
Directors: Anthony and Joe Russo
Cast: Robert Downey, Jr., Chris Evans, Chris Hemsworth, Mark Ruffalo, Chris Pratt, Benedict Cumberbatch, Jeremy Renner, Scarlett Johansson, Tom Hiddleston, Samuel L. Jackson, Vin Diesel, Bradley Cooper, Dave Bautista, Zoe Saldana, Tom Holland, Josh Brolin, Paul Bettany, Elizabeth Olsen, Sebastian Stan, Benedict Wong, Anthony Mackie, Chadwick Boseman, Karen Gillan, Pom Klementieff, Don Cheadle, Paul Rudd, Danai Gurira, Benicio del Toro

MAY 11:

LIFE OF THE PARTY
Director: Ben Falcone
Cast: Melissa McCarthy, Maya Rudolph, Molly Gordon, Debby Ryan, Gillian Jacobs, Jacki Weaver


MAY 18:
HOW TO TRAIN YOUR DRAGON 3
Director: Dean DeBlois
Cast: Jay Baruchel, Craig Ferguson, America Ferrera, Jonah Hill, Christopher Mintz-Plasse, T. J. Miller, Kristen Wiig, Cate Blanchett, Djimon Hounsou


MAY 25:
HAN SOLO STAR WARS ANTHOLOGY MOVIE
Directors: Ron Howard
Cast: Alden Ehrenreich, Donald Glover, Emilia Clarke, Woody Harrelson
JUNE 1:
DEADPOOL 2
Director: David Leitch
Cast: Ryan Reynolds, Josh Brolin, Zazie Beetz, Leslie Uggams, Jack Kesy
JUNE 8:
OCEAN'S 8
Director: Gary Ross
Cast: Sandra Bullock, Cate Blanchett, Anne Hathaway, Rihanna, Helena Bonham Carter, Mindy Kaling, Awkwafina, Sarah Paulson, Damien Lewis, Dakota Fanning, Matt Damon, James Corden, Richard Armitage
UNTITLED BUMBLEBEE FILM
Director: Travis Knight
Cast: Hailee Steinfeld, John Cena
JUNE 15:
Director: Brad Bird
Plot: The Incredibles 2 follows the adventures of the Parrs, a family of Supers (humans with super abilities). The Parrs include the patriarch Bob, also known as Mr. Incredible who possesses super strength, Helen, his wife and known as Elastigirl for the ability to stretch her body, and their children Violet, who can become invisible and project force fields, Dash, who possesses super speed, and Jack-Jack, their infant who can transform into a number of forms.
Cast: Holly Hunter, Craig T. Nelson, Sarah Vowell, Huck Milner, Samuel L. Jackson, John Ratzenberger, Brad Bird
JUNE 22:
JURASSIC WORLD: FALLEN KINGDOM
Director: Juan Antonio Bayona
Cast: Chris Pratt, Bryce Dallas Howard, Justice Smith, Toby Jones, Rafe Spall, Daniella Pineda, Jeff Goldblum, Ted Levine
JULY 6
ANT-MAN AND THE WASP
Director: Peyton Reed
Cast: Paul Rudd, Michelle Pfeiffer, Laurence Fishburne, Michael Peña, Evangeline Lily, Michael Douglas, Tip "T.I." Harris, David Dastmalchia, Randall Park, Hannah John-Kamen, Walton Goggins
JULY 20:
ALITA: BATTLE ANGEL
Director: Robert Rodriguez
Cast: Rosa Salazar, Keean Johnson, Ed Skrein, Mahershala Ali, Christoph Waltz, Jackie Earle Haley, Eiza González
JULY 27
MISSION IMPOSSIBLE 6
Director:
Christopher McQuarrie
Cast:
Tom Cruise, Henry Cavill, Rebecca Ferguson, Ving Rhames, Simon Pegg, Alec Baldwin, Sean Harris, Vanessa Kirby, Sian Brooke
AUGUST 3
THE PREDATOR
Director: Shane Black
Cast: Boyd Holbrook, Olivia Munn, Trevante Rhodes, Keegan-Michael Key, Thomas Jane, Sterling K. Brown, Jacob Tremblay


OCTOBER 5:
VENOM
Director: Ruben Fleischer
Cast: Tom Hardy
OCTOBER 19:
THE JUNGLE BOOK: ORIGINS
Director: Andy Serkis
Plot: The story follows the upbringing of the human child Mowgli (Rohan Chand), raised by a wolf pack in the jungles of India. As he learns the often harsh rules of the jungle, under the tutelage of a bear named Baloo (Andy Serkis) and a panther named Bagheera (Christian Bale), Mowgli becomes accepted by the animals of the jungle as one of their own. All but one: the fearsome tiger Shere Khan (Benedict Cumberbatch). But there may be greater dangers lurking in the jungle, as Mowgli comes face to face with his human origins.
Cast: Rohan Chand, Andy Serkis, Benedict Cumberbatch, Christian Bale, Cate Blanchett, Naomie Harris, Tom Hollander, Eddie Marsan, Peter Mullan

NOVEMBER 2:
X-MEN: DARK PHOENIX
Director: Simon Kinberg
Cast: James McAvoy, Michael Fassbender, Jennifer Lawrence, Nicholas Hoult, Alexandra Shipp, Sophie Turner, Tye Sheridan, Kodi Smit-McPhee, Jessica Chastain, Evan Peters, Lamar Johnson
THE NUTCRACKER AND THE FOUR REALMS
Director: Lasse Hallström
Plot: The Nutcracker and the Four Realms is an upcoming live-action adaptation of E.T.A. Hoffmann's The Nutcracker and the Mouse King about a young girl who finds a Nutcracker doll among the family's gifts and is charged by her parents to take special care of it.
Cast: Mackenzie Foy, Keira Knightley, Morgan Freeman, Helen Mirren, Eugenio Derbez, Miranda Hart, Ellie Bamber, Misty Copeland
NOVEMBER 9:

DR SEUSS' THE GRINCH
Director: Peter Candeland
Cast:
Benedict Cumberbatch, Kaitlyn Maher
BAD BOYS FOR LIFE
Director: Joe Carnahan
Cast: Will Smith, Martin Lawrence


NOVEMBER 16:
FANTASTIC BEASTS AND WHERE TO FIND THEM 2
Director:
David Yates
Cast:
Eddie Redmayne, Jude Law, Katherine Waterston, Alison Sudol, Johnny Depp, Ezra Miller, Zoë Kravitz, Dan Fogler, Callum Turner
NOVEMBER 21:
RALPH BREAKS THE INTERNET: WRECK-IT RALPH 2
Directors: Rich Moore, Phil Johnston
Plot: Taking place six years after the events of the first film, the story will center on Ralph's adventures in the Internet data space when a WiFi router gets plugged into the arcade.
Cast:
John C. Reilly, Sarah Silverman
DECEMBER 21:

AQUAMAN
Director: James Wan
Cast: Jason Momoa, Amber Heard, Patrick Wilson, Nicole Kidman, Yahya Abdul-Mateen II, Willem Dafoe, Temuera Morrison, Dolph Lundgren


ANIMATED MILES MORALES SPIDER-MAN FILM
Director:
Bob Persichetti and Peter Ramsey
Cast:
Shameik Moore, Liev Schreiber, Mahershala Ali, Brian Tyree Henry
DECEMBER 25:
MARY POPPINS RETURNS
Director:
Rob Marshall
Cast:
Emily Blunt, Lin-Manuel Miranda, Meryl Streep, Colin Firth, Ben Wishaw, Emily Mortimer
BOHEMIAN RHAPSODY
Director:
Bryan Singer
Cast:
Rami Malek

JANUARY 18:
GLASS
Director: M. Night Shyamalan
Cast: Bruce Willis, Samuel L. Jackson, James McAvoy, Anya Taylor-Joy
FEBRUARY 8:
LEGO MOVIE SEQUEL
Director: Rob Schrab
Cast: Chris Pratt, Elizabeth Banks, Morgan Freeman, Will Ferrell, Will Arnett
MARCH 8:
CAPTAIN MARVEL
Director: Anna Boden, Ryan Fleck
Cast: Brie Larson, Samuel L. Jackson
MARCH 22:
GODZILLA: KING OF THE MONSTERS
Director: Michael Dougherty
Cast: Millie Bobby Brown, Kyle Chandler, Vera Farmiga, O'Shea Jackson Jr., Thomas Middleditch, Randell Havens
APRIL 5:
SHAZAM!
APRIL 19:
FAST AND FURIOUS 9
MAY 3:
AVENGERS 4
Directors: Joe and Anthony Russo
Cast: Robert Downey, Jr., Chris Evans, Chris Hemsworth, Mark Ruffalo, Chris Pratt, Benedict Cumberbatch, Jeremy Renner, Scarlett Johansson, Tom Hiddleston, Samuel L. Jackson, Vin Diesel, Bradley Cooper, Dave Bautista, Zoe Saldana, Tom Holland, Josh Brolin
MAY 24:
STAR WARS: EPISODE IX
Director: Colin Trevorrow
Cast: Mark Hamill, Adam Driver, Daisy Ridley, John Boyega, Oscar Isaac
JUNE 14:

UNTITLED DC EXTENDED UNIVERSE FILM
JUNE 21
TOY STORY 4
Directors: Josh Cooley
Plot: Follows the love story and relationship between Woody and Bo Peep. Woody and Buzz set out to find Bo Peep.
Cast: Tom Hanks, Tim Allen, Kristen Schaal, Patricia Arquette, Laurie Metcalf
JUNE 28
JULY 5
SPIDER-MAN: HOMECOMING 2
Cast: Tom Holland
JULY 12:
TOP GUN: MAVERICK
Director: Joseph Kosinski
Cast:
Tom Cruise
JULY 19:
Director: Jon Favreau
Cast: James Earl Jones, Donald Glover, Seth Rogen, Billy Eichner, John Oliver, Chiwetel Ejiofor
AUGUST 2:

SPONGEBOB SQUAREPANTS 3
Cast:
Tom Kenny, Bill Fagerbakke, Clancy Brown, Mr. Lawrence, Carolyn Lawrence, Rodger Bumpass
NOVEMBER 1:

UNTITLED DC EXTENDED UNIVERSE FILM

NOVEMBER 8:

BOND 25
NOVEMBER 22:
UNTITLED MARVEL/FOX FILM
NOVEMBER 27:
FROZEN 2
Director: Jennifer Lee
Cast:
Kristen Bell, Idina Menzel
DECEMBER 13:
WONDER WOMAN 2
Director:
Patty Jenkins
Cast:
Gal Gadot
FEBRUARY 7:
THE LOUD HOUSE MOVIE
Director: Chris Savino
Cast: Collin Dean, Catherine Taber, Liliana Mumy, Nika Futterman, Cristina Pucelli, Jessica DiCicco, Grey Griffin, Lara Jill Miller, Brian Stepanek, Jill Talley
APRIL 3:
UNTITLED DC EXTENDED UNIVERSE FILM
JULY 10:
Director: Steven Spielberg
Cast: Harrison Ford
JULY 24:
UNTITLED DC EXTENDED UNIVERSE FILM
NOVEMBER 20:
FANTASTIC BEAST AND WHERE TO FIND THEM 3
Director: David Yates
Cast: Eddie Redmayne
NOVEMBER 25:
GIGANTIC
Director: Nathan Greno
Plot:
Set in Spain during the Age of Exploration, the film will follow Jack as he discovers a world of giants hidden within clouds. Jack befriends the female giant Inma, who's "11 years old, 60 feet tall, fiery, feisty and a lot to control" and treats him like a living doll, Greno said. Meanwhile, the antagonists, Storm Giants, stand at 120 feet.
DECEMBER 18:
AVATAR 2
Director: James Cameron
Cast: Zoe Saldana, Sam Worthington, Sigourney Weaver, Stephen Lang
DECEMBER 25:
SING 2