2018
JULY 20:
THE EQUALIZER 2
Director: Antoine Fuqua
Plot: Robert McCall learns that one of his longtime friends, Susan, has been murdered. McCall decides to return to his old ways and seek out and find and punish the perpetrators.
Cast: Denzel Washington, Ashton Sanders, Pedro Pascal, Melissa Leo, Bill Pullman
Trailer:
MAMMA MIA: HERE WE GO AGAIN!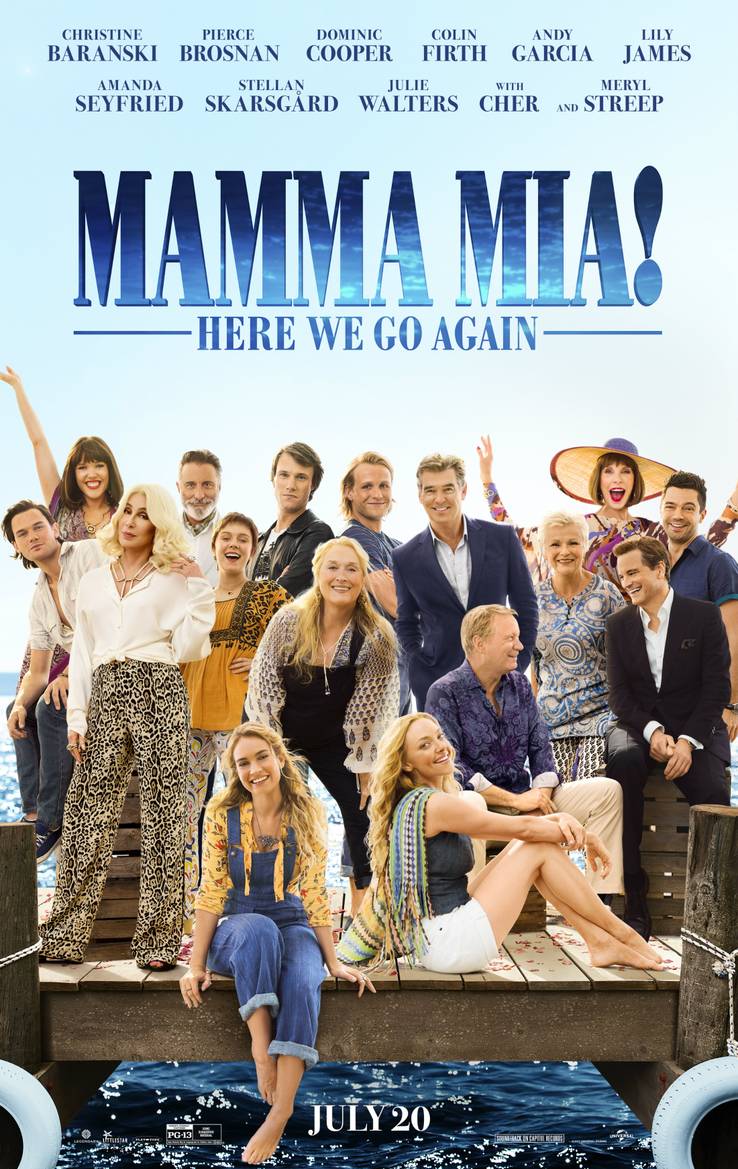 Director:
Ol Parker
Plot:
Ten years later, in the greek island of Kalokairi, Sophie is pregnant with Sky's child while running her mother's villa. Self-conflicted because she can't do it by herself, but with Tanya and Rosie's guidance, Sophie will find out more of Donna's past and how she came to start up her villa, met each one of Sophie's dads (Pierce Brosnan, Stellan Skarsgård, and Colin Firth), and raised a daughter, bravely all on her own, without a mother to guide her – with an unexpected visit from someone she had not invited or expected to see: her grandmother, Ruby Sheridan.
Cast:
Meryl Streep, Lily James, Amanda Seyfried, Dominic Cooper, Colin Firth, Pierce Brosnan, Jeremy Irvine, Christine Baranski, Stellan Skarsgård
Trailer:
JULY 27:
MISSION: IMPOSSIBLE - FALLOUT
Director:
Christopher McQuarrie
Plot:
When an IMF mission ends badly, the world is faced with dire consequences. As Ethan Hunt takes it upon himself to fulfil his original briefing, the CIA begin to question his loyalty and his motives. The IMF team find themselves in a race against time, hunted by assassins while trying to prevent a global catastrophe.
Cast:
Tom Cruise, Henry Cavill, Rebecca Ferguson, Ving Rhames, Simon Pegg, Alec Baldwin, Sean Harris, Vanessa Kirby, Sian Brooke
Trailer:
TEEN TITANS GO! TO THE MOVIES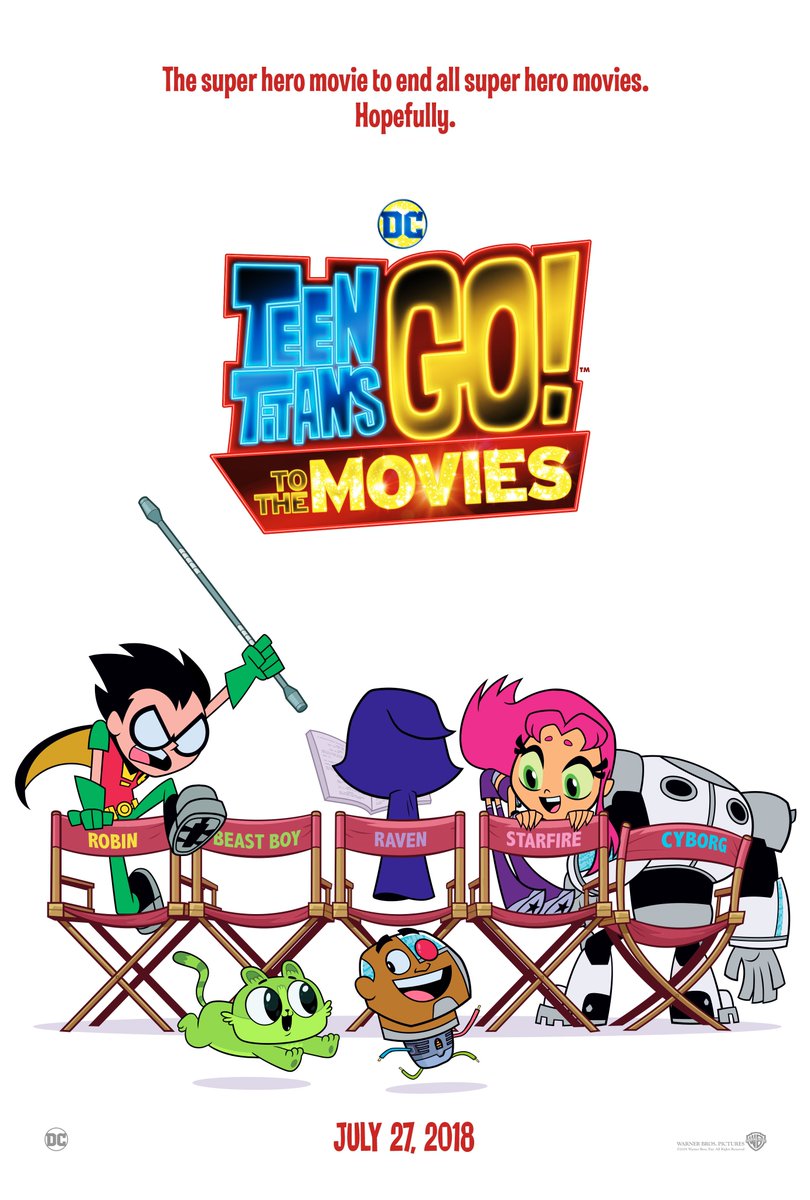 Director:
Peter Rida Michail
Plot:
Existing in the same continuity as their silly and comical yet still active show, the Teen Titans find out that all the other DC superheroes seem to have films produced, so they seek out the perfect director for their debut on the big screen, but their old enemy Slade has other ideas in mind for them.
Cast:
Scott Menville, Khary Payton, Tara Strong, Greg Cipes, Hynden Walch, Will Arnett, Kristin Bell
Trailer:
HOT SUMMER NIGHTS
Director: Elijah Bynum
Plot: Set in Cape Cod over one scorching summer, Hot Summer Nights follows Daniel (Timothée Chalamet), a shy out-of-towner who gets in over his head flipping weed with the neighborhood rebel (Alex Roe) while pursuing his new business partner's enigmatic sister (Maika Monroe). With a hurricane looming in the wings, tensions rise against a backdrop of drive-ins, arcades, and crashed parties as the stakes (and temperatures) grow ever higher.
Cast: Timothée Chalamet, Maika Monroe, Alex Roe, Maia Mitchell
Trailer:
BLINDSPOTTING
Director: Carlos López Estrada
Plot: Oakland residents Collin and his best friend Miles have been friends since childhood, but Collin, who's black, is tired of getting into trouble while Miles, who's white and a troublemaker, always gets a pass.
Cast: Janina Gavankar, Ethan Embry, Daveed Diggs, Rafael Casal, Wayne Knight
Trailer:
AUGUST 3:
CHRISTOPHER ROBIN
Director: Marc Forster
Plot: Christopher Robin, the little boy from the Winnie-the-Pooh stories, is now all grown up, and has lost all sense of imagination. Pooh and his friends from the Hundred Acre Wood re-enter Christopher's life to help him find it again.
Cast:
Ewan McGregor, Hayley Atwell, Bronte Carmichael, Mark Gatiss, Jim Cummings, Chris O'Dowd, Brad Garrett, Toby Jones, Nick Mohammed, Peter Capaldi, Sophie Okonedo
Trailer:
THE SPY WHO DUMPED ME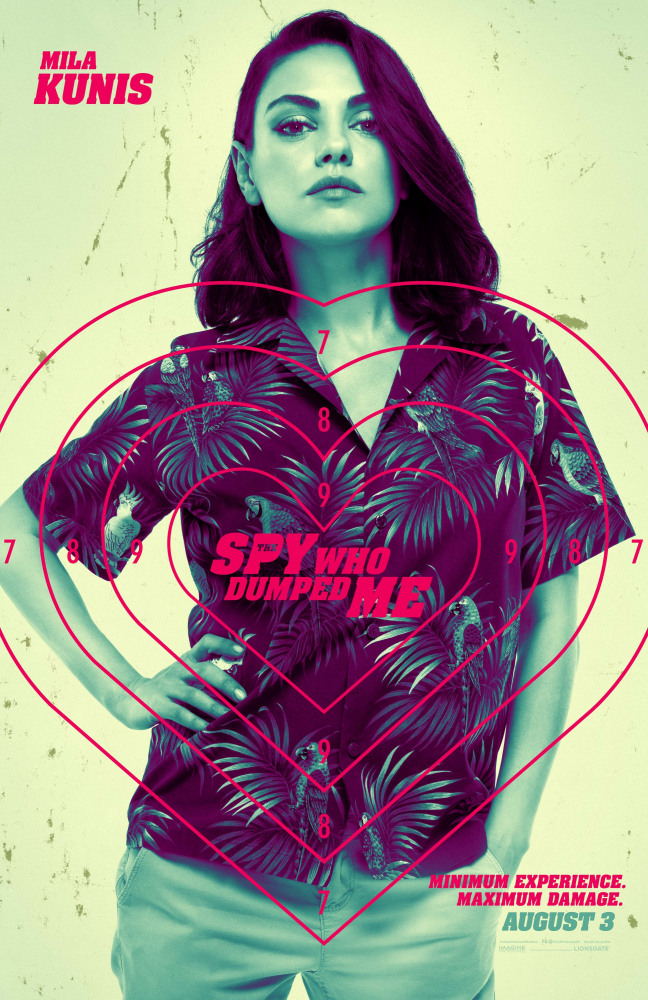 Director: Susanna Fogel
Plot: Audrey and her best friend Morgan find themselves embroiled in a major international conspiracy when Audrey's ex-boyfriend unexpectedly re-enters her life with a team of assassins on his trail and reveals that he is actually a CIA agent.
Cast: Mila Kunis, Kate McKinnon, Sam Heughan, Hasan Minhaj, Ivanna Sakhno, Justin Theroux, Gillian Anderson, Fred Melamed, Kev Adams, Olafur Darri Olafsson
Trailer:
THE DARKEST MINDS
BILLIONAIRE BOYS CLUB
MOWGLI
FANTASTIC BEASTS: THE CRIMES OF GRINDELWALD
WIDOWS