JUNE 28:
Director: Danny Boyle
Plot: Jack Malik is a struggling singer-songwriter in a tiny English seaside town whose dreams of fame are rapidly fading, despite the fierce devotion and support of his childhood best friend, Ellie. Then, after a freak bus accident during a mysterious global blackout, Jack wakes up to discover that The Beatles have never existed … and he finds himself with a very complicated problem, indeed. Performing songs by the greatest band in history to a world that has never heard them, and with a little help from his steel-hearted American agent, Debra, Jack's fame explodes. But as his star rises, he risks losing Ellie — the one person who always believed in him. With the door between his old life and his new closing, Jack will need to get back to where he once belonged and prove that all you need is love.
Cast:
Lily James, Himesh Patel, Kate McKinnon, Ed Sheeran, Ana de Armas, Lamorne Morris
Trailer:
ANNABELLE COMES HOME
Director: Gary Dauberman
Plot: Determined to keep Annabelle from wreaking more havoc, demonologists Ed and Lorraine Warren bring the possessed doll to the locked artifacts room in their home, placing her "safely" behind sacred glass and enlisting a priest's holy blessing. But an unholy night of horror awaits as Annabelle awakens the evil spirits in the room, who all set their sights on a new target—the Warrens' ten-year-old daughter, Judy, and her friends.
Cast:
Patrick Wilson, Vera Farmiga, Mckenna Grace, Madison Iseman
Trailer:
JULY 5:
SPIDER-MAN: FAR FROM HOME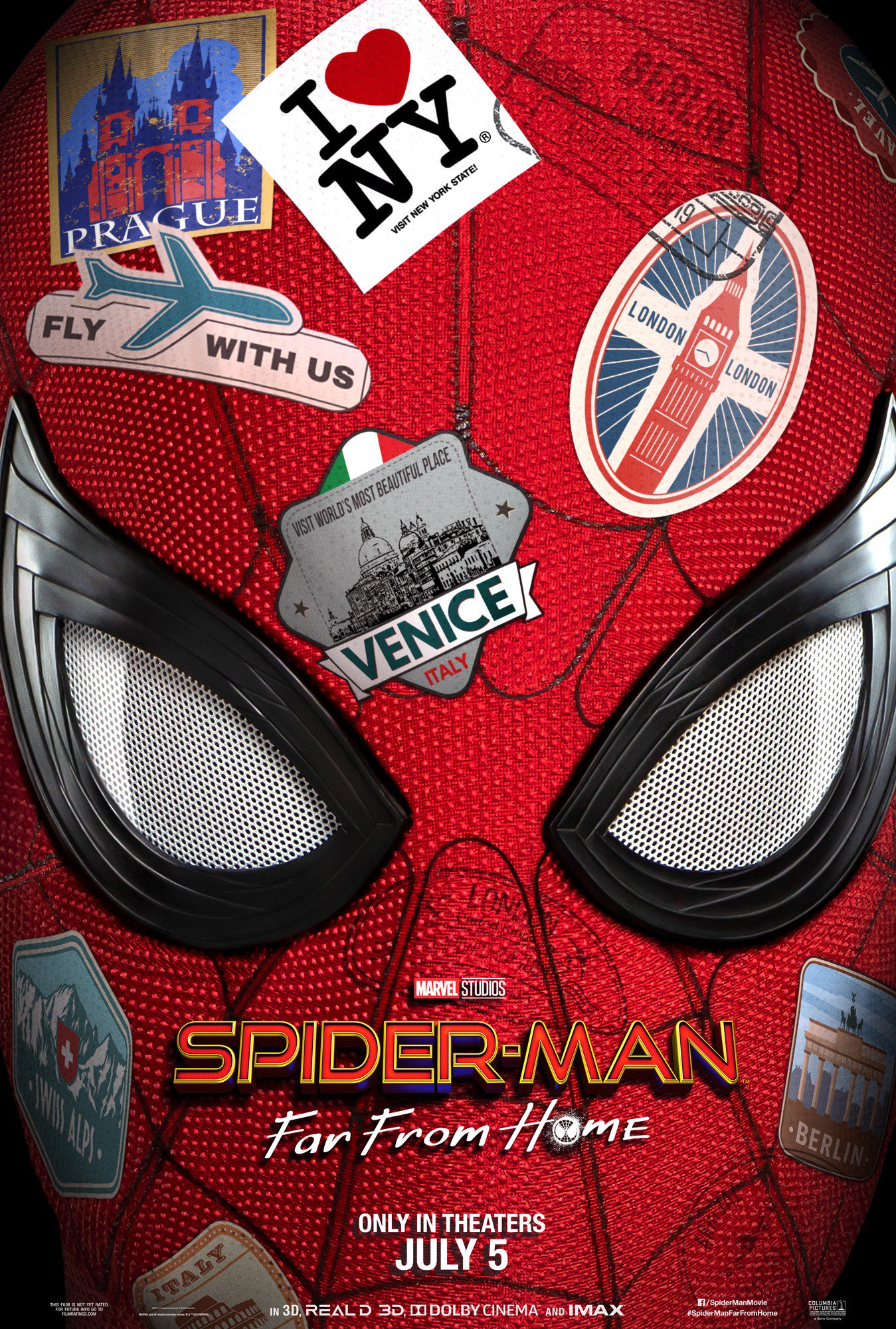 Director: Jon Watts
Plot: After the events of Avengers: Endgame, Peter Parker goes on a school trip to Europe with his friends. While abroad, he is recruited by Nick Fury to team up with Mysterio to battle the Elementals.
Cast: Tom Holland, Jake Gyllenhaal, Zendaya, Jacob Batalon, Tony Revolori, Michael Keaton, Marisa Tomei, J.B. Smoove, Numan Acar, Samuel L. Jackson, Cobie Smulders, Remy Hii
Trailer:
JULY 12:
STUBER
Director: Michael Dowse
Plot: A mild-mannered Uber driver named Stu picks up a grizzled detective hot on the trail of a sadistic, bloodthirsty killer and finds himself thrust into a harrowing ordeal where he has to keep his wits, himself unharmed, and work with his passenger while maintaining his five-star rating.
Cast:
Kumail Nanjiani, Dave Bautista, Mira Sorvino, Iko Uwais
Trailer:
Director: Brian Kirk
Plot: 21 BRIDGES follows an embattled NYPD detective (Chadwick Boseman), who is thrust into a citywide manhunt for a pair of cop killers after uncovering a massive and unexpected conspiracy. As the night unfolds, lines become blurred on who he is pursuing, and who is in pursuit of him. When the search intensifies, extreme measures are taken to prevent the killers from escaping Manhattan as the authorities close all 21 BRIDGES to prevent any entry or exit from the iconic island.
Cast: Chadwick Boseman, J.K. Simmons, Taylor Kitsch, Sienna Miller, Stephan James, Keith David
Trailer:
JULY 19:
Director: Jon Favreau
Plot: From Disney Live Action, director Jon Favreau's all-new "The Lion King" journeys to the African savanna where a future king is born. Simba idolizes his father, King Mufasa, and takes to heart his own royal destiny. But not everyone in the kingdom celebrates the new cub's arrival. Scar, Mufasa's brother—and former heir to the throne—has plans of his own. The battle for Pride Rock is ravaged with betrayal, tragedy and drama, ultimately resulting in Simba's exile. With help from a curious pair of newfound friends, Simba will have to figure out how to grow up and take back what is rightfully his.
Cast: James Earl Jones, Donald Glover, Beyoncé, John Kani, Seth Rogen, Billy Eichner, John Oliver, Chiwetel Ejiofor, Keegan-Michael Key, Eric Andre, Florence Kasumba, J.D. McCrary, Shahadi Wright Joseph
Trailer:
JULY 26:
ONCE UPON A TIME IN HOLLYWOOD
Director: Quentin Tarantino
Cast: Leonardo DiCaprio, Brad Pitt, Margot Robbie, Zoe Bell, Tim Roth, Timothy Olyphant, Kurt Russell, Michael Madsen, Damian Lewis, Dakota Fanning, Emile Hirsch, Clifton Collins Jr., Luke Perry, Keith Jefferson, Nicholas Hammond, Al Pacino, James Marsden, Lena Dunham, Lorenza Izzo, Damon Herriman, Bruce Dern
Trailer:
AUGUST 2:
FAST AND FURIOUS PRESENTS: HOBBS AND SHAW
Director: David Leitch
Plot: Two years after the events of The Fate of the Furious, federal agent Luke Hobbs and former-British military turned mercenary Deckard Shaw must join forces in order to stop a new threat emerging from the cyber-genetically enhanced international terrorist known as Brixton.
Cast:
Dwayne Johnson, Jason Statham, Vanessa Kirby, Idris Elba, Eiza Gonzalez, Helen Mirren, Roman Reigns, Eddie Marsan, Cliff Curtis, Josh Mauga, John Tui
Trailer:
DORA AND THE LOST CITY OF GOLD
Director: James Bobin
Plot: Having spent most of her life exploring the jungle with her parents, nothing could prepare Dora (Isabela Moner) for her most dangerous adventure ever – High School. Always the explorer, Dora quickly finds herself leading Boots (her best friend, a monkey), Diego (Jeffrey Wahlberg), a mysterious jungle inhabitant (Eugenio Derbez), and a rag tag group of teens on a live-action adventure to save her parents (Eva Longoria, Michael Peña) and solve the impossible mystery behind a lost city of gold.
Cast:
Isabela Moner, Eugenio Derbez, Jeffrey Wahlberg, Temuera Morrison, Nicholas Coombe, Adriana Barraza, Eva Longoria, Michael Peña, Danny Trejo
Trailer:
WHERE'D YOU GO, BERNADETTE
Director: Richard Linklater
Plot: Bernadette hates people, she hates leaving the house, and more than anything, she hates the other parents at her daughter Bee's school. When she disappears, it's Bee's mission to find out where she's disappeared to and what really happened to her.
Cast:
Cate Blanchett, Billy Crudup, Kristen Wiig, Judy Greer, Laurence Fishburne, Troian Bellisario, James Urbaniak
Trailer:
SCARY STORIES TO TELL IN THE DARK
Director: André Øvredal
Plot: It's 1968 in America. Change is blowing in the wind…but seemingly far removed from the unrest in the cities is the small town of Mill Valley where for generations, the shadow of the Bellows family has loomed large. It is in their mansion on the edge of town that Sarah, a young girl with horrible secrets, turned her tortured life into a series of scary stories, written in a book that has transcended time—stories that have a way of becoming all too real for a group of teenagers who discover Sarah's terrifying tome.
Cast: Zoe Colletti, Michael Garza, Austin Abrams, Gabriel Rush, Austin Zajur, Natalie Ganzhorn, Dean Norris
Trailer:
Director: Andrea Berloff
Plot: Set in Hell's Kitchen, New York, in the 1970s, the wives of Irish mobsters take over running the business after the FBI does a sweep of the mafia, and several men, including their husbands, are arrested.
Cast: Tiffany Haddish, Melissa McCarthy, Elisabeth Moss, Common, Domhnall Gleeson, Margo Martindale, Bill Camp, Alicia Coppola, Brian d'Arcy James, James Badge Dale, Jeremy Bobb, James Ciccone
Trailer:
AUGUST 14:
BLINDED BY THE LIGHT
Director: Gurinder Chadha
Plot: The official synopsis reads "Blinded by the Light tells the story of Javed (Viveik Kalra) a British teen of Pakistani descent, growing up in the town of Luton, England, in 1987. Amidst the racial and economic turmoil of the times, he writes poetry as a means to escape the intolerance of his hometown and the inflexibility of his traditional father. But when a classmate introduces him to the music of "the Boss," Javed sees parallels to his working-class life in Springsteen's powerful lyrics. As Javed discovers a cathartic outlet for his own pent-up dreams, he also begins to find the courage to express himself in his own unique voice."
Cast:
Viveik Kalra, Kulvinder Ghir, Meera Ganatra, Aaron Phagura, Hayley Atwell, Dean-Charles Chapman, Jonno Davies, Sally Phillips, Nell Williams
Trailer:
AUGUST 16:
GOOD BOYS
Director: Lee Eisenberg and Gene Stupnitsky
Plot: After being invited to his first kissing party, 12-year-old Max (Room's Jacob Tremblay) is panicking because he doesn't know how to kiss. Eager for some pointers, Max and his best friends Thor (Brady Noon, HBO's Boardwalk Empire) and Lucas (Keith L. Williams, Fox's The Last Man On Earth) decide to use Max's dad's drone – which Max is forbidden to touch – to spy (they think) on a teenage couple making out next door.
Cast: Jacob Tremblay, Molly Gordon, Keith L. Williams, Brady Noon, Will Forte, Lil Rel Howrey, Midori Francis, Christian Darrel Scott
Trailer:
PLAYMOBIL: THE MOVIE
Director: Lino DiSalvo
Plot: Marla is forced to abandon her carefully structured life to embark on an epic journey to find her younger brother Charlie who has disappeared into the vast and wondrous animated world of Playmobil.
Cast:
Anya Taylor-Joy, Gabriel Bateman, Daniel Radcliffe, Jim Gaffigan, Meghan Trainor, Adam Lambert

ANGRY BIRDS 2
Director: Thurop Van Orman
Cast:
Jason Sudeikis, Josh Gad, Danny McBride, Leslie Jones, Sterling K. Brown, Eugenio Derbez, Zach Woods, Awkwafina, Lil Rel Howery, Dove Cameron, Beck Bennett, Bill Hader, Peter Dinklage
Director: Johannes Roberts
Plot: John Corbett, Nia Long, Sophie Nelisse, Corinne Foxx, Sistine Stallone, Brianne Tju, Davi Santos, Khylin Rhambo, Brec Bassinger
SEPTEMBER 6:

IT: CHAPTER TWO
Director: Andy Muschietti
Plot: Because every 27 years evil revisits the town of Derry, Maine, "IT CHAPTER TWO" brings the characters—who've long since gone their separate ways—back together as adults, nearly three decades after the events of the first film.
Cast: Jessica Chastain, Bill Skarsgård, James McAvoy, Bill Hader, James Ransone, Andy Bean, Jay Ryan, Isaiah Mustafa, Will Beinbrink, Xavier Dolan, Jaeden Martell, Wyatt Oleff, Sophia Lillis, Finn Wolfhard, Jeremy Ray Taylor, Chosen Jacobs, Jack Dylan Grazer
Trailer:
Director: John Crowley
Plot: As a child, Theodore Decker survives a terrorist bombing at an art museum — an attack that kills his mother. From there, he tumbles through a series of adventures that finds him living in Las Vegas with his deadbeat father and, later, involved in art forgeries.
Cast: Ansel Elgort, Nicole Kidman, Aneurin Barnard, Willa Fitzgerald, Ashleigh Cummings, Jeffrey Wright, Luke Wilson, Sarah Paulson
Trailer:
DOWNTOWN ABBEY
Directors: Michael Engler
Plot: The television series Downton Abbey followed the lives of the Crawley family and the servants who worked for them at the turn of the 20th century in an Edwardian English country house. Over its 6 seasons, the series garnered 3 Golden Globe Awards, 15 Primetime Emmy Awards, 69 Emmy nominations in total, making Downton Abbey the most nominated non-US television show in the history of the Emmys – even earning a Special BAFTA award and a Guinness World Record for the highest critically rated TV show along the way.
Cast: Hugh Bonneville, Laura Carmichael, Michelle Dockery, Joanne Froggatt, Elizabeth McGovern, Maggie Smith
Trailer:
Director: James Gray
Plot:
Astronaut Roy McBride (Brad Pitt) travels to the outer edges of the solar system to find his missing father and unravel a mystery that threatens the survival of our planet. His journey will uncover secrets that challenge the nature of human existence and our place in the cosmos.
Cast:
Brad Pitt,
Tommy Lee Jones, Ruth Negga, Liv Tyler, Donald Sutherland
Trailer:
Director: Adrian Grunberg
Plot: Rambo travels to Mexico to save a friend's daughter who has been kidnapped by a Mexican cartel.
Cast:
Sylvester Stallone, Adriana Barraza, Paz Vega, Yvette Monreal, Sergio Peris-Mencheta, Oscar Jaenada, Joaquín Cosío
Trailer:
SEPTEMBER 27:
ABOMINABLE
Director: Jill Culton
Plot: When teenage Yi (Chloe Bennet, Marvel's Agents of S.H.I.E.L.D.) encounters a young Yeti on the roof of her apartment building in Shanghai, she and her mischievous friends, Jin (Tenzing Norgay Trainor) and Peng (Albert Tsai), name him "Everest" and embark on an epic quest to reunite the magical creature with his family at the highest point on Earth.
Cast:
Chloe Bennet, Tsai Chin, Tenzing Norgay Trainor, Albert Tsai, Claudia Kim
Trailer:
OCTOBER 4:
Director: Ang Lee
Plot: Follows an aging assassin who finds himself in a battle with his clone, who is 25 years younger and at the peak of his abilities.
Cast: Will Smith, Clive Owen, Mary Elizabeth Winstead, Benedict Wong
Trailer:
Director: Joe Wright
Plot: An agoraphobic child psychologist witnesses a crime while spying on her neighbours, leaving her to determine whether to alert the police.
Cast: Amy Adams, Julianne Moore, Wyatt Russell, Gary Oldman, Brian Tyree Henry, Fred Hechniger, Anthony Mackie
OCTOBER 11:
Director: Ruben Fleischer
Cast: Jesse Eisenberg, Emma Stone, Woody Harrelson, Abigail Breslin, Zoey Deutch, Avan Jogia, Luke Wilson, Thomas Middleditch, Rosario Dawson
Director: Conrad Vernon
Cast:
Oscar Issac, Charlize Theron, Allison Janney, Bette Midler, Chloë Grace Moretz, Finn Wolfhard, Nick Kroll, Elsie Fisher
A BEAUTIFUL DAY IN THE NEIGHBORHOOD
Director: Marielle Heller
Plot: Two-time Oscar®-winner Tom Hanks portrays Mister Rogers in Untitled Mr. Rogers / Tom Hanks Project, a timely story of kindness triumphing over cynicism, based on the true story of a real-life friendship between Fred Rogers and journalist Tom Junod. After a jaded magazine writer (Emmy winner Matthew Rhys) is assigned a profile of Fred Rogers, he overcomes his skepticism, learning about empathy, kindness, and decency from America's most beloved neighbor.
Cast: Tom Hank, Matthew Rhys
MALEFICENT: MISTRESS OF EVIL
Director: Joachim Rønning
Plot: A fantasy adventure that picks up several years after "Maleficent," in which audiences learned of the events that hardened the heart of Disney's most notorious villain and drove her to curse a baby Princess Aurora, "Maleficent II" continues to explore the complex relationship between the horned fairy (Angelina Jolie) and the soon to be Queen (Elle Fanning), as they form new alliances and face new adversaries in their struggle to protect the moors and the magical creatures that reside within.
Cast: Angelina Jolie, Elle Fanning, Michelle Pfeiffer, Ed Skrein, Sam Riley, Harris Dickinson, Imelda Staunton, Juno Temple, Lesley Manville, Chiwetel Ejiofor
Director: Tim Miller
Cast:
Linda Hamilton, Arnold Schwarzenegger
, Gabriel Luna, Natalia Reyes, Mackenzie Davis, Diego Boneta, Enrique Arce
Trailer:
Director: Elizabeth Banks
Cast: Naomi Scott, Kristen Stewart, Ella Balinski, Patrick Stewart
Director: Edward Norton
Cast: Edward Norton, Willem Dafoe, Bruce Willis, Gugu Mbatha-Raw, Leslie Mann, Bobby Cannavale, Alec Baldwin, Michael K. Williams, Cherry Jones, Ethan Suplee


Director: Roland Emmerich
Cast: Woody Harrelson, Luke Evans, Mandy Moore, Patrick Wilson, Ed Skrein, Aaron Eckhart, Nick Jonas, Tadanobu Asano, Dennis Quaid
DOCTOR SLEEP
Director: Mike Flanagan
Cast:
Ewan McGregor, Rebecca Ferguson, Alex Essoe, Zahn McClarnon, Carl Lumbly, Kyliegh Curran, Bruce Greenwood, Jacob Tremblay
NOVEMBER 15:
Director: James Mangold
Plot:
The film follows an eccentric, determined team of American engineers and designers, led by automotive visionary Carroll Shelby (Damon) and his British driver, Ken Miles (Bale), who are dispatched by Henry Ford II and Lee Iacocca with the mission of building from scratch an entirely new automobile with the potential to finally defeat the perennially dominant Ferrari at the 1966 Le Mans World Championship in France.
Cast: Christian Bale, Matt Damon, Jon Bernthal, Noah Jupe
Trailer:
Director: Ben Falcone
Cast: Melissa McCarthy
Director: Paul Feig
Cast: Emilia Clarke, Henry Golding
Director: Bill Condon
Cast: Ian McKellen, Helen Mirren, Russell Tovey, Jim Carter


NOVEMBER 22:
FROZEN 2
Director: Jennifer Lee
Cast: Kristen Bell, Idina Menzel, Jonathan Groff, Josh Gad, Evan Rachel Rood, Sterling K. Brown
Trailer:
Director: Rian Johnson
Cast: Daniel Craig, Chris Evans, Lakeith Stanfield, Michael Shannon, Ana de Armas, Don Johnson, Jamie Lee Curtis, Toni Collette, Katherine Langford, Christopher Plummer


DECEMBER 13:
Cast: Dwayne Johnson, Kevin Hart, Jack Black, Karen Gillan, Awkwafina, Danny DeVito, Danny Glover, Ser'Darius Blain, Alex Wolff, Madison Iseman, Morgan Turner, Nick Jonas
DECEMBER 20:

CATS
Director: Tom Hopper
Cast: Taylor Swift, James Corden, Ian McKellen, Idris Elba, Judi Dench, Jennifer Hudson, Laurie Davidson, Rebel Wilson, Jason Derulo, Steven McRae, Francesca Hayward
STAR WARS: THE RISE OF SKYWALKER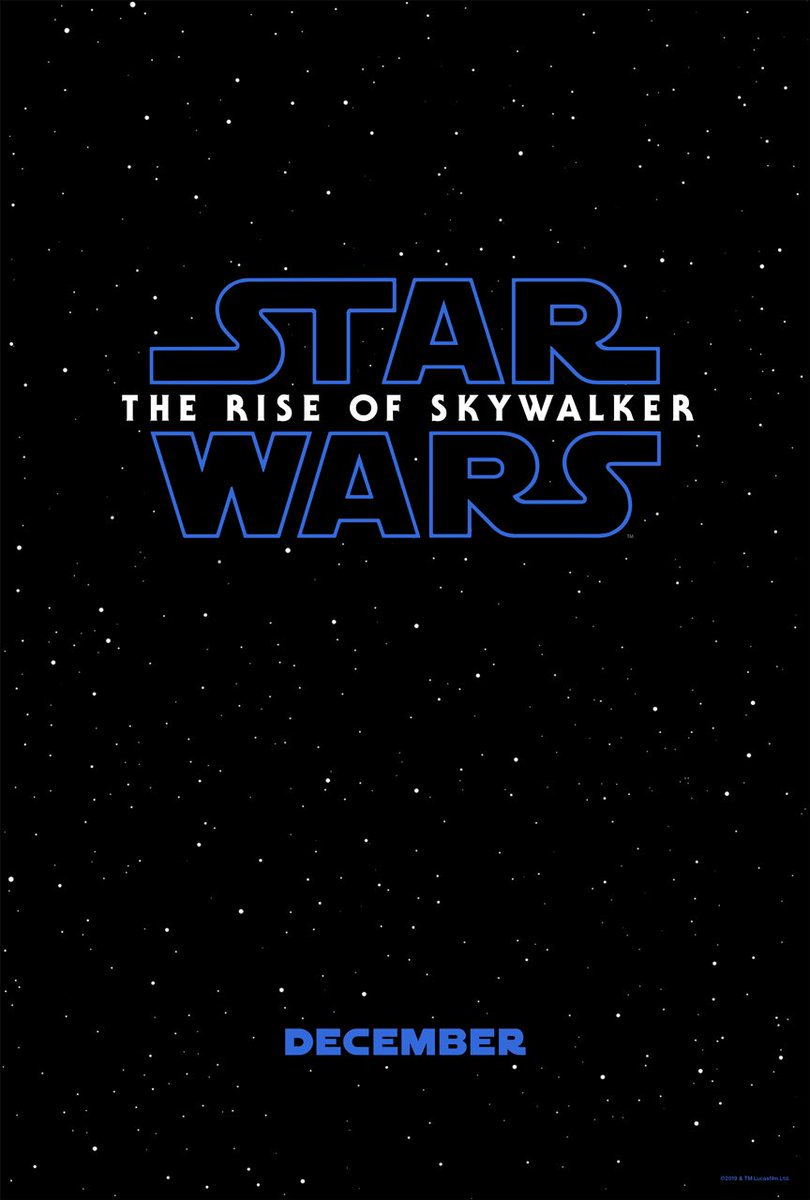 Director: J.J. Abrams
Cast: Adam Driver, Daisy Ridley, John Boyega, Oscar Isaac, Kelly Marie Tran, Keri Russell, Lupita Nyong'o, Billy Dee Williams, Joonas Suotamo, Billie Lourd, Carrie Fisher, Mark Hamill, Anthony Daniels, Naomi Ackie, Richard E. Grant, Dominic Monaghan
Trailer:
FAIR AND BALANCED
Director: Jay Roach
Plot: The film centers around the stories of various female Fox News personnel and their altercations with founder Roger Ailes.
Cast: Charlize Theron, Nicole Kidman, Margot Robbie, John Lithgow, Allison Janney, Kate McKinnon, Malcolm McDowell, Mark Duplass, Alice Eve
Directors: Nick Bruno and Troy Quane
Plot: Super spy Lance Sterling (Will Smith) and scientist Walter Beckett (Tom Holland) are almost exact opposites. Lance is smooth, suave and debonair. Walter is… not. But what Walter lacks in social skills he makes up for in smarts and invention, creating the awesome gadgets Lance uses on his epic missions. But when events take an unexpected turn, Walter and Lance suddenly have to rely on each other in a whole new way. And if this odd couple can't learn to work as a team, the whole world is in peril. SPIES IN DISGUISE is an animated comedy set in the high-octane globe-trotting world of international espionage.
Cast: Will Smith, Tom Holland, Rashida Jones, Karen Gillan, DJ Khaled, Ben Mendelsohn, Masi Oka
Trailer:
Director: Ben Falcone
Cast: Melissa McCarthy, James Corden, Bobby Cannavale, Brian Tyree Henry
Director: Greta Gerwig
Cast: Saoirse Ronan, Timothee Chalamet, Emma Watson, Florence Pugh, Meryl Streep
Director: Sam Mendes
Cast:
George MacKay, Dean-Charles Chapman
JANUARY 3:
Director: Nicholas Pesce
Cast: Andrea Riseborough, John Cho, Demian Bichir, Lin Shaye, Jacki Weaver
JANUARY 10:
UNDERWATER
Director: William Eubank
Cast: Kristen Stewart, T.J. Miller, Jessica Henwick, Mamoudou Athie, Vincent Cassel, John Gallagher Jr., Gunner Wright


LIMITED PARTNERS
Director: Miguel Arteta
Cast: Tiffany Haddish, Rose Byrne, Salma Hayek, Jessica St. Clair


JANUARY 17:
THE VOYAGE OF DOCTOR DOLITTLE
Director: Stephen Gaghan
Cast: Robert Downey Jr, Jim Broadbent, Antonio Banderas, Michael Sheen, Selena Gomez, Emma Thompson, Ralph Fiennes, Tom Holland


BAD BOYS FOR LIFE
Director: Joe Carnahan
Cast:
Will Smith, Martin Lawrence, Joe Pantoliano, Vanessa Hudgens, Alexander Ludwig, Charles Melton
JUST MERCY
Director: Destin Daniel Cretton
Cast: Michael B. Jordan, Brie Larson, Jamie Foxx, Tim Blake Nelson, O'Shea Jackson Jr., Rob Morgan, Lindsay Ayliffe, C.J. LeBlanc, Ron Clinton Smith
JANUARY 24:
THE TURNING
Director: Floria Sigismondi
Cast: Mackenzie Davis, Finn Wolfhard, Brooklynn Prince


FEBRUARY 7:
BIRDS OF PREY (AND THE FANTABULOUS EMANCIPATION OF ONE HARLEY QUINN)
Director: Cathy Yan
Cast: Margot Robbie, Mary Elizabeth Winstead, Jurnee Smollett-Bell, Rosie Perez, Ewan McGregor, Chris Messina, Jared Leto


THE LOUD HOUSE MOVIE
Director: Chris Savino
Cast: Collin Dean, Catherine Taber, Liliana Mumy, Nika Futterman, Cristina Pucelli, Jessica DiCicco, Grey Griffin, Lara Jill Miller, Brian Stepanek, Jill Talley
PETER RABBIT 2
Director: Will Gluck
FEBRUARY 14:
Director: Matthew Vaughn
Cast: Ralph Fiennes, Daniel Bruhl, Matthew Goode, Charles Dance, Rhys Ifans, Harris Dickinson, Aaron Taylor-Johnson, Gemma Arterton, Tom Hollander, Djimon Hounsou, Stanley Tucci, Liam Neeson
SONIC THE HEDGEHOG
Director: Jeff Fowler
Plot: SONIC THE HEDGEHOG is a live-action adventure comedy based on the global blockbuster videogame franchise from Sega that centers on the infamously brash bright blue hedgehog. The film follows the (mis)adventures of Sonic as he navigates the complexities of life on Earth with his newfound – human – best friend Tom Wachowski (James Marsden). Sonic and Tom join forces to try and stop the villainous Dr. Robotnik (Jim Carrey) from capturing Sonic and using his immense powers for world domination. The film also stars Tika Sumpter and Ben Schwartz as the voice of Sonic.
Cast: James Marsden, Jim Carrey, Tika Sumpter, Ben Schwartz, Adam Pally, Neal McDonough
Trailer:
FEBRUARY 21:
BLOODSHOT
Director: Dave Wilson
Cast: Vin Diesel, Eiza Gonzalez, Johannes Haukur Johannesson, Sam Heughan, Toby Kebbell, Michael Sheen, Alex Hernandez, Talulah Riley
Director: Chris Sanders
Cast:
Harrison Ford, Dan Stevens, Karen Gillan, Omar Sy, Bradley Whitford
FEBRUARY 28:
FANTASY ISLAND
Director: Jeff Wadlow
Cast: Michael Peña, Lucy Hale, Jimmy O. Yang, Portia Doubleday, Maggie Q, Ryan Hansen, Michael Rooker


MARCH 6:
ONWARD
Director: Dan Scanlon
Plot: Set in a suburban fantasy world, Disney•Pixar's "Onward" introduces two teenage elf brothers who embark on an extraordinary quest to discover if there is still a little magic left out there.
Cast:
Tom Holland, Chris Pratt, Julia Louis-Dreyfus, Octavia Spencer
THE LOVEBIRDS
Director: Michael Showalter
Cast: Kumail Nanjiani, Issa Rae, Anna Camp
MARCH 13:
GODZILLA VS. KONG
Director:
Adam Wingard
Cast:
Zhang Ziyi, Julian Dennison, Frances McDormand, Millie Bobbie Brown, Kyle Chandler, Van Marten, Alexander Skarsgård, Eiza Gonzalez, Rebecca Hall
MARCH 20:
PLAYING WITH FIRE
Director:
Andy Fickman
Cast:
John Cena, Judy Greer, Brianna Hildebrand, John Leguizamo, Keegan-Michael Key
MARCH 27:
MULAN
Director: Niki Caro
Cast: Liu Yifei, Donnie Yen, Jet Li, Gong Li, Xana Tang, Jason Scott Lee
SNAKE EYES
Director: Robert Schwentke
APRIL 3:
Director: Josh Boone
Plot: Five young mutants, just discovering their abilities while held in a secret facility against their will, fight to escape their past sins and save themselves.
Cast: Anya Taylor-Joy, Charlie Heaton, Maise Williams, Henry Zaga, Alice Braga
Trailer:
APRIL 10:
Director: Cary Joji Fukunaga
Plot: James Bond has left active service when his friend Felix Leiter enlists his help in the search for a missing scientist. When it becomes apparent that they were abducted, Bond must confront a danger the likes of which the world has never seen.
Cast: Daniel Craig, Léa Seydoux, Ralph Fiennes, Rami Malek, Billy Magnussen, Ana de Armas, Kory Kinnear, David Dencik, Lashana Lynch
Director: Kevin Rodney Sullivan
Plot: Davis took on the role as head coach for the school's lackluster basketball team when it was in danger of being cut because of funding concerns. Coach Davis, from the very beginning, teaches his team of junior high kids these priorities in life, who they need to be, and what they need to do in order to be successful on and off the basketball court. Almost immediately, Coach Willie becomes the role model for many of the kids in the school and surrounding community, as they make an amazing run at the state championship.
Cast: Sterling K. Brown


APRIL 17:
TROLLS WORLD TOUR
Director: Walt Dohrn
Cast: Anna Kendrick, Justin Timberlake, Sam Rockwell, Anthony Ramos, Jamie Dornan, Chance the Rapper, Karan Soni, Flula Borg, James Corden, Icona Pop, Ron Funches, Kunal Nayyar
MAY 1:
UNTITLED MARVEL STUDIOS MOVIE
MAY 8:
GREYHOUND
Director: Aaron Schneider
Plot: During World War II, an international convoy of 37 Allied ships, led by Commander Ernest Krause, cross the treacherous North Atlantic while being hotly pursued by wolf packs of German U-boats.
Cast: Tom Hanks, Elisabeth Shue, Rob Morgan, Stephen Graham
BARBIE
Director: Patty Jenkins
Cast: Margot Robbie
LEGALLY BLONDE 3
Cast: Reese Witherspoon


MAY 15:
A QUIET PLACE 2
Director: John Krasinski
Cast:
Emily Blunt, Noah Jope, Millicent Simmonds, Cillian Murphy, Brian Tyree Henry
SCOOB
Director: Tony Cervone
Cast: Frank Weller, Will Forte, Gina Rodriguez, Tracy Morgan, Zac Efron, Amanda Seyfried, Mark Wahlberg, Jason Isaacs
MAY 22:
FAST AND FURIOUS 9
Director: Justin Lin
Cast: Vin Diesel, Jordana Brewster, Tyrese Gibson, John Cena
Director: Paul Tibbitt
Cast: Tom Kenny, Bill Fagerbakke, Clancy Brown, Mr. Lawrence, Carolyn Lawrence, Rodger Bumpass


MAY 29: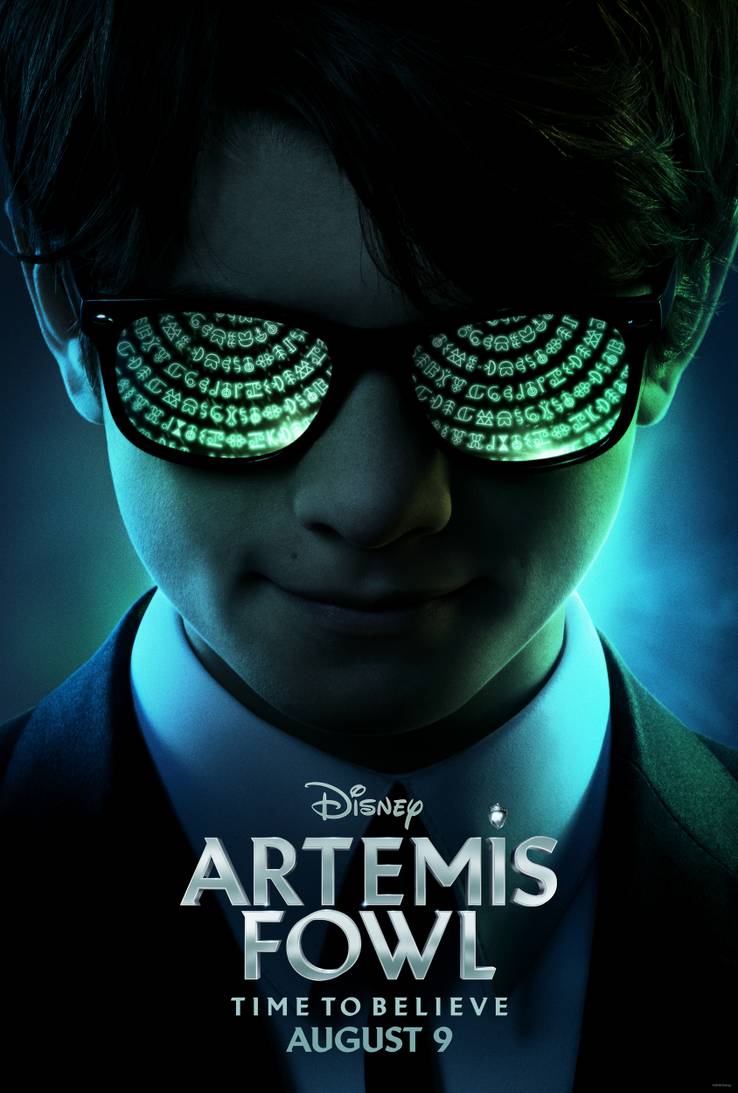 Director: Kenneth Branagh
Plot: Written for the screen by playwright Conor McPherson, Artemis Fowl is based on the first novel in Colfer's series and tells the story of Mr. Artemis Fowl (newcomer Ferdia Shaw) - a 12-year old genius and the descendant of a long line of "criminal masterminds", as the film's synopsis describes them. The movie follows Artemis as he matches wits with a hidden race of fairies that may or may not be connected to his father's disappearance; in turn, bringing him face to face with Holly Short (Lara McDonnell), an elf and the first female captain of LEPrecon - the recon division of LEP (Lower Elements Police) - and Commander Root (Judi Dench), the hard-lined commander of LEPrecon.
Cast: Ferdie Shaw, Josh Gad, Judi Dench, Lara McDonnell, Nonso Anozie
Trailer:
JUNE 5:
Director: Patty Jenkins
Plot: Diana Prince conflicts with the Soviet Union during the Cold War in the 1980s, and finds a formidable foe in Barbara Ann Minerva as an antagonist.
Cast: Gal Gadot, Kristen Wiig, Pedro Pascal, Chris Pine, Natasha Rothwell, Ravi Patel, Robin Wright


THE SIX BILLION DOLLAR MAN
Cast: Mark Wahlberg
JUNE 12:
CANDYMAN SEQUEL
Director: Nia DaCosta
Cast: Yahya Abdul-Mateen II
JUNE 26:
TOP GUN: MAVERICK
Director: Joseph Kosinski
Cast: Tom Cruise, Val Kilmer, Miles Teller, Jennifer Connelly, Jon Hamm, Lewis Pullman, Ed Harris, Jay Ellis, Thomasin McKenzie, Charles Parnell, Bashir Salahuddin, Danny Ramirez, Monica Barbaro
Director: John M. Cho
JULY 3:
MINIONS 2
Director: Kyle Balda
Cast: Pierre Coffin
Director: Shawn Levy
Cast: Ryan Reynolds, Jodie Colmer, Lil Rel Howery, Joe Keery, Taika Waititi, Utkarsh Ambudkar


JULY 10:
GHOSTBUSTERS 3
Director: Jason Reitman
Cast: Finn Wolfhard, Carrie Coon, Mckenna Grace
JULY 17:
TENET
Director: Christopher Nolan
Cast: John David Washington, Robert Pattinson, Elizabeth Debecki, Dimple Kapadia, Aaron Taylor-Johnson, Clémence Poésy, Michael Caine, Kenneth Branagh
BOB'S BURGERS
Director: Loren Bouchard
Cast: H. Jon Benjamin, John Roberts, Dan Mintz, Eugene Mirman, Kristen Schaal
JULY 24:
Director: Jaume Collet-Serra
Plot:
Frank, a boat captain, takes a sister and her brother on a mission into a jungle to find a tree believed to possess healing powers. All the while, the trio must fight against dangerous wild animals and a competing German expedition.
Cast:
Dwayne Johnson, Emily Blunt, Jack Whitehall, Édgar Ramírez, Jesse Plemons, Paul Giamatti
JULY 31:
MORBIUS
Director:
Daniel Espinosa
Cast:
Jared Leto, Matt Smith, Adria Arjona, Tyrese Gibson, Jared Harris
AUGUST 7:
INFINITE
Director:
Antonie Fuqua
Cast:
Chris Evans
AUGUST 14:
RESPECT
Director: Liesl Tommy
ESCAPE ROOM 2
Director: Adam Robitel
Cast:
Logan Miller, Taylor Russell
THE ONE AND ONLY IVAN
Director: Thea Sharrock
Cast: Sam Rockwell, Brooklynn Prince, Angelina Jolie, Bryan Cranston, Danny Devito, Helen Mirren


AUGUST 21:
BILL AND TED FACE THE MUSIC
Director: Dean Parisot
Plot:
Following 1989's "Bill & Ted's Excellent Adventure" and 1991's "Bill & Ted's Bogus Journey," the stakes are higher than ever for William "Bill" S. Preston Esq. (Winter) and Theodore "Ted" Logan (Reeves). Yet to fulfill their rock and roll destiny, the now middle-aged best friends set out on a new adventure, when a visitor from the future warns them that only their song can save life as we know it and bring harmony to the universe. Along the way, they will be helped by their families, old friends and a few music legends.
Cast:
Keanu Reeves, Alex Winter, Samara Weaving, Bridgette Lundy-Paine
SEPTEMBER 4:
MONSTER HUNTER
Director: Paul W.S. Anderson
Cast: Milla Jovovich, Tony Jaa, Clifford "T.I." Harris, Jr., Ron Perlman, Diego Boneta, Meagan Good, Josh Helman, Jin Au-Yeung


SEPTEMBER 11:
THE CONJURING 3
Director: Michael Chaves
Cast: Patrick Wilson, Vera Farmiga
SEPTEMBER 18:
WITHOUT REMORSE
Director: Stefano Sollima
Cast: Michael B. Jordan
SEPTEMBER 25:
NEWARK
Director: Alan Taylor
Cast:
Alessandro Nivola, Michael Gandolfini, Jon Bernthal, Vera Farmiga, Corey Stoll, Billy Magnussen, Ray Liotta, Joey Diaz, Nick Vallelonga
OCTOBER 2:
BIOS
Director: Miguel Sapochnik
Plot: Follows Finch, the last man on earth and an ailing inventor facing his own mortality.
Cast: Tom Hanks, Caleb Landry Jones, Samira Wiley
Cast: Tom Hardy, Woody Harrelson
DEATH ON THE NILE
Director: Kenneth Branagh
Cast: Gal Gadot, Armie Hammer
OCTOBER 16:
MICRONAUTS
THE WITCHES
Director: Robert Zemeckis
NOVEMBER 6:
UNTITLED MARVEL STUDIOS MOVIE
VIVO
Director: Kirk DeMicco
Plot: Follows a capuchin monkey with a thirst for adventure – and a passion for music – that makes a treacherous passage from Havana to Miami to fulfill his destiny.
NOVEMBER 13:
CLIFFORD THE BIG RED DOG
Director: Walt Becker
RED NOTICE
Director: Rawson Marshall Thunder
Cast: Dwayne Johnson, Gal Gadot


NOVEMBER 20:
Director: Denis Villeneuve
Cast: Timothée Chalamet, Rebecca Ferguson, Dave Bautista, Stellan Skarsgård, Charlotte Rampling, Oscar Isaac, Zendaya, Javier Bardem, Josh Brolin, Jason Momoa
DECEMBER 18:
WEST SIDE STORY
Director: Steven Spielberg
Cast: Ansel Elgort, Rachel Zegler, Ariana DeBose, David Alvarez, Josh Andrés Rivera, Mike Faist, Ana Isabelle, Maddie Ziegler, Rita Moreno
UNCHARTED
Director: Dan Trachtenberg
Cast: Tom Holland


COMING TO AMERICA 2
Director: Craig Brewer
Cast: Eddie Murphy, Arsenio Hall, James Earl Jones, John Amos, Shari Headley


DECEMBER 23:
CRUELLA
Cast: Emma Stone, Emma Thompson
Director: Joel Crawford
Cast: Nicolas Cage, Emma Stone, Ryan Reynolds, Catherine Keener, Cloris Leachman, Clark Duke, Leslie Mann, Kat Dennings


JANUARY 15:
SESAME STREET
Cast:
Anne Hathaway
JANUARY 29:
RUGRATS LIVE ACTION MOVIE
FEBRUARY 12:
UNTITLED MARVEL STUDIOS MOVIE
MARCH 5:
MASTERS OF THE UNIVERSE
Director: Aaron and Adam Nee
Cast: Noah Centineo


NIMONA
Director: Patrick Osborne
MARCH 26:
THE BOSS BABY
Director: Tom McGrath
Cast:
Alec Baldwin
APRIL 2:
FAST AND FURIOUS 10
Director: Justin Lin
Cast:
Vin Diesel, Jordana Brewster
APRIL 16:
TOM AND JERRY
Director: Tim Story
Cast: Chloe Grace Moretz, Michael Pena


MAY 7:
UNTITLED MARVEL STUDIOS MOVIE
MAY 21:
AKIRA
Directors:
Taika Waititi
JOHN WICK: CHAPTER 4
Cast: Keanu Reeves
JUNE 11:
JURASSIC WORLD 3
Director: Colin Trevorrow
Cast:
Chris Pratt, Bryce Dallas Howard
JUNE 18:
INSIDE OUT 2
JUNE 25:
THE BATMAN
Director: Matt Reeves
Cast: Robert Pattinson
JULY 9:
INDIANA JONES 5
Director: Steven Spielberg
Cast:
Harrison Ford
JULY 16:
SPACE JAM 2
Director: Terence Nance
Cast:
LeBron James, Sonequa Martin-Green
JULY 23:
MISSION: IMPOSSIBLE 7
Director: Christopher McQuarrie
Cast: Tom Cruise
AUGUST 6:
THE SUICIDE SQUAD
Director: James Gunn
Cast: Idris Elba, Margot Robbie, Jai Courtney, Viola Davis, Joel Kinnaman, John Cena, David Dastmalchian, Daniela Melchior, Benicio del Toro
SEPTEMBER 17:
SPOOKY JACK
NOVEMBER 5:
UNTITLED MARVEL STUDIOS MOVIE
NOVEMBER 19:
DUNGEONS AND DRAGONS
DECEMBER 17:
AVATAR 2
Director: James Cameron
Cast:
Sam Worthington, Zoe Saldana, Stephen Lang, Sigourney Weaver, Jermaine Clement
DECEMBER 22:
SHERLOCK HOLMES 3
Cast: Robert Downey Jr., Jude Law


WICKED
Director: Stephan Daldry
Plot: So much happened before Dorothy dropped in. WICKED, feature-film adaptation of the musical phenomenon seen by more than 50 million fans around the world, arrives in theaters for the 2021 holiday season. The unforgettable characters and gravity-defying songs of the beloved hit The New York Times called "the defining musical of the decade" comes to the big screen as the untold story of the Witches of Oz becomes the movie event that will change audiences for good.
2022

FEBRUARY 18:
UNTITLED MARVEL STUDIOS MOVIE
MARCH 18:
UNTITLED PIXAR MOVIE
MAY 6:
UNTITLED MARVEL STUDIOS MOVIE

MAY 22:
DC SUPER PETS
Directors: David Stern and Sam Levine


MAY 27:
UNTITLED DISNEY LIVE ACTION MOVIE
JUNE 17:
UNTITLED PIXAR MOVIE
JULY 8:
UNTITLED DISNEY LIVE ACTION MOVIE
JULY 29:
UNTITLED MARVEL STUDIOS MOVIE
AUGUST 5:
MISSION: IMPOSSIBLE 8
Director: Christopher McQuarrie
DECEMBER 16:
AQUAMAN 2
Director: James Wan
Cast:
Jason Momoa
UNTITLED STAR WARS MOVIE
2023
FEBRUARY 17:
UNTITLED DISNEY LIVE ACTION MOVIE
DECEMBER 22:
AVATAR 3
Director: James Cameron
Cast:
Sam Worthington, Zoe Saldana, Stephen Lang, Sigourney Weaver, Jermaine Clement

DECEMBER 20:
UNTITLED STAR WARS MOVIE

AVATAR 4
Director: James Cameron
Cast:
Sam Worthington, Zoe Saldana, Stephen Lang, Sigourney Weaver, Jermaine Clement
UNTITLED STAR WARS MOVIE

AVATAR 5
Director: James Cameron
Cast: Sam Worthington, Zoe Saldana, Stephen Lang, Sigourney Weaver, Jermaine Clement