2017
OCTOBER 20:
GEOSTORM
Director: Dean Devlin
Plot: In the near future, when climate-controlling satellites malfunction and release disaster-creating small pods all over the world, Jake Lawson and his other fellow astronauts head into space to prevent the satellites from programming the small pods into creating a storm of epic proportions.
Cast: Gerard Butler, Abbie Cornish, Alexandra Lara, Jim Sturgess, Amr Waked, Ed Harris, Andy García
Trailer:
LEATHERFACE
Directors:
Julien Maury and Alexandre Bustillo
Plot:
A teenage Leatherface escapes from a mental hospital with three other inmates, kidnapping a young nurse and taking her on a road trip from hell, while being pursued by a lawman out for revenge.
Cast:
Stephen Dorff, Vanessa Grasse, Sam Strike, Lili Taylor, James Bloor, Jessica Madsen, Sam Coleman, Finn Jones
Trailer:
THE SNOWMAN
Director: Tomas Alfredson
Plot: When an elite crime squad's lead detective (Fassbender) investigates the disappearance of a victim on the first snow of winter, he fears an elusive serial killer may be active again. With the help of a brilliant recruit (Ferguson), the cop must connect decades-old cold cases to the brutal new one if he hopes to outwit this unthinkable evil before the next snowfall.
Cast: Michael Fassbender, Rebecca Ferguson, Toby Jones, J. K. Simmons, Jakob Oftebro, Chloë Sevigny
Trailer:
ONLY THE BRAVE
Director: Joseph Kosinski
Plot: A drama based on the elite crew of firefighters who battled the Yarnell Hill Fire, a wildfire in Yarnell, Arizona in June 2013 that claimed the lives of 19 members of their team.
Cast: Ben Hardy, Jennifer Connelly, Taylor Kitsch, Miles Teller, James Badge Dale, Josh Brolin, Jeff Bridges
Trailer:
WONDERSTRUCK
Director: Todd Haynes
Plot: The film takes place in both 1927 and 1977. In the earlier time period, Rose (Simmonds) runs away from her New Jersey home to find her idol Lillian Mayhew (Moore). In the later time frame, Ben (Fegley) also runs away to New York after his mother's death in search of his missing father.
Cast: Oakes Fegley, Julianne Moore, Millicent Simmonds, Michelle Williams, Jaden Michael, Tom Noonan, James Urbaniak, Amy Hargreaves
Trailer:
THE KILLING OF A SACRED DEER
Director: Yorgos Lanthimos
Plot: Dr. Steven Murphy (Colin Farrell) is a renowned cardiovascular surgeon presiding over a spotless household with his ophthalmologist wife Anna (Nicole Kidman) and their two exemplary children, 12-year-old Bob (Sunny Suljian) and 14-year-old Kim (Raffey Cassidy). Lurking at the margins of his idyllic suburban existence is Martin (Barry Keoghan), a fatherless teen who Steven has covertly taken under his wing. As Martin begins insinuating himself into the family's life in ever-more unsettling displays, the full scope of his intent becomes menacingly clear when he confronts Steven with a long-forgotten transgression that will shatter the Murphy family's domestic bliss.
Cast: Colin Farrell, Nicole Kidman, Barry Keoghan, Raffey Cassidy, Sunny Suljic, Bill Camp, Alicia Silverstone
Trailer:
OCTOBER 27:
THANK YOU FOR YOUR SERVICE
Director: Jason Hall
Plot: The film follows three American soldiers returning from Iraq as they reintegrate with their families, adjust to civilian life and work to handle their memories of war.
Cast:
Miles Teller, Haley Bennett, Beulah Koale, Amy Schumer, Scott Haze
Trailer:
SUBURBICON
Director:
George Clooney
Plot:
Suburbicon is a peaceful, idyllic suburban community with affordable homes and manicured lawns... the perfect place to raise a family, and in the summer of 1959, the Lodge family is doing just that. But the tranquil surface masks a disturbing reality, as husband and father Gardner Lodge (Matt Damon) must navigate the town's dark underbelly of betrayal, deceit, and violence. This is a tale of very flawed people making very bad choices. This is Suburbicon.
Cast:
Matt Damon, Julianne Moore, Oscar Isaac
Trailer:
PROFESSOR MARSTON AND THE WONDER WOMEN
Director:
Angela Robinson
Plot:
The film examines the life of Dr. William Moulton Marston, his creation of Wonder Woman in 1941, his wife Elizabeth and their relationship with Olive Byrne. Through the pen name "Charles Moulton", Marston combined his, Elizabeth's and Olive's feminist ideals to create a superhero character that young girls could look up to.
Cast:
Luke Evans, Rebecca Hall, Bella Heathcote, Connie Britton, Oliver Platt
Trailer:
JIGSAW
Directors: The Spierig Brothers
Plot: Bodies are turning up around the city, each having met a uniquely gruesome demise. As the investigation proceeds, evidence points to one suspect: John Kramer, the man known as Jigsaw, who has been dead for ten years.
Cast: Tobin Bell, Mandela Van Peebles, Laura Vandervoort, Brittany Allen, Callum Keith Rennie, Matt Passmore
Trailer:
NOVEMBER 3:
THOR: RAGNAROK
Director:
Taika Waititi
Plot:
After the events of Avengers: Age of Ultron, and four years after the events of Thor: The Dark World, Thor, held captive on the planet Sakaar without his hammer, must win a gladiatorial duel against an old friend—the Hulk—in order to return to Asgard in time to stop the villainous Hela and the impending Ragnarök, the doom of the Asgardian civilization.
Cast:
Chris Hemsworth, Tom Hiddleston, Jaimie Alexander, Mark Ruffalo, Cate Blanchett, Tessa Thompson, Karl Urban, Jeff Goldblum, Anthony Hopkins, Benedict Cumberbatch
Trailer:
LAST FLAG FLYING
Director: Richard Linklater
Plot: Three men who once served in the same Marine unit together reunite when one's son is killed in combat and he asks them to accompany him to the funeral.
Cast: Steve Carell, Bryan Cranston, Laurence Fishburne, Yul Vazquez
Trailer:
LBJ
Director: Rob Reiner
Plot: The story centers around the political upheaval that Vice President Johnson faced when he was thrust into the presidency at the hands of an assassin's bullet in November 1963. With political battles on both sides of the aisle, Johnson works to heal a nation and secure his presidency by passing Kennedy's historic Civil Rights Act. His early years are also chronicled.
Cast: Woody Harrelson, Richard Jenkins, Bill Pullman, Kim Allen, Michael Stahl-David, Jennifer Jason Leigh, Jeffrey Donovan, Doug McKeon, Michael Mosley
Trailer:
A BAD MOMS CHRISTMAS
Director: Jon Lucas
Plot: Under-appreciated and overburdened moms Amy (Mila Kunis), Kiki (Kristen Bell) and Carla (Kathryn Hahn) rebel against the challenges and expectations of the Super Bowl for Moms: Christmas. As if creating the perfect holiday for their families isn't hard enough, they'll have to do it while hosting and entertaining their own respective mothers (Christine Baranski, Cheryl Hines and Susan Sarandon) when they come to visit.
Cast: Mila Kunis, Kristen Bell, Kathryn Hahn, Jay Hernandez, Susan Sarandon, Christine Baranski
Trailer:
ROMAN J. ISRAEL, ESQ.
Director: Dan Gilroy
Plot: A liberal lawyer named Roman J. Israel has been fighting the good fight while others take the credit. When his partner, the firm's front man, has a heart attack, Israel suddenly takes on that role. He finds out some unsettling things about what the crusading law firm has done that run afoul of his values of helping the poor and dispossessed, and he finds himself in an existential crisis that leads to extreme action.
Cast: Denzel Washington, Colin Farrell, Carmen Ejogo, Shelley Hennig
Trailer:
NOVEMBER 10:
DADDY'S HOME 2
Director: Sean Anders
Plot: Brad and Dusty (Will Ferrell, Mark Wahlberg) must deal with their intrusive fathers (Mel Gibson, John Lithgow) during the holidays.
Cast: Will Ferrell, Mark Wahlberg, Linda Cardellini, John Cena, Mel Gibson, John Lithgow
Trailer:
MURDER ON THE ORIENT EXPRESS
Director: Kenneth Branagh
Plot: A lavish trip through Europe quickly unfolds into a race against time to solve a murder aboard a train. Everyone's a suspect as Detective Hercule Poirot sifts through 13 strangers to find the killer before another person ends up dead.
Cast: Kenneth Branagh, Penélope Cruz, Willem Dafoe, Judi Dench, Johnny Depp, Josh Gad, Derek Jacobi, Leslie Odom Jr., Michelle Pfeiffer, Daisy Ridley
Trailer:
THE STAR
Director: Timothy Reckart
Plot: The film centers on a donkey, Bo, and his animal friends who become the unsung heroes of the first Christmas.
Cast: Steven Yeun, Oprah Winfrey, Tyler Perry, Kelly Clarkson, Aidy Bryant, Keegan-Michael Key, Kristin Chenoweth, Anthony Anderson, Gabriel Iglesias, Ving Rhames, Delilah Rene, Kris Kristofferson, Gina Rodriguez, Zachary Levi, Patricia Heaton, Tracy Morgan, Christopher Plummer
PADDINGTON 2
Director: Paul King
Plot: Paddington, having settled with the Brown family in Windsor Gardens, has become popular in his community. He sees a unique pop-up book in Mr. Gruber's antique shop, and performs several odd jobs to purchase it as a present for his aunt Lucy's 100th birthday. When the book is stolen, it is up to him and the Browns to apprehend the thief.
Cast: Hugh Grant, Brendan Gleeson, Hugh Bonneville, Sally Hawkins, Julie Walters, Jim Broadbent, Peter Capaldi, Madeleine Harris, Samuel Joslin, Ben Whishaw, Imelda Staunton
Trailer:
NOVEMBER 17
JUSTICE LEAGUE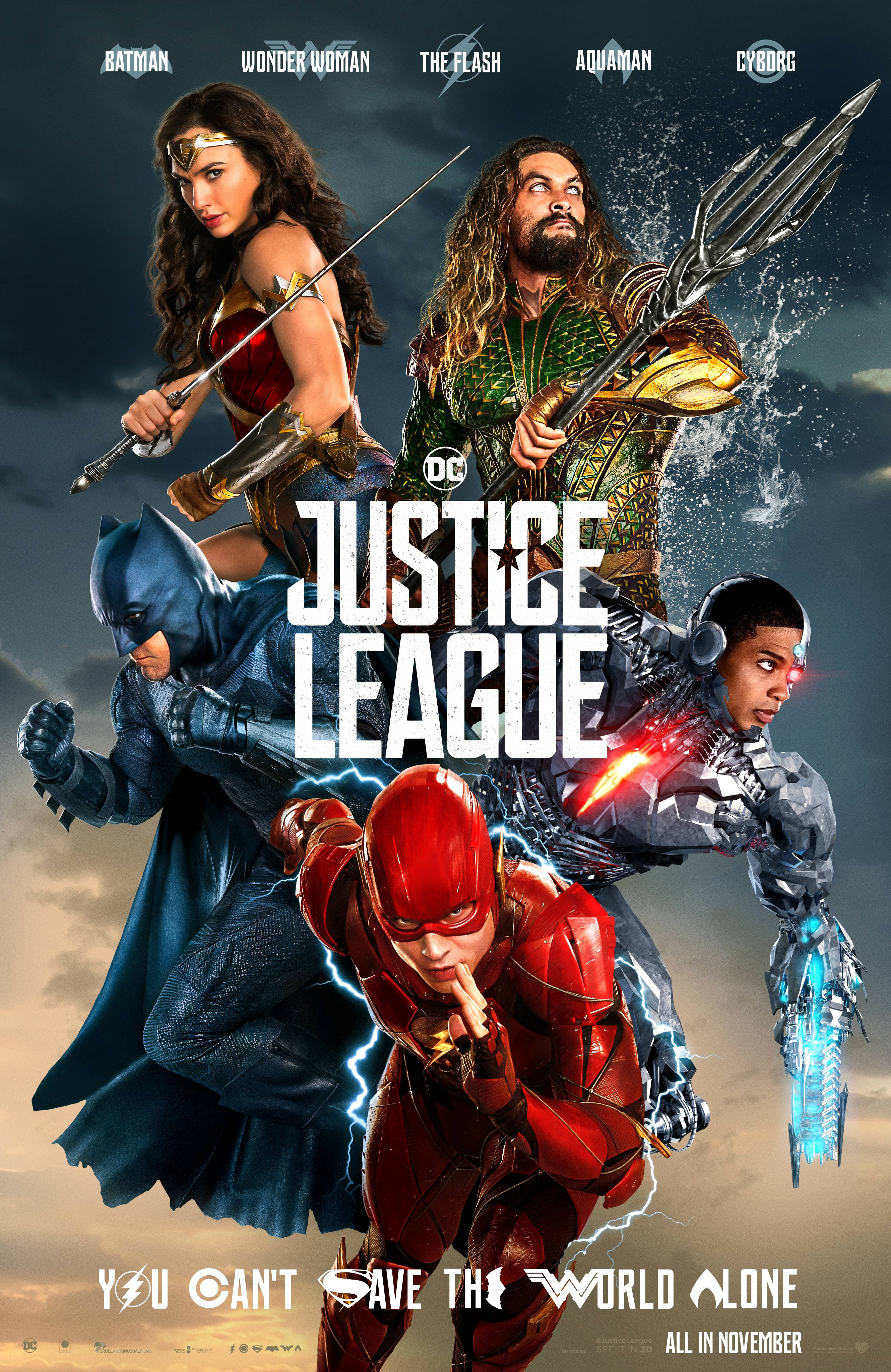 Director:
Zack Snyder
Plot:
Fueled by his restored faith in humanity and inspired by Superman's selfless act, Bruce Wayne enlists the help of his newfound ally, Diana Prince, to face an even greater enemy. Together, Batman and Wonder Woman work quickly to find and recruit a team of metahumans to stand against this newly awakened threat. But despite the formation of this unprecedented league of heroes—Batman, Wonder Woman, Aquaman, Cyborg and The Flash—it may already be too late to save the planet from an assault of catastrophic proportions.
Cast:
Henry Cavill, Ben Affleck, Gal Gadot, Jason Momoa, Ezra Miller, Ray Fisher, Amy Adams, Amber Heard, J. K. Simmons, Willem Dafoe, Jeremy Irons
Trailer:
WONDER
Director: Stephen Chbosky
Plot: August "Auggie" Pullman (Jacob Tremblay) is a young boy born with a facial difference who has been in and out of hospitals for years. With the help of his mother, Isabel (Julia Roberts) and his father, Nate (Owen Wilson), he tries to fit in at a new school named Beecher Prep and shows everyone that he is just an ordinary kid, no different than the rest of the world. He strives to teach others that beauty is not just on the outside.
Cast: Julia Roberts, Jacob Tremblay, Owen Wilson, Mandy Patinkin
Trailer:
NOVEMBER 22:
COCO
Director: Lee Unkrich
Plot: Despite his family's generation-old ban on music, Miguel (Anthony Gonzalez) dreams of becoming an accomplished musician like his idol Ernesto de la Cruz (Benjamin Bratt). Desperate to prove his talent, Miguel finds himself in the Land of the Dead. Along the way, he meets charming trickster Hector (Gael García Bernal) and together they set off on an extraordinary journey to unlock the real story behind Miguel's family history.
Cast: Anthony Gonzalez, Gael García Bernal, Benjamin Bratt, Renée Victor, Ana Ofelia Murguia
Trailer:
DARKEST HOUR
Director: Joe Wright
Plot: Winston Churchill (Gary Oldman) faces a crucial moment against Adolf Hitler's army in the beginning of the Second World War.
Cast: Gary Oldman, Ben Mendelsohn, Kristin Scott Thomas, Lily James, Stephen Dillane, Ronald Pickup
Trailer:
THE CURRENT WAR
Director: Alfonso Gomez-Rejon
Plot: The dramatic story of the War of Currents between electricity titans Thomas Edison and George Westinghouse to determine whose electrical system would power the modern world.
Cast: Benedict Cumberbatch, Michael Shannon, Nicholas Hoult, Tom Holland
Trailer:
DECEMBER 1:
THE DISASTER ARTIST
Director: James Franco
Plot: The film depicts the meeting and early friendship of the actor Greg Sestero and Tommy Wiseau, the actor, writer and director behind the 2003 cult film The Room, a film often hailed as the Citizen Kane of bad movies, the troubled making of it and their respective careers after the surprising success of the film.
Cast:
James Franco, Dave Franco, Seth Rogen, Josh Hutcherson, Zac Efron, Sharon Stone, Melanie Griffith, Alison Brie
Trailer:
DECEMBER 8:
ALL THE MONEY IN THE WORLD
Director: Ridley Scott
Plot: After a young John Paul Getty III (Charlie Plummer) is kidnapped by an organized crime regime, his devoted mother, Gail (Michelle Williams), desperately attempts to convince his wealthy grandfather, oil tycoon J. Paul Getty (Kevin Spacey) to pay the ransom. When he refuses, Gail allies herself with Getty's business manager and former CIA operative Fletcher Chase (Mark Wahlberg) to set her son free and convince Getty to change his mind before it's too late.
Cast: Michelle Williams, Mark Wahlberg, Kevin Spacey, Timothy Hutton, Charlie Plummer
Trailer:
THE SHAPE OF WATER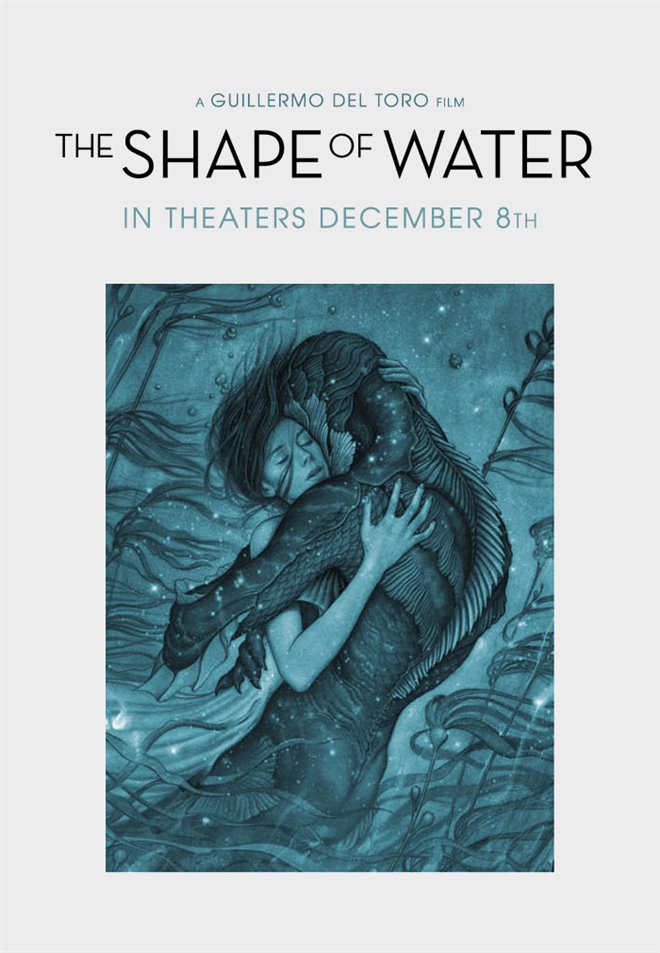 Director: Guillermo del Toro
Plot: In 1962, a mute janitor and her colleague work in a government laboratory and eventually discover an amphibious creature in a water tank, known as "The Asset". The janitor, out of loneliness, befriends the creature and falls in love.
Cast: Sally Hawkins, Michael Shannon, Richard Jenkins, Doug Jones, Lauren Lee Smith, Michael Stuhlbarg, Octavia Spencer
Trailer:
I, TONYA
Director: Craig Gillespie
Plot: Competitive ice skater Tonya Harding rises among the ranks at the U.S. Figure Skating Championships, but her future in the sport is thrown into doubt when her ex-husband intervenes.
Cast: Margot Robbie, Sebastian Stan, Allison Janney, Julianne Nicholson, Mckenna Grace, Caitlin Carver, Bobby Cannavale
DECEMBER 15:
STAR WARS: THE LAST JEDI
Director: Rian Johnson
Plot: Rey took her first steps into a larger world in Star Wars: The Force Awakens and will continue her epic journey with Finn, Poe, and Luke Skywalker in the next chapter of the continuing Star Wars saga, Star Wars: Episode VIII.
Cast:
Mark Hamill, Daisy Ridley, John Boyega, Oscar Isaac, Benecio Del Toro, Lupita Nyong'o, Domhnall Gleeson, Anthony Daniels, Gwendoline Christie, Andy Serkis, Laura Dern, Kelly Marie Tran
Trailer:
DECEMBER 20:
JUMANJI: WELCOME TO THE JUNGLE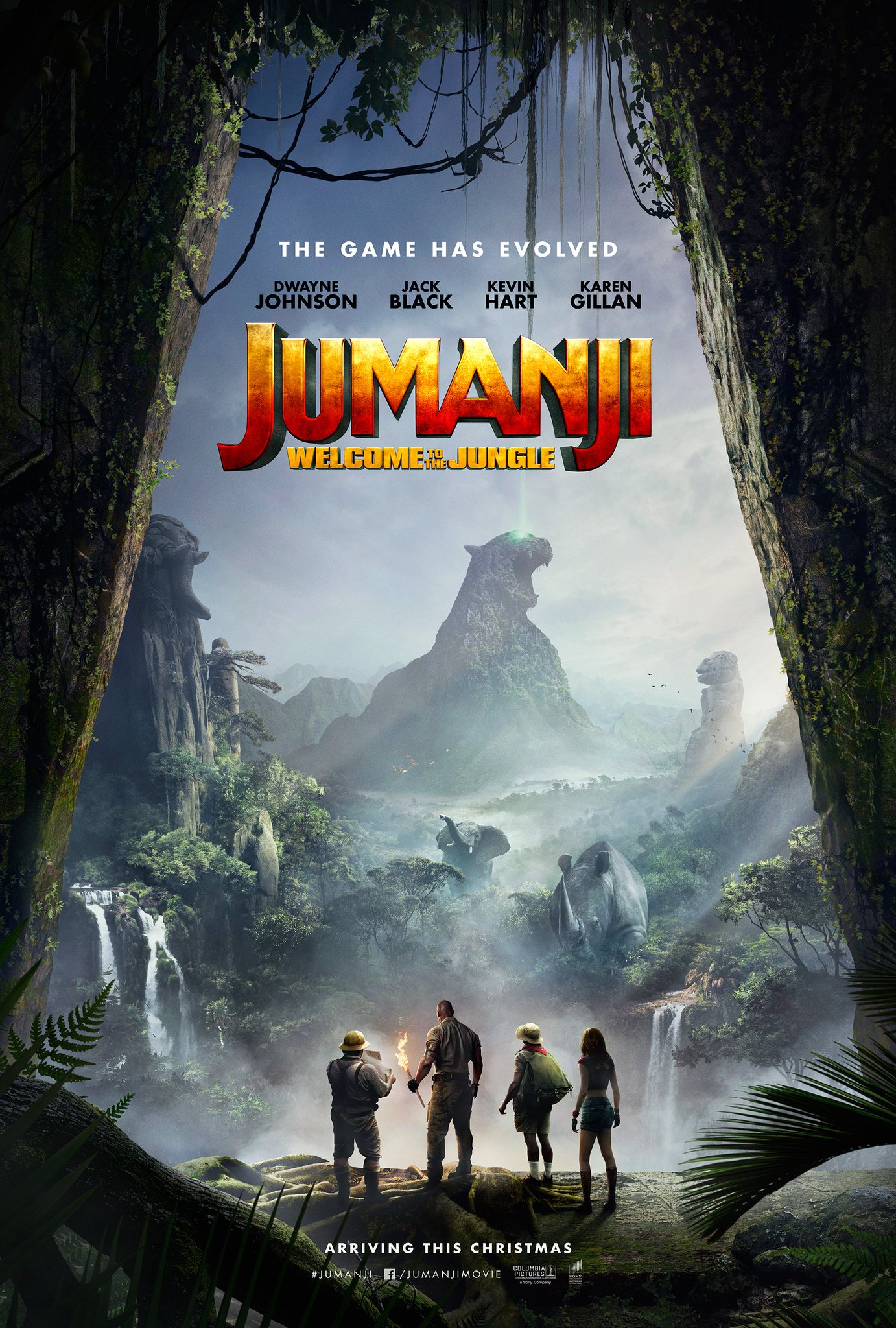 Director: Jake Kasdan
Plot: In a brand new Jumanji adventure, the tables are turned as four teenagers are sucked into Jumanji's world – pitted against rhinos, black mambas and an endless variety of jungle traps and puzzles. To survive, they'll play as characters from the game: meek Spencer becomes a brave explorer (Dwayne Johnson); hulky jock Fridge becomes a tiny genius (Kevin Hart); It-girl Bethany becomes a bookworm professor (Jack Black); and unathletic Martha becomes an amazonian warrior (Karen Gillan). To beat the game and return to the real world with their lives, they'll have to start seeing things in an entirely different way.
Cast:
Dwayne Johnson, Kevin Hart, Jack Black, Nick Jonas, Karen Gillan, Madison Iseman, Ser'Darius Blain, Nat Wolff, Rhys Darby
Trailer:
DECEMBER 22:
PITCH PERFECT 3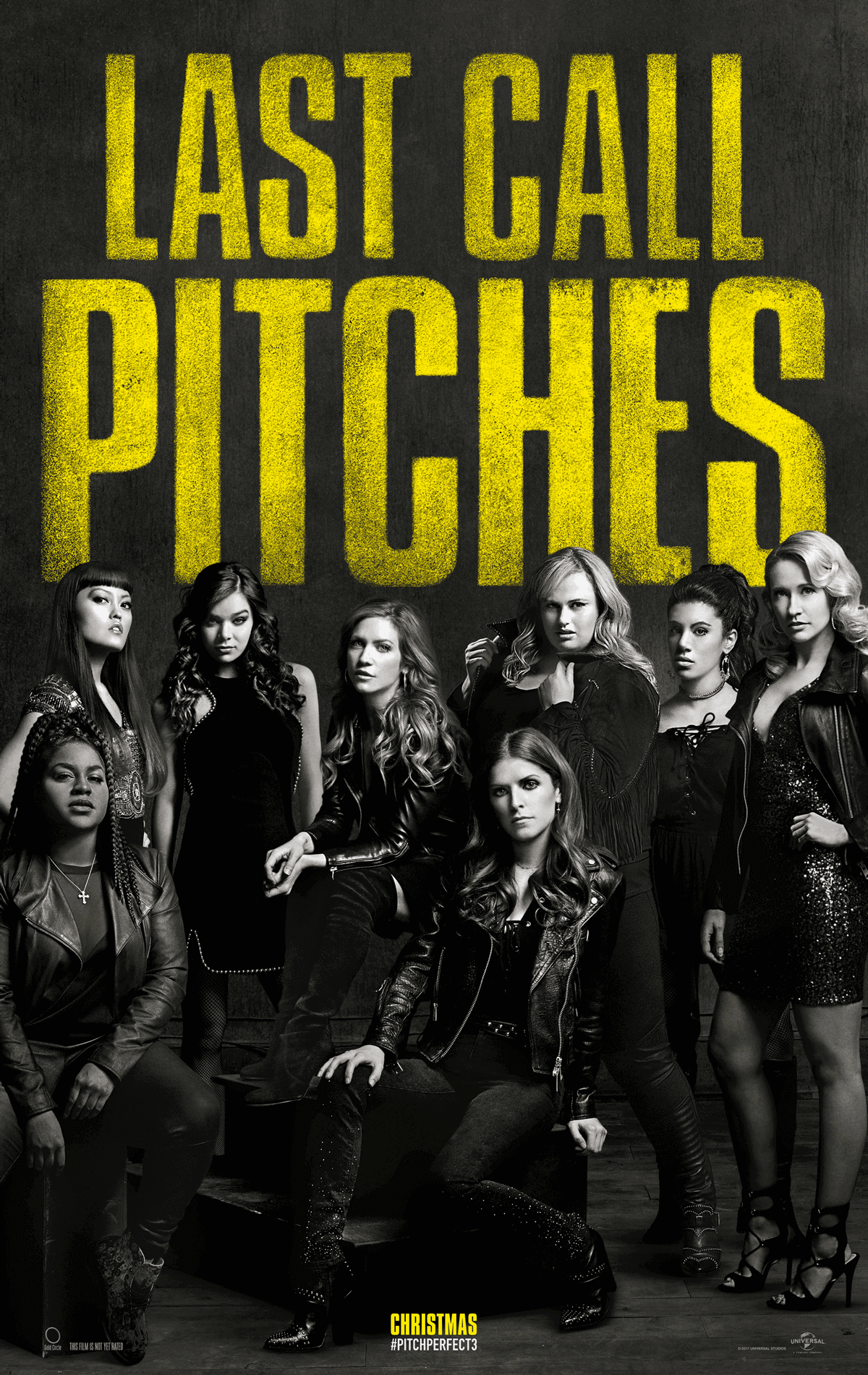 Director: Trish Sie
Post: After the highs of winning the world championships, the Bellas find themselves split apart and discovering there aren't job prospects for making music with your mouth. But when they get the chance to reunite for an overseas USO tour, this group of awesome nerds will come together to make some music, and some questionable decisions, one last time.
Cast: Anna Kendrick, Anna Camp, Rebel Wilson, Brittany Snow, Hailee Steinfeld, Alexis Knapp, Ester Dean, Hana Mae Lee, Chrissie Fit, Kelley Jakle, Shelley Regner
Trailer:
FATHER FIGURES
Director: Lawrence Sher
Plot: Two brothers learn their father did not die when they were young, as they had previously believed, and go on a road trip across America to find him.
Cast: Owen Wilson, Ed Helms, J. K. Simmons, Terry Bradshaw, Ving Rhames, Katt Williams, Retta, June Squibb, Glenn Close
Trailer:
DOWNSIZING
Director: Alexander Payne
Plot: Downsizing imagines what might happen if, as a solution to over-population, Norwegian scientists discover how to shrink humans to 5 inches (13 cm) tall and propose a 200-year global transition from big to small. People soon realize how much further money goes in a miniaturized world, and with the promise of a better life, everyman Paul Safranek (Matt Damon) and wife Audrey (Kristen Wiig) decide to abandon their stressed lives in Omaha in order to become small and move to a new downsized community — a choice that triggers life-changing adventures.
Cast: Matt Damon, Kristen Wiig, Christoph Waltz, Hong Chau, Jason Sudeikis, Neil Patrick Harris, Alec Baldwin
Trailer:
THE POST
Director: Steven Spielberg
Plot: A cover-up that spanned four U.S. Presidents pushed the country's first female newspaper publisher of The Washington Post, Kay Graham (Meryl Streep) and its hard-driving editor, Ben Bradlee (Tom Hanks) to join an unprecedented battle between journalist and government in publishing the Pentagon Papers.
Cast: Tom Hanks, Meryl Streep, Bruce Greenwood, Jesse Plemons, Bob Odenkirk, Sarah Paulson, Alison Brie, David Cross, Carrie Coon
DECEMBER 25:
THE GREATEST SHOWMAN
Director:
Michael Gracey
Plot:
The story of American showman P. T. Barnum, founder of the circus that became the famous traveling Ringling Bros. and Barnum & Bailey Circus.
Cast:
Hugh Jackman, Zac Efron, Rebecca Ferguson, Michelle Williams, Yahya Abdul-Mateen II, Zendaya
Trailer:
MOLLYS GAME
Director: Aaron Sorkin
Plot: "Molly's Game" is based on the true story of Molly Bloom, an Olympic-class skier who ran the world's most exclusive high-stakes poker game for a decade before being arrested in the middle of the night by 17 FBI agents wielding automatic weapons. Her players included Hollywood royalty, sports stars, business titans and finally, unbeknownst to her, the Russian mob. Her only ally was her criminal defense lawyer Charlie Jaffey, who learned that there was much more to Molly than the tabloids led us to believe.
Cast: Jessica Chastain, Idris Elba, Kevin Costner, Michael Cera, Jeremy Strong, Chris O'Dowd, Bill Camp
Trailer:
JANUARY 12
INSIDIOUS: THE LAST KEY
Director: Adam Robitel
Plot: After the events in the previous film, Elise Rainier goes on to investigate the recent supernatural disturbances occurring in a family's home in New Mexico, a house she used to live in her youth, diving her deeper into The Further.
Cast:
Lin Shaye, Leigh Whannell, Angus Sampson, Spencer Locke, Kirk Acevedo, Bruce Davison
Trailer:
JANUARY 12:
THE COMMUTER
Director: Jaume Collet-Serra
Plot: Michael is an insurance salesman who is on his daily commute home, when it quickly becomes anything but routine. After being contacted by a mysterious stranger, Michael is forced to uncover the identity of a hidden passenger on his train before the last stop. As he works against the clock to solve the puzzle, he realizes a deadly plan is unfolding and is unwittingly caught up in a criminal conspiracy, one that carries life and death stakes for himself and his fellow passengers.
Cast: Liam Neeson, Vera Farmiga, Sam Neill, Patrick Wilson, Elizabeth McGovern, Jonathan Banks
Trailer:
PROUD MARY
Director:
Babak Najafi
Plot:
Mary is a successful hitwoman working for an organized crime family in Boston. However, her life is completely shifted when she meets a young boy whose path she crosses when a professional hit goes wrong and she leaves the boy orphaned.
Cast:
Taraji P. Henson, Billy Brown, Danny Glover
Trailer:
WHITE BOY RICK
Director: Yann Demange
Cast: Richie Merritt, Jennifer Jason Leigh, Bruce Dern, Bel Powley, Piper Laurie, Matthew McConaughey


FEBRUARY 2
GOD PARTICLE
Director: Julius Onah
Plot: A shocking discovery forces a team of astronauts aboard a space station to fight for survival while their reality has been altered.
Cast: David Oyelowo, Gugu Mbatha-Raw, John Krasinski, Daniel Brühl, Chris O'Dowd, Ziyi Zhang Aksel Hennie, John Ortiz


JANUARY 19:
HORSE SOLDIERS
Director: Nicolai Fuglsig
Plot: Following the September 11 attacks, CIA paramilitary officers and US Special Forces team are sent to Afghanistan, where they join forces with General Abdul Rashid Dostum to fight against Taliban.
Cast: Chris Hemsworth, Michael Shannon, Michael Peña, Austin Stowell, Trevante Rhodes, Rob Riggle
FEBRUARY 9
PETER RABBIT
Director:
Will Gluck
Cast:
James Corden, Rose Byrne, Daisy Ridley, Elizabeth Debicki, Domhnall Gleeson, Margot Robbie
Trailer:
MAZE RUNNER: THE DEATH CURE
Director: Wes Ball
Plot: In the conclusion to the Maze Runner saga, Thomas and the surviving Gladers prepare to face off against WCKD one last time as they fight to find a cure for the deadly disease known as The Flare that has wiped out much of the civilization all over the world. Friendships and loyalties will be tested and the fight against WCKD will also determine who will survive at the end and who will not.
Cast: Dylan O'Brien, Thomas Brodie-Sangster, Ki Hong Lee, Kaya Scodelario, Dexter Darden, Jacob Lofland, Rosa Salazar, Giancarlo Esposito, Aidan Gillen, Patricia Clarkson, Barry Pepper, Will Poulter, Nathalie Emmanuel, Katherine McNamara
FIFTY SHADES FREED
Director: James Foley
Plot: Following the events of Fifty Shades Darker, Christian and Ana are now married. However, Ana's life is threatened when her former boss, Jack Hyde, swears revenge for being fired from SIP. Elena also returns to haunt Christian and makes the couple's lives a lot more troublesome.
Cast: Dakota Johnson, Jamie Dornan, Kim Basinger, Eric Johnson, Max Martini, Brant Daugherty, Fay Masterson, Luke Grimes, Rita Ora, Arielle Kebbel
FEBRUARY 16:
BLACK PANTHER
Director:
Ryan Coogler
Plot:
After the death of his father, the King of Wakanda, returns home to the isolated, technologically advanced African nation to succeed to the throne and take his rightful place as king. But when a powerful old enemy reappears, T'Challa's mettle as king—and Black Panther—is tested when he is drawn into a formidable conflict that puts the fate of Wakanda and the entire world at risk. Faced with treachery and danger, the young king must rally his allies and release the full power of Black Panther to defeat his foes and secure the safety of his people and their way of life.
Cast:
Chadwick Boseman, Lupita Nyong'o, Michael B. Jordan, Danai Gurira, Winston Duke, Angela Bassett, Forest Whitaker, Sterling K. Brown
Trailer:
LARKKINS
Director: Tim Minchin
Plot: An uptight bilby escapes his sheltered life from his family burrow, and ventures out and finds himself launched on a musical adventure across the mystical Australian outback.
Cast: Margot Robbie, Hugh Jackman, Naomi Watts, Rose Byrne, Ben Mendelsohn, Jacki Weaver, Josh Lawson, Damon Herriman, Ewen Leslie
MARCH 2:
RED SPARROW
Director: Francis Lawrence
Plot: A Russian spy falls for a CIA officer and considers becoming a double agent.
Cast:
Jennifer Lawrence, Joel Edgerton, Jeremy Irons, Matthias Schoenaerts, Ciarán Hinds, Joely Richardson, Mary-Louise Parker, Charlotte Rampling
Trailer:
DEATH WISH
Director: Eli Roth
Plot: A doctor in Chicago becomes a vigilante when his wife is murdered and his daughter brutally attacked by robbers.
Cast: Bruce Willis, Vincent D'Onofrio, Dean Norris, Kimberly Elise, Mike Epps, Elisabeth Shue, Camila Morrone
Trailer:
ALPHA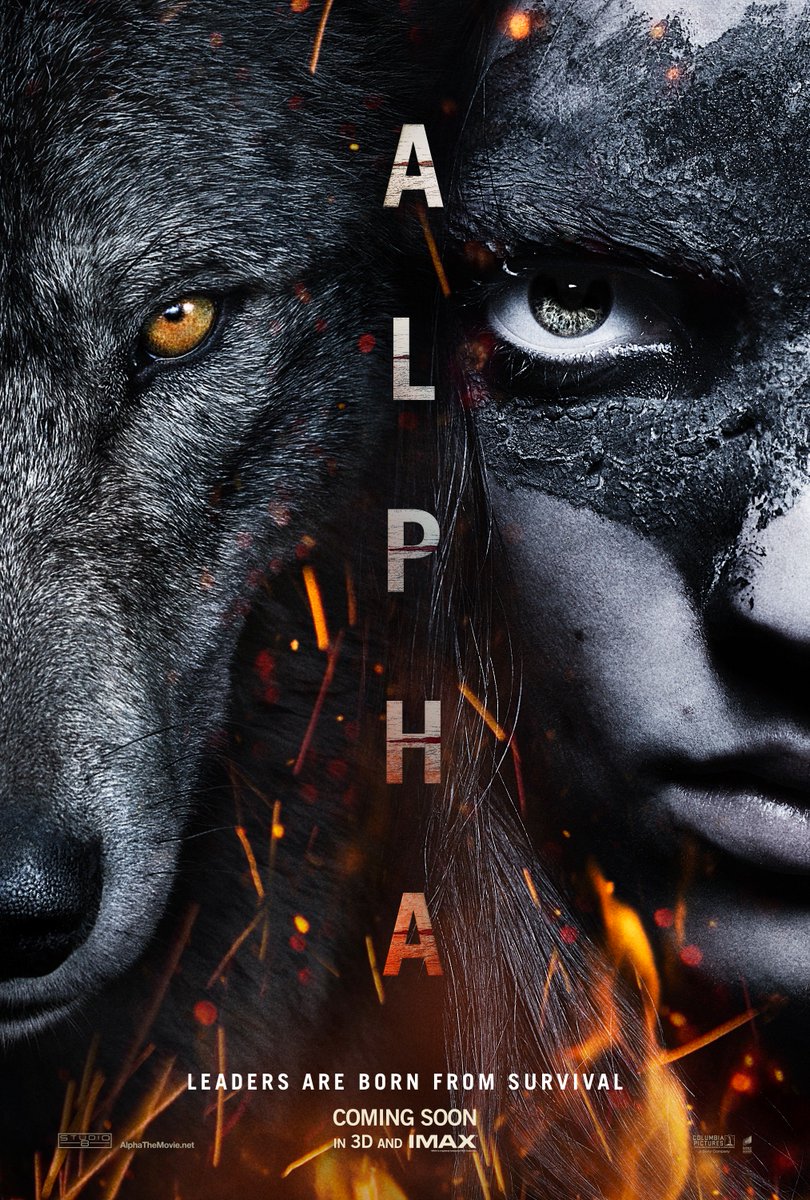 Director: Albert Hughes
Plot: After a hunting expedition 20,000 years ago in Europe during the Upper Paleolithic period goes awry, a young caveman struggles against the elements to find his way home all the while developing a friendship with a wolf.
Cast: Kodi Smit-McPhee, Leonor Varela, Jens Hultén
Trailer:
MARCH 9:
A WRINKLE IN TIME
Director: Ava DuVernay
Plot: After the disappearance of her scientist father, three peculiar beings send Meg, her brother, and her friend to space in order to find him.
Cast:
Storm Reid, Oprah Winfrey, Reese Witherspoon, Mindy Kaling, Chris Pine, Gugu Mbatha-Raw, Levi Miller, Deric McCabe, Michael Peña, Zach Galifianakis
Trailer:
MARCH 16:
TOMB RAIDER
Director: Roar Uthaug
Cast:
Alicia Vikandar, Walton Goggins, Daniel Wu, Nick Frost, Dominic West, Antonio Aakeel, Hannah John-Kamen
Trailer:
LOVE, SIMON
Director: Greg Berlanti
Plot: When Simon Spier's emails to his secret pen pal, Blue, fall into the wrong hands, he is forced to play wingman to his blackmailer.
Cast: Nick Robinson, Logan Miller, Alexandra Shipp, Jorge Lendeborg Jr., Katherine Langford, Miles Heizer, Jennifer Garner, Josh Duhamel
ENTEBBE
Director: Jose Padilha
Plot: Four hijackers take over an airplane, take the passengers hostage, and force it to land in Entebbe, Uganda in 1976 in an effort to free of dozens of Palestinian terrorists jailed in Israel.
Cast: Rosamund Pike, Daniel Bruhl, Vincent Cassel, Eddie Marsan, Ben Schnetzer
MARCH 23:
Director:
Steven S. DeKnight
Plot:
It has been ten years since the Battle of the Breach and the oceans are still, but restless. Vindicated by the victory at the Breach, the Jaeger program has evolved into the most powerful global defense force in human history. The PPDC now calls upon the best and brightest to rise up and become the next generation of heroes when the Kaiju threat returns. Into this is thrust ex-jaeger pilot Jake Pentecost, son of the late Stacker Pentecost, who is given a chance by his adopted sister, Mako Mori to unite with the world and fellow Jaeger pilots to prevent humanity's extinction.
Cast:
John Boyega, Scott Eastwood, Cailee Spaeny, Max Martini, Jing Tian
Trailer
:
ISLE OF DOGS
Director: Wes Anderson
Plot: Set in a dystopian future Japan in which dogs have been quarantined on the remote eponymous island due to a "canine flu", Isle of Dogs follows five local dogs—Chief, Rex, Boss, Duke, and King. They are fed up with their isolated existence until a boy named Atari Kobayashi ventures to the island to search for his dog, Spots. Atari receives their help and they will protect him from the Japanese authorities who have come to retrieve him.
Cast: Bryan Cranston, Bill Murray, Jeff Goldblum, Scarlett Johansson, F. Murray Abraham, Tilda Swinton, Harvey Keitel, Yoko Ono, Courtney B. Vance, Greta Gerwig, Frances McDormand, Bob Balaban, Liev Schreiber, Edward Norton
Trailer:
MARCH 30:
READY PLAYER ONE
Director: Steven Spielberg
Plot: In a virtual world called Oasis, a teenager finds himself competing in a treasure hunt against ruthless foes after the game's founder dies and and the fortune that he leaves behind is the grand prize.
Cast: Tye Sheridan, Olivia Cooke, Ben Mendelsohn, Mark Rylance, Simon Pegg, T.J. Miller, Win Morisaki
Trailer:
APRIL 6:
MAGIC CAMP
Director: Mark Waters
Plot: Andy, who, at the urging of his former mentor and Magic Camp owner Roy Preston, returns to the camp of his youth hoping to reignite his career. Instead, he finds inspiration in his ragtag bunch of rookie magicians.
Cast: Adam DeVine, Jeffrey Tambor, Gillian Jacobs, Nathaniel McIntyre, J.J. Totah, Cole Sand
APRIL 13:
THE NEW MUTANTS
Director:
Josh Boone
Plot:
Five young mutants, just discovering their abilities while held in a secret facility against their will, fight to escape their past sins and save themselves.
Cast:
Anya Taylor-Joy, Charlie Heaton, Maise Williams, Henry Zaga, Alice Braga
Trailer:
APRIL 20:
RAMPAGE
Director: Brad Peyton
Cast: Dwayne Johnson, Naomie Harris, Jeffrey Dean Morgan
MAY 4
AVENGERS: INFINITY WAR
Directors: Anthony and Joe Russo
Cast: Robert Downey, Jr., Chris Evans, Chris Hemsworth, Mark Ruffalo, Chris Pratt, Benedict Cumberbatch, Jeremy Renner, Scarlett Johansson, Tom Hiddleston, Samuel L. Jackson, Vin Diesel, Bradley Cooper, Dave Bautista, Zoe Saldana, Tom Holland, Josh Brolin, Paul Bettany, Elizabeth Olsen, Sebastian Stan, Benedict Wong, Anthony Mackie, Chadwick Boseman, Karen Gillan, Pom Klementieff, Don Cheadle, Paul Rudd, Danai Gurira, Benicio del Toro

MAY 11:

LIFE OF THE PARTY
Director: Ben Falcone
Cast:
Melissa McCarthy, Maya Rudolph, Molly Gordon, Debby Ryan, Gillian Jacobs, Jacki Weaver
WHERE'D YOU GO, BERNADETTE?
Director:
Richard Linklater
Cast:
Cate Blanchett, Billy Crudup, Kristen Wiig, Judy Greer, Laurence Fishburne, Troian Bellisario, James Urbaniak
MAY 18:
A STAR IS BORN
Director: Bradley Cooper
Cast: Bradley Cooper, Stefani Germanotta, Sam Elliott, Andrew Dice Clay, Dave Chappelle


MAY 25:
SOLO: A STAR WARS STORY
Directors: Ron Howard
Cast: Alden Ehrenreich, Donald Glover, Emilia Clarke, Woody Harrelson, Paul Bettany, Thandie Newton, Phoebe Waller-Bridge, Joonas Suotamo
JUNE 1:
DEADPOOL 2
Director: David Leitch
Cast: Ryan Reynolds, Josh Brolin, Zazie Beetz, Leslie Uggams, Jack Kesy
JUNE 8:
OCEAN'S 8
Director: Gary Ross
Cast: Sandra Bullock, Cate Blanchett, Anne Hathaway, Rihanna, Helena Bonham Carter, Mindy Kaling, Awkwafina, Sarah Paulson, Damien Lewis, Dakota Fanning, Matt Damon, James Corden, Richard Armitage


JUNE 15:
Director: Brad Bird
Plot: The Incredibles 2 follows the adventures of the Parrs, a family of Supers (humans with super abilities). The Parrs include the patriarch Bob, also known as Mr. Incredible who possesses super strength, Helen, his wife and known as Elastigirl for the ability to stretch her body, and their children Violet, who can become invisible and project force fields, Dash, who possesses super speed, and Jack-Jack, their infant who can transform into a number of forms.
Cast: Holly Hunter, Craig T. Nelson, Sarah Vowell, Huck Milner, Samuel L. Jackson, John Ratzenberger, Brad Bird
JUNE 22:
JURASSIC WORLD: FALLEN KINGDOM
Director: Juan Antonio Bayona
Cast: Chris Pratt, Bryce Dallas Howard, Justice Smith, Toby Jones, Rafe Spall, Daniella Pineda, Jeff Goldblum, Ted Levine
JUNE 29:
UNCLE DREW
Director: Charles Stone
Cast: Kyrie Irving, LilRel Howery, Shaquille O'Neal, Reggie Miller, Nate Robinson, Chris Webber, Erica Ash, Lisa Leslie, Nick Kroll
SOLDADO
Director: Stefano Sollima
Plot: A follow-up to the 2015 film, 'Sicario', which centers around the escalating war against drugs along the border of the United States and Mexico.
Cast: Benicio del Toro, Josh Brolin, Catherine Keener, Jeffrey Donovan, Manuel Garcia-Rulfo, Isabela Moner
JULY 6
ANT-MAN AND THE WASP
Director: Peyton Reed
Cast: Paul Rudd, Michelle Pfeiffer, Laurence Fishburne, Michael Peña, Evangeline Lily, Michael Douglas, Tip "T.I." Harris, David Dastmalchia, Randall Park, Hannah John-Kamen, Walton Goggins
JULY 13:
SKYSCRAPER
Director: Rawson Marshall Thurber
Plot: Former FBI Hostage Rescue Team leader and US war veteran Will Ford, who now develops security for skyscrapers, has to rescue his family trapped inside one in China.
Cast: Dwayne Johnson, Neve Campbell, Chin Han, Roland Møller, Pablo Schreiber, Byron Mann, Hannah Quinlivan, Noah Taylor
JULY 20:
ALITA: BATTLE ANGEL
Director: Robert Rodriguez
Cast:
Rosa Salazar, Keean Johnson, Ed Skrein, Mahershala Ali, Christoph Waltz, Jackie Earle Haley, Eiza González
MAMMA MIA: HERE WE GO AGAIN!
Director:
Ol Parker
Cast:
Meryl Streep, Lily James, Amanda Seyfried, Dominic Cooper, Colin Firth, Pierce Brosnan, Jeremy Irvine, Christine Baranski, Stellan Skarsgård
JULY 27
MISSION IMPOSSIBLE 6
Director:
Christopher McQuarrie
Cast:
Tom Cruise, Henry Cavill, Rebecca Ferguson, Ving Rhames, Simon Pegg, Alec Baldwin, Sean Harris, Vanessa Kirby, Sian Brooke
TEEN TITANS GO! TO THE MOVIES
Director:
Peter Rida Michail
Cast:
Scott Menville, Khary Payton, Tara Strong, Greg Cipes, Hynden Walch, Will Arnett, Kristin Bell
AUGUST 3
THE PREDATOR
Director: Shane Black
Cast: Boyd Holbrook, Olivia Munn, Trevante Rhodes, Keegan-Michael Key, Thomas Jane, Sterling K. Brown, Jacob Tremblay


SEPTEMBER 21:
ROBIN HOOD
Director: Otto Bathurst
Cast: Taron Egerton, Jamie Foxx, Eve Hewson, Jamie Dornan, Ben Mendelsohn


OCTOBER 5:
VENOM
Director: Ruben Fleischer
Cast: Tom Hardy, Riz Ahmed, Michelle Williams, Jenny Slate

OCTOBER 12:
FIRST MAN
Director: Damien Chazelle
Cast: Ryan Gosling, Jon Bernthal, Claire Foy, Kyle Chandler, Jason Clarke, Corey Stoll, Brian d'Arcy James, Pablo Schreiber
OCTOBER 19:
THE JUNGLE BOOK: ORIGINS
Director: Andy Serkis
Plot: The story follows the upbringing of the human child Mowgli (Rohan Chand), raised by a wolf pack in the jungles of India. As he learns the often harsh rules of the jungle, under the tutelage of a bear named Baloo (Andy Serkis) and a panther named Bagheera (Christian Bale), Mowgli becomes accepted by the animals of the jungle as one of their own. All but one: the fearsome tiger Shere Khan (Benedict Cumberbatch). But there may be greater dangers lurking in the jungle, as Mowgli comes face to face with his human origins.
Cast: Rohan Chand, Andy Serkis, Benedict Cumberbatch, Christian Bale, Cate Blanchett, Naomie Harris, Tom Hollander, Eddie Marsan, Peter Mullan

OCTOBER 26:
OVERLORD
Director: Julius Avery
Plot: In 1944, two American paratroopers are shot down over Normandy in the midst of the D-Day invasion and they discover that the Nazis are using supernatural forces against them.
Cast: Wyatt Russell, Jovan Adepo, Jacob Anderson, Bokeem Woodbine, Pilou Asbæk
NOVEMBER 2:
X-MEN: DARK PHOENIX
Director: Simon Kinberg
Cast: James McAvoy, Michael Fassbender, Jennifer Lawrence, Nicholas Hoult, Alexandra Shipp, Sophie Turner, Tye Sheridan, Kodi Smit-McPhee, Jessica Chastain, Evan Peters, Lamar Johnson
THE NUTCRACKER AND THE FOUR REALMS
Director: Lasse Hallström
Plot: The Nutcracker and the Four Realms is an upcoming live-action adaptation of E.T.A. Hoffmann's The Nutcracker and the Mouse King about a young girl who finds a Nutcracker doll among the family's gifts and is charged by her parents to take special care of it.
Cast: Mackenzie Foy, Keira Knightley, Morgan Freeman, Helen Mirren, Eugenio Derbez, Miranda Hart, Ellie Bamber, Misty Copeland
MARY QUEEN OF SCOTS
Director: Josie Rourke
Cast: Saoirse Ronan, Margot Robbie, Jack Lowden, Martin Compston, David Tennant, Joe Alwyn, Brendan Coyle, Guy Pearce
NOVEMBER 9:

DR SEUSS' THE GRINCH
Director: Peter Candeland
Cast:
Benedict Cumberbatch, Kaitlyn Maher
BAD BOYS FOR LIFE
Director: Joe Carnahan
Cast: Will Smith, Martin Lawrence


NOVEMBER 16:
FANTASTIC BEASTS AND WHERE TO FIND THEM 2
Director:
David Yates
Cast:
Eddie Redmayne, Katherine Waterston, Alison Sudol, Dan Fogler, Johnny Depp, Jude Law, Ezra Miller, Zoe Kravitz, Callum Turner, Claudia Kim, William Nadylam, Ingvar Sigurdsson, Olafur Darri Olafsson, Kevin Guthrie, Brontis Jodorowsky, Wolf Roth, Victoria Yeates, Derek Riddell, Poppy Corby-Tuech, Cornell S John, Jessica Williams, Fiona Glascott
NOVEMBER 21:
RALPH BREAKS THE INTERNET: WRECK-IT RALPH 2
Directors: Rich Moore, Phil Johnston
Plot: Taking place six years after the events of the first film, the story will center on Ralph's adventures in the Internet data space when a WiFi router gets plugged into the arcade.
Cast:
John C. Reilly, Sarah Silverman
DECEMBER 14:
ANIMATED MILES MORALES SPIDER-MAN FILM
Director: Bob Persichetti and Peter Ramsey
Cast: Shameik Moore, Liev Schreiber, Mahershala Ali, Brian Tyree Henry
DECEMBER 21:

AQUAMAN
Director: James Wan
Cast: Jason Momoa, Amber Heard, Patrick Wilson, Nicole Kidman, Yahya Abdul-Mateen II, Willem Dafoe, Temuera Morrison, Dolph Lundgren
BUMBLEBEE
Director: Travis Knight
Plot: In the year 1986, Bumblebee takes refuge in a small California beach town junkyard. A teenage girl learns that it is no ordinary Volkswagen Beetle.
Cast:
Hailee Steinfeld, John Cena, Jorge Lendeborg Jr., Rachel Crow, Pamela Adlon
DECEMBER 25:
MARY POPPINS RETURNS
Director:
Rob Marshall
Cast:
Emily Blunt, Lin-Manuel Miranda, Meryl Streep, Colin Firth, Ben Wishaw, Emily Mortimer
BOHEMIAN RHAPSODY
Director:
Bryan Singer
Cast:
Rami Malek, Mike Meyers, Lucy Boyton, Joseph Mazzello, Ben Hardy, Gwilym Lee, Allen Leech

JANUARY 11:
AD ASTRA
Director: James Gray
Plot: Twenty years after his father left on a one-way mission to Neptune in order to find signs of extra-terrestrial intelligence, McBride travels through the solar system to find him and understand why his mission failed.
Cast: Brad Pitt, Tommy Lee Jones, Ruth Negga, Donald Sutherland, Jamie Kennedy
JANUARY 18:
GLASS
Director: M. Night Shyamalan
Cast: Bruce Willis, Samuel L. Jackson, James McAvoy, Anya Taylor-Joy, Spencer Treat Clark, Charlayne Woodard
FEBRUARY 8:
LEGO MOVIE SEQUEL
Director: Rob Schrab
Cast: Chris Pratt, Elizabeth Banks, Morgan Freeman, Will Ferrell, Will Arnett
FEBRUARY 14:
GAMBIT
Director: Gore Verbinski
Cast: Channing Tatum
MARCH 1:
HOW TO TRAIN YOUR DRAGON 3
Director: Dean DeBlois
Cast:
Jay Baruchel, Craig Ferguson, America Ferrera, Jonah Hill, Christopher Mintz-Plasse, T. J. Miller, Kristen Wiig, Cate Blanchett, Djimon Hounsou
CHAOS WALKING
Director: Doug Liman
Cast: Tom Holland, Daisy Ridley, Mads Mikkelsen, Demián Bichir, Kurt Sutter, Nick Jonas, David Oyelowo, Cynthia Erivo, Óscar Jaenada


MARCH 8:
CAPTAIN MARVEL
Director: Anna Boden, Ryan Fleck
Cast: Brie Larson, Samuel L. Jackson
MARCH 22:
GODZILLA: KING OF THE MONSTERS
Director: Michael Dougherty
Cast: Millie Bobby Brown, Kyle Chandler, Vera Farmiga, O'Shea Jackson Jr., Thomas Middleditch, Randell Havens
MARCH 29:
DUMBO
Director: Tim Burton
Cast: Colin Farrell, Eva Green, Michael Keaton, Danny DeVito, Alan Arkin
APRIL 5:
SHAZAM!
Director: David F. Sandberg
MAY 3:
AVENGERS 4
Directors: Joe and Anthony Russo
Cast: Robert Downey, Jr., Chris Evans, Chris Hemsworth, Mark Ruffalo, Chris Pratt, Benedict Cumberbatch, Jeremy Renner, Scarlett Johansson, Tom Hiddleston, Samuel L. Jackson, Vin Diesel, Bradley Cooper, Dave Bautista, Zoe Saldana, Tom Holland, Josh Brolin
MAY 17:
MEN IN BLACK SPIN-OFF
MAY 24:
ALADDIN
Director: Guy Ritchie
Cast: Mena Massoud, Naomi Scott, Will Smith, Marwan Kenzari, Navid Negahban, Nasim Pedrad, Billy Magnussen, Numan Acar
JUNE 14:

UNTITLED DC EXTENDED UNIVERSE FILM
JUNE 21
TOY STORY 4
Directors: Josh Cooley
Plot: Follows the love story and relationship between Woody and Bo Peep. Woody and Buzz set out to find Bo Peep.
Cast: Tom Hanks, Tim Allen, Kristen Schaal, Patricia Arquette, Laurie Metcalf
JUNE 28
JULY 5
SPIDER-MAN: HOMECOMING 2
Cast: Tom Holland
JULY 12:
TOP GUN: MAVERICK
Director: Joseph Kosinski
Cast: Tom Cruise
JULY 19:
Director: Jon Favreau
Cast: James Earl Jones, Donald Glover, Seth Rogen, Billy Eichner, John Oliver, Chiwetel Ejiofor
JULY 26:
UNTITLED FAST AND FURIOUS SPIN-OFF
Cast: Dwayne Johnson, Jason Statham
TERMINATOR 6
Director: Tim Miller
Cast: Arnold Schwarzenegger, Linda Hamilton
AUGUST 2:

SPONGEBOB SQUAREPANTS 3
Cast: Tom Kenny, Bill Fagerbakke, Clancy Brown, Mr. Lawrence, Carolyn Lawrence, Rodger Bumpass
AUGUST 9:
ARTEMIS FOWL
Director: Kenneth Branagh
Cast: Judi Dench
SEPTEMBER 6:
IT: CHAPTER TWO
Director: Andy Muschietti


NOVEMBER 1:
UNTITLED DC EXTENDED UNIVERSE FILM

NOVEMBER 8:

BOND 25
Cast: Daniel Craig
NOVEMBER 22:
UNTITLED MARVEL/FOX FILM
NOVEMBER 27:
FROZEN 2
Director: Jennifer Lee
Cast:
Kristen Bell, Idina Menzel
DECEMBER 13:
WONDER WOMAN 2
Director:
Patty Jenkins
Cast:
Gal Gadot
DECEMBER 20:
STAR WARS: EPISODE IX
Director: J.J. Abrams
Cast:
Mark Hamill, Adam Driver, Daisy Ridley, John Boyega, Oscar Isaac
FEBRUARY 7:
THE LOUD HOUSE MOVIE
Director: Chris Savino
Cast: Collin Dean, Catherine Taber, Liliana Mumy, Nika Futterman, Cristina Pucelli, Jessica DiCicco, Grey Griffin, Lara Jill Miller, Brian Stepanek, Jill Talley
FEBRUARY 14:
TROLLS 2
APRIL 3:
UNTITLED DC EXTENDED UNIVERSE FILM

APRIL 17:
FAST AND FURIOUS 9
JULY 10:
Director: Steven Spielberg
Cast: Harrison Ford
JULY 24:
UNTITLED DC EXTENDED UNIVERSE FILM
NOVEMBER 20:
FANTASTIC BEAST AND WHERE TO FIND THEM 3
Director: David Yates
Cast: Eddie Redmayne
NOVEMBER 25:
UNTITLED DISNEY ANIMATED FILM
DECEMBER 18:
AVATAR 2
Director: James Cameron
Cast: Zoe Saldana, Sam Worthington, Sigourney Weaver, Stephen Lang, Kate Winslet
DECEMBER 25:
SING 2